The Best Online Casinos for Saudi Arabians in 2021
With so many online casinos openly accepting players from Saudi Arabia, deciding where to play your favourite games can be difficult. To help you, we've reviewed hundreds of casinos to bring you a list of the best online gambling sites for Saudi Arabians. In addition, this page contains tips on how to gamble safely in the oil-rich Middle Eastern country, as well as an overview of gambling laws in Saudi Arabia.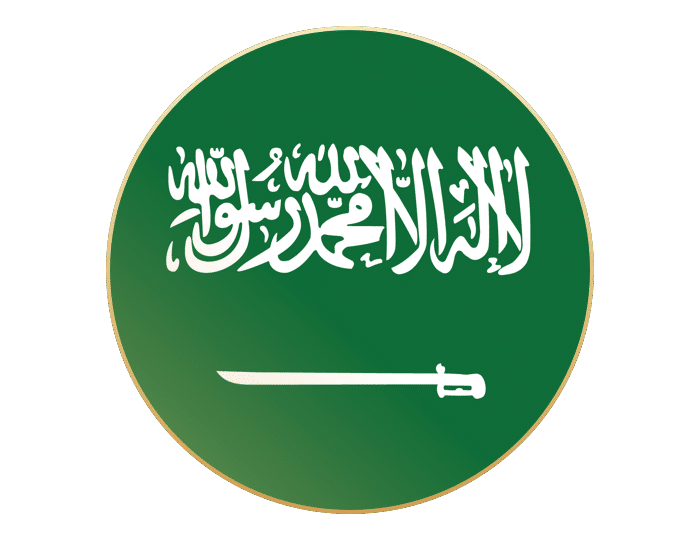 The Best Online Casinos for Saudi Arabians in 2021
The Best Casinos for Saudi Arabian Players
If you are in Saudi Arabia, we recommend you use a VPN when accessing one of these recommended casinos.
Features of the Best Saudi Arabian Casino Sites
After reviewing hundreds of online casinos that accept Saudi Arabian players, we gave our seal of approval to the sites listed above. Why these casinos, we hear you ask? We review every online casino with a long list of criteria, analysing everything from banking methods to mobile compatibility. The casinos listed on this page ticked each of our boxes, and they all have some of the following criteria.
How to Gamble Online Safely in Saudi Arabia
Due to Saudi Arabia's strict anti-gambling laws, it's important that you take a few extra steps to gamble online safely and securely. These steps include using a good VPN, choosing a discreet payment method, and avoiding shady casinos. Let's discuss why these steps are so important when gambling in Saudi Arabia.
Use a Good VPN
The Saudi government has been monitoring online activity since January 1999, when members of the public were granted access to the Internet for the first time. Data published by the Communications and Information Technology Commission (CITC) highlights that millions of websites containing 'undesirable' content have been blocked over the years. Yes, this includes many of the leading online gambling sites.
Surprisingly, it is not illegal to use a virtual private network (VPN) in Saudi Arabia. Millions of citizens use VPNs such as NordVPN and ExpressVPN to access blocked websites every day. Although authorities will see that you're using a VPN, they won't know that you're gambling online. Just make sure you read the casino's terms and conditions before registering because many gambling sites prohibit the use of a VPN.
Choose a Discreet Banking Method
With anonymity being so important in a country where gambling is frowned upon by most of the population, you should always choose a discreet banking method. Imagine trying to transfer funds from an account held with National Commercial Bank (NCB) or Saudi British Bank (SABB) to a gambling site. Your transaction would be declined, and you could be reported to the Saudi religious police.
Online payment systems aren't an option, either. While NETELLER and Skrill accept customers from Saudi Arabia, they do not process gambling transactions for account holders in the country. As a result, you should consider depositing via cryptocurrencies like Bitcoin (BTC) or Ethereum (ETH). Alternatively, you could ask a friend in another country to create an online casino account and deposit on your behalf.
Avoid Shady Casinos
Don't waste your time registering at shady casinos with a history of slow payouts and rigged games. Unfortunately, many of these online casinos target players from Saudi Arabia because the market is unregulated. If they decide not to pay you, there isn't a thing you can do about it. To avoid such a scenario, you should only gamble at the best Saudi Arabian casino sites listed on this page.
These casinos have been licensed somewhere around the world, and they are held to the highest standards. Licensed casinos have fund segregation policies, meaning your money is held in a separate bank account to the one used for business operations. In addition, our recommended Saudi Arabian online casinos are known for fast withdrawals and offering games that are audited by third parties.
Is Saudi Riyal Accepted at Online Casinos?
Even the best casino sites in Saudi Arabia rarely accept Saudi riyal (SAR) deposits. As the official currency of Saudi Arabia won't be an option, you will be asked to select an alternative currency during the registration process.
Pound sterling (GBP) and Euro (EUR) are usually supported, but we recommend selecting US dollar (USD) instead. Since 1986, the Saudi riyal has been officially pegged to the dollar at a rate of SAR 3.75 per dollar. This fixed exchange rate avoids volatile currency fluctuations. It will also make it easy for you to track how much you are gambling in an unfamiliar currency.
We should also point out that no physical conversion is required. You simply deposit Saudi riyals at online casinos and an electronic conversion takes place in the background. Your balance will then be updated with the US dollar equivalent, enabling you to play casino games online for real money.
Play at Our Recommended Saudi Arabian Casinos on Mobile
As the number of smartphone users in the MENA region continues to explode, more and more Saudi gamblers are playing casino games on mobile devices.
The best Saudi Arabian online casinos are designed to be responsive and provide a great gaming experience on smartphones and tablets powered by Android and iOS mobile operating systems.
As these casinos are developed using the latest HTML5 technology, you can quickly log in and play your favourite games directly in your web browser. Not only is this a convenient way to play, it also means that you won't need to download any apps that take up valuable storage space.
Is Gambling Legal in Saudi Arabia?
No, gambling is strictly prohibited in Saudi Arabia. As most Saudi citizens are Sunni Muslims, the bulk of the population support the country's strict anti-gambling laws – hence why discretion is a must.
While there is no penal code, there is an Anti-Cyber Crime Law as the result of a 2007 royal decree. Under Article 6, it makes promoting, publishing, or preparing any content related to online gambling punishable by up to five years in prison and a fine up three million riyals. If you do gamble online, don't talk about it. Simply showing a friend how it can be done could be considered promotion.
On a brighter note, authorities seem to target underground gambling dens as opposed to individuals who gamble discreetly in their own home. Just make sure you remember the importance of using a good VPN and a discreet payment method. Taking these steps will help you maintain anonymity.
Start Playing at Our Top-Rated Casino for Saudi Players
Now that you know how to gamble online safely and securely, it's time to play your favourite casino games. Get started by joining our top-rated online casino for Saudi Arabian players today.
FAQs
Is online gambling safe for Saudi Arabian players?
Yes, just make sure you follow the advice outlined in our guide to the best online casinos in Saudi Arabia. You should use a good virtual private network (VPN) to access reputable casino sites. In addition, you should choose a discreet banking method to get around restrictions on gambling-related transactions.
What is the best banking method for Saudi Arabian gamblers?
You should choose a discreet banking method at online gambling sites in Saudi Arabia. Bank transfers and e-wallets aren't an option because gambling-related transactions are restricted. Instead, you should use cryptocurrencies such as Bitcoin (BTC) and Ethereum (ETH) to deposit and withdraw.
Do Saudi Arabian casino sites offer welcome bonuses?
Absolutely! The best Saudi Arabian casino sites roll out the red carpet for new players with generous welcome bonuses. There are many different types of casino bonuses, ranging from no deposit bonuses and free spins to match bonuses. Some casinos even offer high roller bonuses for high limit players.
Is sports betting legal in Saudi Arabia?
No, but that doesn't mean that you can't bet on your favourite sports safely and securely. We've found the best sports betting sites for Saudi Arabians, where you can bet on everything from the Saudi Professional League and the Saudi Cup to Formula 1.