Play Online Baccarat in 2023
Baccarat is one of the easiest games to learn in a casino. It has some resemblance to blackjack, but does not require any decision making after the bet. Thus, it takes just a few minutes to learn. On this page, we will take you through the mechanics of the game, give you a few tips on how to play baccarat safely in your country, and give you the option to play online baccarat for free before you give our recommended real money online baccarat sites a try.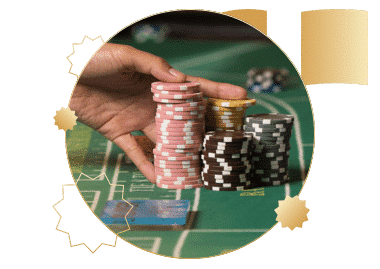 Play Online Baccarat in 2023
Play Baccarat for Free
If you are new to baccarat, there is no better way to learn the game than to try our free version of online baccarat. It is play-money only, so there is no risk at all. And even if you do know how to play baccarat, starting with free baccarat online can let you get used to the mechanics of playing the game on the computer.
Live Dealer Baccarat
As online casino gambling matured, so did, interestingly, live dealer casino games. Many of the sites that offer online baccarat also offer live dealer baccarat. Just as secure as regular online baccarat, live dealer baccarat features actual dealers hosting baccarat games and dealing the cards from a studio. You place your bets as in any other online casino game and can see the physical cards dealt in real time. The dealer announces the results and the computer scans the cards to determine your winnings. There are number of reasons to play live dealer baccarat, such as:
Closest you can get to a real casino
While standard online baccarat is fun, sometimes you just want the feel of being in brick-and-mortar casino. Live casino baccarat offers just that: a real, walking, talking human dealing physical cards.
Games are slower
because a real person is dealing real cards, the hands naturally take a little longer than when a computer program is cranking them out. This makes the live casino baccarat games easier to follow as they happen.
Player interaction
not all live dealer casinos offer this, but some allow the players participating in the game to chat with one another, bringing the social aspect of physical casinos to the online game.
How to Play Baccarat Online
Baccarat is one of the easiest table games to play at an online casino. After placing your bet, there are no more decisions to make. You can learn the game in just a few minutes.
Select Your Game – navigate to the table games in the online casino lobby. Many casinos will have more than one version of baccarat. We suggest choosing a standard baccarat game, rather than the "no commission" variety, as the odds and house edge we cite later correspond to regular baccarat.
Adjust Your Stakes – after the game loads, you can increase or decrease your bets. Don't worry if you make a mistake. You can always clear your bets.
Place Your Bets – in baccarat, you bet on either the Player, Banker, or a Tie. The Player and Banker do not correspond to you or the house – they are just names for the two hands that are dealt. You can freely bet on either one. After you place your bet and hit the "Deal" button, the dealer deals two cards to each hand. The winner is the hand whose cards add up closest to 9.

Cards 2 through 9 count as face value, Aces count as 1, and Tens through Kings count as 0.
If the Player or Banker is dealt a total of 8 or 9 right off the bat, that's an automatic winner, called a "natural."
If the cards add up to more than 9, the first digit is dropped and the second digit is the resulting value of the hand (ex: 6 + 8 = 14, drop the 1 to end up with a value of 4).
If the Player has a total of 5 or less, the Player will be dealt one more card. If the Player stands (is not dealt one more card), the Banker will take another card if the Banker's hand is 5 or less.
There are other scenarios for the Banker taking another card if the Banker's hand is more than 5 based on what third card the Player draws, but we won't worry about those right now. The dealer does everything, so it is not important for our purposes at the moment. You can always check the game rules while you play to review everything. The important thing is which hand ends up closest to 9 in the end.

Payouts Are Made – If you bet on the hand that ends up with the higher total, regardless of which hand it is, you win! A winning Player bet pays out 1/1 (ex: you bet $10, you profit $10). A winning Banker bet also pays out 1/1, but the casino takes a 5% commission, effectively making it a 19/20 payout. The reason for this is that the Banker has an advantage, always acting second. A winning Tie bet pays 8/1, but more on that later.
Go Again – If you want to play another hand, you can clear your bets and start over, simply press the "Re-Bet" button to make the exact same bet you just made, or even click the button that doubles your previous bet. If you want to quit, just close the window and the money you had at the table will automatically be put into your account.
Best Baccarat Sites for Arab Players
We've found the best baccarat sites to play at safely. These sites are secure, reputable and have a great games selection. Check out our recommended list below.
Top Baccarat Sites for Arab Players
Play Baccarat for Free vs Real Money Baccarat
Many online casinos have the option to play baccarat for free or for real money. Let's run down some of the pros and cons of each.
Free Baccarat
It's free – there is no risk, you can't lose money. Pretty simple.

Good way to practice – the game is the same as with real money, so you can get used to how everything works with no pressure.

It's baccarat – free online baccarat is still baccarat. If you like baccarat, you'll have fun!

You can't win money – obviously, when you aren't wagering real money, you can't win anything.

Not as exciting as real money – let's be honest, having something riding on the hand increases your heart rate.
Real Money Baccarat
You can win money – that's one of the main reasons people play baccarat, isn't it?

It's exciting – having something at risk and having the chance to win real money definitely adds something to the gaming experience.

Rewards – on top of having the chance to win money, casinos also offer bonuses and rewards to real money players, giving you an extra opportunity to bolster your bankroll.

More Games – while many online casinos offer the chance to play baccarat for free, they usually have more options for those who decide to play online baccarat for real money.

Wide range of stakes – you have the option to play for much lower stakes in online baccarat than in a brick-and-mortar casino, giving you further flexibility.

You can lose money – while you can obviously win money playing real money online baccarat, the odds are still in the casino's favor, so you can also lose money. Only play within your means.

Can be stressful – the risk of losing money gambling can create stress. If you only gamble what you can afford to lose, though, you can have plenty of fun even in a down session.
Quick Tips for Baccarat Strategy
This is going to be a short section. There is not much strategy involved with online baccarat. Ignore someone who pushes some complex "winning" betting system. There are three main things to remember:
Always bet on the banker – the house edge on a banker bet is 1.06% even with the 5% commission. The house edge on the player bet is 1.24%. It's not a huge difference, but it's a difference nonetheless. Bet on the banker. It's boring, but it's the strategy that will give you the best chance to win. The probability of the Banker's hand winning is 45.86%, while the Player's hand probability is 44.62%.
Don't bet on a tie – sure, it pays 8/1, but the house edge is 14.4%. It's a terrible bet. The probability of a Tie is 9.52%.
Don't bite on the side bets – similar to the above, the payouts just aren't worth the house edge.
Additionally, keep track of your bankroll. Only gamble with money that you can afford to lose. When at the online baccarat table, we advise you to not bet more than 5% of your baccarat bankroll at any one time. It gives you cushion should you have a rough go for a while, but it's enough where the winnings can still add up.
Baccarat Bonuses
Like with other casino games, online casino sites offer bonuses for playing baccarat. Some of the more common types include:
Deposit Bonus
Online casinos, particularly the ones we have researched and recommend, give players a percentage of their initial deposit as a bonus. The bonuses are usually released to you in increments and you must wager a certain amount (called a "playthrough requirement") to earn the bonus. Keep in mind that because the house edge is so low in online baccarat, the playthrough requirements are almost always much higher than if you played something like slots. Usually, 100% of slot play counts toward playthrough requirements, whereas baccarat play is counted at a 25% rate or lower, often as low as 5% or 10%.
Free Bet for Baccarat
Less common than Deposit Bonuses, free bets are effectively reimbursements from the casino. With a free bet bonus, the online casino gives you a free bet equal to your initial bet if you lost that first wager.
Live Dealer Baccarat Bonuses
Many online casinos have live dealer baccarat games, but don't count on them to be useful for clearing bonuses. As mentioned above, casinos typically have steep requirements for online baccarat hands to clear a bonus. Live dealer baccarat games often don't count at all toward playthrough requirements. Be sure to check the bonus rules with the casino.
Baccarat Bets
There are three standard bet types in baccarat. Let's take a quick look at each.
Banker – a bet on the "Banker's" hand, designated by the space on the table where the bet is placed. It pays out 19/20 (1/1 minus a 5% house commission) and has a 1.06% house edge.
Player – a bet on the "Player's" hand, also designated by where the bet is placed. It pays out 1/1 and has a 1.24% house edge.
Tie – a bet that the values of both the banker's and player's hand will be the same. In online baccarat, it pays 8/1 and has a 14.4% house edge.
Other Bets
Beyond the three basic bets, there are other bets, called "side bets," that can be made. They vary from casino to casino.
Player Pair
The two initial cards dealt to the Player make a pair. Payout is 11/1. House edge is 11.25%.
Banker Pair
The two initial cards dealt to the Banker make a pair. Payout is 11/1. House edge is 11.25%.
Perfect Pair
The first two cards dealt to either the Player or Banker are identical. Same value, same suit. Payout is 25/1. House edge is 17.07%.
Either Pair
The first two cards dealt to either the Player or Banker make a pair. Payout is 5/1. House edge is 14.54%.
Small
The total number of cards dealt in the game is 4. Payout is 1.5/1. House edge is 5.27%.
Big
The total number of cards dealt in the game is 5 or 6. Payout is 0.54/1. House edge is 4.35%.
Baccarat Variations
American Baccarat
This is the version of baccarat we have discussed on this page. It is effectively the same thing as the variety called Punto Banco, except that rather than Player and Banker in Punto Banco online, the bets are on Punto and Banco.
Chemin de Fer
A very old version of baccarat that dates back centuries in France, it is highly unlikely that you will see Chemin de Fer in online casinos. It is almost exclusively dealt in land-based casinos, mostly in Europe.
In Chemin de Fer, players take turns being the Banker and are actually competing against the other players at the table. The person in the Banker position decides how much they will wager. Each of the other players, in turn, get to choose if they want to match that bet by saying "Banco." Players can opt to bet less. If the total Player bets add up to less than the Banker's bet, any observers can cover the gap. If the bets amount to more than the Banker's bet, the Banker can increase their bet, otherwise extra bets will be taken off the table.
The player who bet the most is dealt the Player cards. The first two cards for the Player and Banker are dealt face down. The rules about drawing a third card are mostly the same as in standard baccarat, except when the Player has a total of 5 from the first two cards. In this case, the Player can decide if they want a third card or not. The third card is dealt face-up and then the Banker can decide what they want to do.
If the Player's hand wins, all people in the Player position win 1/1 on their bets from the Banker. If the Banker wins, they collect the bets from the Players. Etiquette of the game is as such that the Banker usually remains as Banker for another hand if they win to give everyone else a chance to win their money back.
Baccarat Banque
Baccarat Banque is sort of a cross between standard baccarat and Chemin de Fer. The banker position can change hand-to-hand, but it is based on the player that is willing to bet the most. Additionally, the banker is not playing against the other players. The house still serves as the bank. The person in the banker spot must bet on the Banker hand, though.
There are two Player hands in Baccarat Banque, one for one side of the table and one for the other. Players can bet on both Player hands if they would like.
There are other rules as to the actual mechanics of the game, like who shuffles the deck and how the players rotate, but they are not important for this discussion. Like Chemin de Fer, Baccarat Banque is very rare online.
See? Baccarat is both fun and easy to play. Do you think you have what it takes? Sign up to the top baccarat casino and start playing today.
Bonus
$500 + 200 free spins
Languages
ar
en
Features
Massive selection of 2,800+ slots
Accepts multiple cryptocurrencies
Supports Arabic, French and English
Software Providers
Arcadem
Betsoft
BF Games
BGAMING
Big Time Gaming
Booongo
Caleta Gaming
Casino Technology
+ 32 more
Payment Options
FAQs
Where can I play online baccarat?
You can play baccarat online at virtually any online casino. Most casinos have multiple variations of baccarat, such as punto banco online. We have researched the best ones, so we suggest starting with our recommended casinos.
Can I play baccarat on mobile?
Yes, you can play baccarat on a mobile device. Depending on the casino, you might play baccarat within a mobile app or in a mobile browser.
What are the odds in baccarat?
The probability of the Banker's hand winning is 45.86%, Player's hand probability is 44.62%, and the probability of a Tie is 9.52%. Payouts of each are 19/20, 1/1, and 8/1, respectively.
Is baccarat all luck?
Yes, baccarat is almost all luck. There is a tiny amount of strategy in what bet you place, but the outcome of the game is all luck.
Is it safe to play online baccarat at casinos?
Yes, it is safe to play online baccarat at a casino, provided that casino is licensed and regulated. All of our recommended casinos have been vetted to be sure they are trustworthy.