How to Play Roulette Online – A Beginner's Guide
No game captures the casino experience quite like roulette. In the following guide, we will show you how to play roulette online, so you can go from beginner to expert as you learn about the game's multiple variations. Our casino experts cover roulette rules, bets and odds. We also show you where to practice roulette online for free. So when ready, you can start playing for real money with confidence. And no less important, look cool doing it!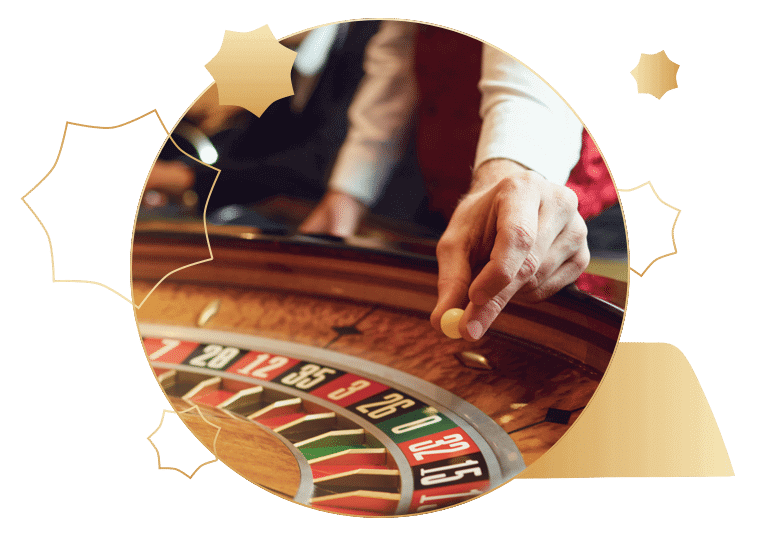 How to Play Roulette Online – A Beginner's Guide
Online Roulette Game Rules
Roulette is the ultimate game of chance and is beloved by gamblers for its simplicity and elegance. First emerging in Paris in the late 1700s, roulette has developed into the game we all know and love over the past few centuries. No land-based casino is complete without a roulette table, and the expansion of online casinos has brought roulette to the digital realm and into the homes of the masses. While the roulette game rules remain the same, it is crucial to know how to play roulette online.
Objective of Roulette
Since roulette is one of the simplest casino games to play, you can be up and running within minutes. Each roulette table consists of a wheel with numbered pockets and a ball.
As the wheel spins, the real or online dealer will drop the ball and wait for the wheel to stop. The pocket in which the ball lands will determine the result of the spin.
No matter what variation of roulette you play, the idea behind the game is the same. You (the player) must predict in which pocket the ball will end once the wheel stops spinning. You will do this by placing bets on a roulette betting board containing 37 or 38 numbers (depending on the version you're playing). There are also several different betting options where you can combine numbers or choose patterns. If your bet is successful, you'll win a payout.
Basic Roulette Rules
Roulette can be surprisingly complex with potential bets and wager patterns, yet learning how to play roulette online is easy. Players can learn to play online roulette in minutes by following these simple rules:
Place your bets: With virtual and live dealer roulette online games, the first rule is to place your bet. You do this on what is known as the roulette table. Think of the table as a map of the available wagers available in the game.
Minimum and maximum bets: Roulette tables online and in land-based casinos have minimum and maximum bet limits. Essentially, this dictates how much you can wager on a table, so you must stake a bet over the minimum and under the maximum. Table limits vary depending on the game and variant, but it is essential to check before playing.
Variants: While you may see numerous types of roulette at online casinos, these are all based on three base variants of the game; European, American, and French. All variants are the same game at their core, but there are a few minor differences.
How to Play Online Roulette
Playing roulette online from Middle Eastern countries is easy, and you can start playing for real money today.
The following step-by-step guide will help start your journey at an online casino.
1

Select one of our recommended online casinos that welcome players from Arab countries.

2

In the casino game lobby, choose the online roulette variant you want to play.

3

Make a bet by placing your virtual chips on the betting table.

4

The virtual wheel will spin, and the ball will drop. Wait for the wheel to stop spinning.

5

Once the ball rests in a pocket, you will receive a payout if you win.
Bonus
$500 + 200 free spins
Languages
ar
en
Features
Massive selection of 2,800+ slots
Accepts multiple cryptocurrencies
Supports Arabic, French and English
Software Providers
Arcadem
Betsoft
BF Games
BGAMING
Big Time Gaming
Booongo
Caleta Gaming
Casino Technology
+ 32 more
Payment Options
Practice Online Roulette for Free!
While practice makes perfect, remember that there is no such thing as 'perfect' in the casino realm. Roulette is ultimately a game of luck, yet that does not mean you cannot have fun and improve your chances of success. Understanding betting patterns and differences between variants can help you get the most from your online roulette experience.
So, why not take all the knowledge you have gained so far in this guide and apply it to playing roulette online? Check out our free roulette online game demo to practice betting techniques without risking your bankroll.
Where to Play Online Roulette for Real Money
Now that you have a general knowledge of online roulette, you are ready to play the game for real money. When you understand the rules, variants, and potential bets of roulette, the game can be dynamic and exciting.
You do not need to go further than this page to discover the best roulette casinos for players from the Middle East and Northern Africa. Our casino review team has selected the best online roulette casinos for Arab players. We have channelled our years of experience into complete reviews, allowing us to choose and recommend only the best casino sites.
Best Online Roulette Casinos for Arab Players
Understanding the Roulette Wheel Layout
Players in the Arabian region can play many variations of online roulette. Therefore, understanding the roulette wheel and slight differences between the core game variants will allow you to make the best decision about which game is best for you.
American Roulette
The numbers on an American Roulette wheel are positioned differently to European/French wheels, but the most significant contrast is the addition of a double zero ("00") pocket alongside the standard zero ("0") pocket, meaning there is one more pocket on an American wheel (38) compared to European variants (37). While this may seem insignificant at first glance, it actually makes a big difference in the chances of winning. One additional pocket means that American Roulette has a higher house edge (5.26%) than other variants. The table is also laid out vertically and on the left side, with outside bets positioned below the numbers. Betting limits are typically friendlier to players on lower budgets due to the increased house edge. But in the long run, the house wins more!
European Roulette
European Roulette is perhaps the most popular and common variant of the game due to its lower house edge of 2.7%. This variation is not as expensive as French Roulette, yet it does have a higher minimum bet limit than American Roulette, so it is not always the best option for players that are conscious about their bankroll. Unlike the double-zero American variant, European Roulette has 37 numbers (1 through 36 and a single zero pocket). The game table is easy to understand, with the zero stationed to the left of the number grid and row bets to the right. All other available wagers are located below the numbers.
French Roulette
The French variant is European roulette with a twist. The big difference being the "en prison" and "la partage" rules, which are unique to French roulette. All other aspects of the game are identical to European Roulette, including the roulette wheel layout and betting table setup. Thanks to the additional betting rules of French Roulette, gamblers can protect their investment more, while the 2.7% house edge is better than American Roulette. Still, those perks come at a price, and French Roulette is usually the most expensive version of the game, with reasonably high table betting limits.
Placing Bets in Roulette
If you scratch below the surface of roulette's simplicity, the game contains complex betting options and wager patterns. Don't worry; you can start playing roulette today, place bets, and win real money with minimum fuss. Although, if you are playing online from an Arab country and want to become a roulette pro, knowing the following available bets is essential:
Outside Bets
Outside bets in roulette offer a lower payout but a higher chance of winning. They are great for players new to the game since outside bets are based on a broader category of numbers, as instead of betting on one specific number, you bet on a particular kind of number.
Red / Black: Wager whether the ball will land on a red or black number by selecting the two coloured squares below the number grid. This bet has odds of 48.65% on European roulette and 47.37% on American tables.
Odd / Even: Wager on whether the ball will land on an even or odd number. Even/Odd bets sit on either side of the Red/Black squares on the bet table, and this is another of the classic "1:1" wagers with odds of 48.65% on European roulette and 47.37% on American tables.
High / Low: Bet on whether the winning number will land within the first 18 numbers (1-18), or 'low,' or between 19-36, or 'high.' Both options are available on the outside of the Odd/Even wagers and carry odds of 48.65% on European roulette and 47.37% on American variants.
Columns: Bet on whether the ball will land within one of three columns of twelve numbers that run the longest side of the roulette table. These wagers offer odds of 32.4% on European/French variants and 31.6% on American games.

Column 1 – The numbers 1, 4, 7, 10, 13, 16, 19, 22, 25, 28, 31, 34
Column 2 – The numbers 2, 5, 8, 11, 14, 17, 20, 23, 26, 29, 32, 35
Column 3 – The numbers 3, 6, 9, 12, 15, 18, 21, 24, 27, 30, 33, 36

Dozens: This bet covers 12 numbers in squares on the roulette table, each in numerical order with odds of 32.4% on European/French games and 31.6% on American roulette.

1st 12 – The numbers 1-12.
2nd 12 – The numbers 13-24.
3rd 12 – The numbers 25-36.
Inside Bets
Inside bets are all viable bets you can make on the inside section of the roulette table. For example, if you were to place a wager on a single number, this would be considered an inside bet. This type of bet offers a more significant payout yet a lower chance of winning.
Straight Up: The longest odds in roulette come when you bet on any single number falling on the wheel, meaning placing a chip on any single number of the grid with odds of 35:1.
Split: Betting on two numbers by placing a chip across the line that connects two adjacent numbers, which pays out 17:1 on successful bets.
Street: Take a chance on any three numbers in a row, such as "1, 2, and 3", with odds of 11:1.
Corner: Like the Split wager, the Corner bet allows you to bet on four numbers by placing a chip on the cross that connects the numbers. This bet option comes with odds of 8:1.
Line: This essentially doubles the Street wager by betting on two rows of three numbers. Available with odds of 6:1.
Five-Number Bet: As the name suggests, this is a bet on five specific numbers (00, 0, 1, 2, and 3) and is exclusive to American roulette variants with odds of 6:1.
Basket: Like the Five-Number bet, this is a wager on 0, 1, 2, and 3 and is only available on French/European tables with odds of 6:1.
Special Roulette Bets
When learning how to play roulette online, it is crucial to understand the role of the zero pocket on the wheel. For American and European variants, landing on the zero pocket results in losing even-money wagers. However, French Roulette gives you a second chance through two unique rules, which reduce the house edge to 1.35%.
La partage: If you lose an outside even money bet because the ball lands on zero, you get back half of your wager amount.
En prison: Provides a second chance on a losing outside bet if the ball lands on zero. The wager is held "en prison", and if you win the next spin, you get the wager amount back.
Online vs Live Roulette
Live dealer roulette sites offer players in Arab countries the privacy and safety of an online casino with a more authentic land-based casino experience. You will join a roulette table staffed by a human dealer and watch the game unfold through a high-quality live stream of the action, showing on your screen.
There is no doubt that live dealer roulette is exciting, but standard online roulette is also thrilling. Let's look at the advantages of both online and live dealer roulette:
Online Roulette
Live Dealer Roulette

The game is fast-paced
Betting limits are usually lower
Always available
Access to free play or demo mode

Authentic casino experience
Interaction with a human dealer
See all the action in real-time
Chat and interact with fellow players
Roulette Terms and Buttons
While you can start playing without learning the standard terms used in a roulette game, knowing exactly what is going on is significantly beneficial to your gameplay and chance of success. It also makes things a lot more interesting at the roulette table.
Spin: This button is available on roulette games at an online casino. Once you make a bet, click the spin button to spin the wheel.
Double: The double button is available on specific variants and doubles your initial wager.
Clear bets: If you have selected a bet or series of wagers, the clear bets button allows you to cancel those options if you change your mind (before you spin the wheel).
Undo: A simple button that lets you undo the last action, such as placing a chip on the roulette betting table.
Double and Spin: Allows you to double your previous wager and spin the wheel again without making any further adjustments.
Rebet: Select the same wager as the previous spin without needing to make the bets again.
Rebet and Spin: Choose the same bet as the previous spin and initiate a new spin automatically.
FAQs
What are the rules of roulette?
The rules of roulette are quite simple. It is a game of chance where a dealer spins a numbered wheel and drops a ball onto the wheel while in motion. Players need to predict the numbers, colours or patterns for the ball to land on. Wherever the ball lands when the wheel stops determines the game's result.
How do you play roulette online and win?
You can play roulette online right now for real money by heading to one of our recommended casino sites. Since roulette is a game of pure luck, wins are not guaranteed. Still, you can give yourself the best chance of success by arming yourself with knowledge of varieties, bets, and game rules.
Is there a trick to playing roulette?
Betting strategies, such as the Martingale roulette system, are easy to learn and brilliant for beginners. Yet, there is no magic recipe that guarantees success when it comes to games of luck like roulette. Knowing the basic game rules and understanding all available bets allows you to enjoy the game to the full.
How do you play live roulette?
Live dealer roulette is played with a human dealer who tends to a mechanical wheel/metal ball. The game is streamed straight to your desktop or mobile device via a high-quality video and audio stream. You can find the best live roulette online casinos by checking out our list of the top casino sites currently available.