Sports Betting in Qatar
The 2022 World Cup, to be hosted in Qatar, will mark the first time an Arab country has ever hosted this prestigious tournament. It will be an exciting time because football is already massively popular here. Our domestic Qatar Stars League is well followed, and all the European leagues are television broadcast by Al Jazeera Sport. Getting to see the world's top football stars play in our country will be amazing. Understand though, Qatar is famous for many other sports too. We are beach and indoor handball champions, our domestic QHA league handball is very strong, and we host an IHF Handball Super Globe event. QBL basketball is another domestic league and camel racing is our traditional sport. We have camps for Karate, Taekwondo, Brazilian Jiu Jitsu, Mixed Martial Arts (MMA), Judo, and Muay Thai. We host two annual events from the UCI Asia Tour (cycling), as well as events from FEI Equestrian Global Champions Tour, IAAF Diamond League (athletics), FIVB Beach Volleyball World Tour, FIM Grand Prix (motorcycle racing), European Tour PGA (golf) and WTA & ATP tennis each and every year. Qatar is already a world hub for sports, before factoring in the 2022 World Cup. Despite this, you won't find betting shops or bookmakers operating openly in Doha, Al Rayyan, Al Khor, Al Wakrah or anywhere else. Articles 274-277 of the Qatar Penal Code makes betting a crime nationwide. Casually placing bets in private can be punished by a fine up three thousand riyals! Up to three months in prison is also possible. However, there are still many Qataris that gamble online and for those who do, it is extremely important to use foreign online bookmakers.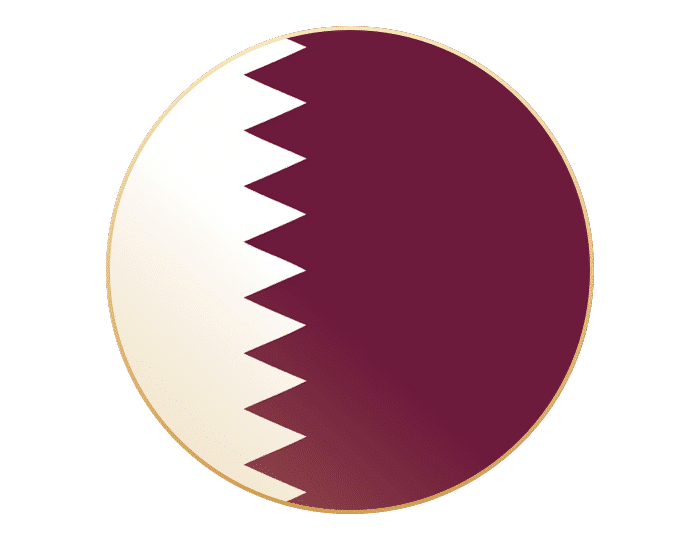 Online Betting in Qatar
Players from Qatar can use online betting sites located in countries where gambling is legal, licensed and well regulated. If you watch English Premier League on television you may have noticed 40% of the teams are shirt sponsored by internet gambling companies. Stoke City is even owned by one. Betting has long been legal in the UK. There are about 9,000 betting shops there making up 4% of all retail in the country. There are betting stands at every football stadium too. Since 2005, the UK has offered remote licenses for their bookmakers to legally offer betting to players in other countries. The ones below accept residents of Qatar.
Best Online Bookmakers for Qataris
The bookmakers above are all global. They offer betting on every sport and most leagues from all over the world. This includes our own Qatar Stars League too. Some including, 10Bet, have odds on Qatari Basketball League (QBL), Qatar Volleyball League, and our other domestic sports. None however support Qatari riyal (QAR) currency. It is best to open your betting accounts in United States dollar (USD). Our riyal is pegged to it (U.S. dollar = 3.64 riyal), so exchange rate volatility is not an issue.
Dealing with Internet Blocks
Our country only has a limited amount of internet censorship, but on some occasions gambling sites are blocked. You may notice some of the links shared earlier go to non-official URLs. These are mirror sites issued by each company for visitors to get around any internet censorship. If a site, or mirror, you are using later becomes blocked, search the company name at google.com.qa. Within the first few pages of results you'll likely find a working version. If you can't, the next step is to search Best VPN for Qatar adding the month and year to the search, to learn about Virtual Private Networks (VPNs). These are very easy to set up and route internet traffic through a foreign server where blocking isn't an issue. It also ensures all online browsing is done safely and privately.
Depositing and Getting Paid
At online bookmakers you can only bet using money that is part of your account balance. Let's say your balance at 10bet is the USD equivalent of QR75. You then bet QR25 that Al Ahli vs. Lekhwiya will go over 2.5 goals. Your balance immediately becomes QR50. If the bet loses, no further adjustments are made. If it wins, the QR25 stake is returned to your account and the winnings are added too. You can take money out of your account balance at any time. Of course to get started you will need to make an initial deposit.
www.neteller.com is the industry's most famous e-wallet. It is very similar to PayPal except it is used much more often for gambling. They offer many account currencies. Again, as our riyal is pegged to the dollar, it is best to use US dollar (USD) as your account currency. After opening an account online for free they will send you a MasterCard branded debit card. This can be used to spend your NETELLER balance anywhere MasterCard is accepted or to withdraw at the ATM. Even though the card will be in USD you can still take riyal (QAR) out at our ATM machines. You can also take money out of NETELLER by requesting a bank wire or paper cheque withdrawal.
All online bookmakers issue NETELLER payouts, and also accept this method for deposits. To initially put money into NETELLER there are many options. You can fund it via cashu top up sold in Qatar, by bitcoin or bank wire transfer. Some, but not all, QAD debit and credit cards also work for funding an account.
There are other services for deposit and withdrawal available too. EntroPay.com is a site that instantly issues prepaid UK virtual VISA cards. You just register at their site to get one. You can then fund that card using a QAD currency debit or credit card issued by any Qatari bank. Other similar methods can be found in the cashier of each betting site.
Betting in Qatar by Sport
It is possible to bet every sport from all over the world using the internet. This includes top football leagues such as English Premier League, Bundesliga La Liga, Serie A, Brasileirao, Argentine Primera, and many others. For cricket, Indian Premier League (IPL) is big. You can bet NFL, NBA, MLB and NHL from the United States. ATP & WTA tennis, PGA golf, Formula 1 racing, etc. The list goes on and on. In this section I cover sports which can be bet online giving special emphasis to Qatar.
Qatar Football Betting
Qatar Stars League (دوري نجوم قطر), formerly known as the Q-League (س الدوري) can be bet at all online bookmakers listed on this page, and this includes Qatari Stars Cup and Qatar Crown Prince Cup. Some also offer betting on the Emir of Qatar Cup and Sheikh Jassim Cup. A very limited amount of betting can be done on the Qatar gas League. We can also bet on matches our national team plays. This of course will include the 2022 World Cup. We get our first entry due to being the host nation. Our team is taking this seriously and has had some recent success. We won both the Gulf Cup of Nations and WAFF Championship in 2014. Those tournaments, as well as Asian Cup, and a few others, provide chances to bet on the Qatar National Football Team over the internet.
The bookmakers below are the best when it comes to our local league:
Handball Betting
Handball, perhaps second only to football, is one of the most popular sports in Qatar. Our domestic league Qatar Handball Association (QHA) has ten clubs competing during a season that runs from late February to late May. Only a select few UK bookmakers offer betting on this, but shopping around it is not too difficult to find odds. We can also bet our top clubs at the IHF Handball Super Globe which since 2010 has been held in Qatar. As we are a dominant handball nation, we generally have several teams participating in the IHF Handball Super Globe.
On the national team level, our men's teams are dominant in both indoor and beach handball. For the indoor version we were the champions in 2014 for both the Asian Championship and Asian Games tournaments. For beach handball we won the gold medal in the past three instalments of the Asian Beach Volleyball Championships (2011, 2013 and 2015.), and the bronze medal at the Men's Beach Handball World Championships in 2014. This is our best national team sport. Betting odds for all events our national teams compete in can easily be found online.
Best Bookmakers for Handball in Qatar
Cricket Betting
Cricket as a professional sport played in Qatar is only just starting to become competitive. There are talks about creating a Qatar T20 League. Our national team, historically has not had success. We did finish third at the 2010 ACC Trophy Challenge held in Thailand. In spite of all this, cricket betting is still huge in Qatar.
The reason for cricket betting popularity relates to our demographics. About one-quarter of our population is migrant and temporary workers from India. We also have Pakistanis, Sri Lankans, and Bangladeshis living here too. In those countries cricket is by far the most popular sport. As a result, there is a ton of interest in betting on cricket from Qatar. This is best done at www.10bet.com. Their website live streams cricket matches from all over the world and offers in-play spot betting on them. They have scores of pre-match odds for Indian Premier League (IPL) and other domestic leagues from all over the world too. Of course all the major international test matches, one day games and 20-20s can also be bet.
Volleyball Betting
Qatar Volleyball League is another of our domestic sports that can be wagered online. 10Bet is the most reliable having odds on every match. There are other bookmakers such as 10bet that attempt to cover it but miss some matches. It is still wise to check both those sites and others, as shopping around you can bet at whichever offers the highest payout. Also note that come Federation Cup time, there are additional sites that don't even cover Volleyball League that offer betting on this.
For international volleyball Qatar has a presence as a host. From 2010-2012 we were the hosts of the FIVB Club World Championships which has both men's and women's indoor volleyball at the club level. For beach volleyball we are still a host. The Doha Open is an annual stop on the FIVB Beach Volleyball World Tour calendar. It can be bet at many sites including the below which are our top picks.
Tennis Betting
There are many professional tennis tournaments held in Qatar. ATP (men's) and WTA (women's) are the top levels of professional tennis. We have events part of lower-rung tours sanctioned by ITF too, but the biggest are our annual top-level ATP and WTA tournaments. These are as follows:
The Qatar Open is an ATP World Tour 250 series event held every January at Khalifa International Tennis and Squash Complex in Doha that has ran since 1993. All the top men's tennis stars compete in both the singles and doubles variety. On the singles side Roger Federer has the most titles winning this in 2005, 2006 and 2011. Andy Murray was back to back champion in 2008 and 2009. Rafael Nadal has done great here winning the doubles title in 2005, 2009, 2011, and 2015 and the singles title in 2014.
The Qatar Total Open is a now a WTA Premier Tournament. This had ran from 2001-2004 as a Tier-3 tournament, 2005-2007 as a Tier-2 tournament, and 2008 as a Tier 1. Despite the lower tiers many famous players competed with Martina Hingis, Monica Seles and Maria Sharapova winning titles during those eras. After a 2-year hiatus, this returned as a WTA 5 tournament from 2010-2014, and became a WTA Premier in 2015. Recent singles champions have been Lucie Šafářová, Simona Halep and Victoria Azarenka (2 times).
All online bookies offer prematch odds on all ATP and WTA tennis, including the matches played in Qatar. Many also offer in-play betting while the match is in progress. In addition to ATP and WTA events you can also bet the Davis Cup for men, the Fed Cup for women, and the Hopman Cup for mixed teams. All of these events just mentioned give a chance to bet on Qatari players if that is what draws your interest.
Golf Betting
The Qatar Masters is an annual PGA golf tournament now part of the European Tour that is held at Doha Golf Club in Doha, Qatar. It has ran every year since 1998. As of 2016, it now carries 48 world ranking points, and a $2.5 USD million prize pool. The most recent winners were Branden Grace in 2015, and Sergio Garcia in 2014. The only multiple time winners are Paul Lawrie (2012, 1999) and Adam Scott (2002,2008). Ernie Els won this in 2005 while he was one of the most famous active professional golfers.
All PGA tournaments can be wagered over the internet, with the Qatar Masters no exception. The methods for betting are many which including winner, top 5, top 10, top 20, to make the cut, match up bets, and so much more. One tip for golf betting is this is a sport where the odds vary a lot between online bookies. It is very wise to compare the odds on many sites and then bet at whichever is offering the highest payout for the selection you are looking to wager.
MotoGP
MotoGP is the top level of professional motorcycle racing. A typical season has about 18 annual races. Since 2004, one of those has always been in Qatar. We're the only country in the Middle East hosting a MotoGP major. Traditionally named the Qatar Motorcycle Grand Prix it is now known as the Commercial Bank Grand Prix of Qatar for sponsorship reasons. In recent years it has been held in late March as the season opener.
Almost every online betting site I know of offers odds on MotoGP races. Often these are only posted the evening before the race. Finding them takes some navigation. It can be linked to as MotoGP, Motorcycles, Motorbikes, or a variety of synonyms on the betting menus. For example, at 10Bet you have to click Motor Sports, then click Motorbikes, to access the MotoGP betting odds. Finding them is not an issue for most, but I mention this because someone using the betting menus in a language they are not entirely fluent in might have trouble locating the MotoGP section.
Best Bookmakers for MotoGP in Qatar
Cycling in Qatar
There are two major cycling races in Qatar each year. They are both part of the UCI Asia Tour. One is Tour of Al Zubarah rated a 2.2 race, and the other Tour of Qatar rated a 2.1 race. These are sanctioned by Union Cycliste Internationale (UCI), which is French for International Cycling Union. It is the world's sanctioning/governing body for this sport. Though this is not the most popular sport for betting you 100% can find odds online. In the past I had bet both at William Hill but they no longer take bets from Qatar residents. Paddy Power is another site I know offers it. For the 2016 races I'll attempt to update this article to list which bookmakers have odds.
Athletics Betting
Athletics is one of Qatar's best sports. There are opportunities to bet on our athletes such as Mutaz Essa Barshim in the Olympics, IAAF World Championships, and the Diamond League. We also host the Qatar Athletic Super Grand Prix held at Qatar SC Stadium in Doha that is part of the IAAF Diamond League. Several World Records have been set during it. The Diamond League is a series of 14 annual meets each held in a different country. We are the only hosts from the Middle East. In 2014, high jumper Mutaz Essa Barshim became the first Qatari to win a Diamond League event.
Other Sports
This article only touches on the many sports played in Qatar. Horse Racing is also popular here. The Racing & Equestrian Club has about 40 races per year that are free to attend. As of now there is no betting on these. We are however hoping to host world class racing in the future; plans are in the works for this. Camel Racing is popular in some places. Tourists who are able to arrange transportation would probably enjoy a visit to Al Shahaniya Racetrack located about 40km from Doha. Do make sure you have round trip transportation as finding a taxi back would be difficult.
As for sports that can be bet on that we I have not already mentioned, we compete in beach soccer and host F1 boat racing events. There are probably dozens of others I'm failing to mention too. Put it this way, even World Wrestling Entertainment (WWE) which is scripted can be bet online. You can bet who will win elections from various countries, how much movies will gross, financial markets, and so much more. Shop around and you might be surprised to find betting even on very small Qatari domestic leagues from minor sports.