Play Pai Gow Poker at the Best Online Casinos
Welcome to our guide on how to play Pai Gow Poker online. In the sections that follow, we will give you a primer on everything you need to get started with this fun, straightforward game, including a walkthrough of the rules, odds and payouts, and some simple strategies to get you on the winning track.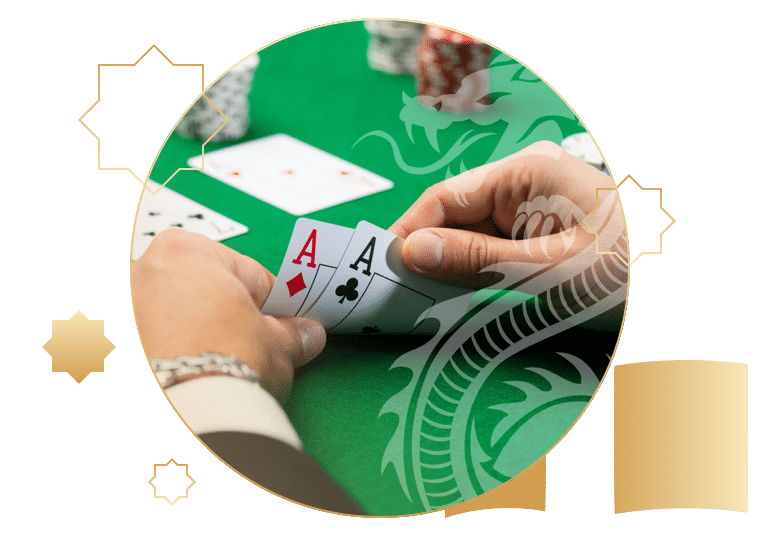 Play Pai Gow Poker at the Best Online Casinos
Play Pai Gow Poker Online for Free
Once you read through this guide and understand the rules and strategy of Pai Gow Poker, we encourage you to try the free game below. It is a risk-free way to get your feet wet and get comfortable with the game. You don't have to sign up for anything, just click and play as much as you would like.
Try Our Free Pai Gow Poker Game
Pai Gow Poker Online – Free vs Real Money
You can play Pai Gow Poker online for free and for real money. Most players have enjoyed both versions at one point or another, and while they are the same game, the experience differs depending on which you choose.
Let's look at the pros and cons of both free and real money Pai Gow.
Free Pai Gow Poker
You can't lose money

It is a good way to practice the game and learn the rules

It is a no-pressure way to get used to the site's software

You can't win any money

Less exciting than playing for real money
Real Money Pai Gow Poker
You can win money

The closest you can come to the excitement of a real-world casino

Betting real money can help meet the playthrough requirements to earn bonuses

You can lose money
How to Play Pai Gow Poker Online
Pai Gow Poker uses a standard 52-card deck plus one joker.
Like most casino table games, the object of the game is to beat the banker. In this game, the banker can be another player at the table, but when playing Pai Gow Poker online, it is typically just you against the house. To keep things simple, we will assume you are not playing as the banker through most of this guide.
Pai Gow Poker Structure
After placing your bet, the banker will deal you and themselves seven cards each. You must arrange these cards into two hands: a two-card hand and a five-card hand. The two-card hand is often called the front or top hand, and the five-card hand is often called the back or bottom hand because of where they positioned on the table.
The only rule in arranging your hands in Pai Gow Poker is that the five-card hand must be stronger than the two-card hand. The five-card hand can be any poker hand from a royal flush down to just a high card. The two-card hand, by its nature, can only be a pair or high card.
The joker can be a wild card to complete a straight, flush, straight flush, or royal flush. If it cannot accomplish that task, it is an ace.
Most online Pai Gow Poker sites will highlight the cards it suggests for your two-card hand, so you often don't even have to make any decisions if you don't want to. You do not have to accept the suggestions, however, and can always arrange your two hands however you would like, as long as the five-card hand is the strongest.
Ending the Hand
After you lock in your hands, usually by clicking on the two cards for the front hand and the confirming your selection, the banker will turn over their cards and arrange their two hands. You now compare your hands with the banker's hands. If both of your hands beat both of the banker's hands, you win your bet, less a commission. The commission is typically 5%.
If you lose both hands, you lose your bet. If you win one hand and lose the other, it is a push and no money changes hands.
Keep in mind that if you make the five-card hand weaker than the two-card hand, you automatically lose. Fortunately, online casinos often don't even let you do that, but it is still a good practice to make sure your hands are always in the proper order, just in case.
Pai Gow Poker Side Bets
You can also place a separate side bet, the outcome of which is determined by the best single poker hand you can make with all seven cards you receive. Hands from three of a kind on up to a seven-card straight flush pay out on the bonus bet. The payouts are typically displayed on the table. The house has a bigger edge on these, so they are not generally recommended.
The Best Pai Gow Poker Sites for Arab Players
You have now learned the basics on how to play Pai Gow Poker. You're not done yet – we still have some valuable information for you – but when you are ready to try the game for real, sign up at one of our recommended online casinos. Each site has been handpicked by our experienced reviewers to ensure that you get to experience the best online casinos for Arabic players.
Join Our Top Recommended Pai Gow Poker Sites
Pai Gow Poker Hand Rankings
Since Pai Gow Poker is a poker game, it is important that you understand poker hand rankings. Sure, if the online casino helps you split your hands, you don't have to think about anything, but there will be times where you will want to use your own strategy. And for that, you need to know the hand rankings. The "Cards" column in the table below gives just one of many examples of specific hands.
Pai Gow Poker Payouts and Odds Explained
You can place a side bet on the best poker hand that all seven of your cards make. The table below shows the odds of hitting each type of hand and the usual payout for each.
Pai Gow Poker Strategies to Help You Win
With no betting after the cards are dealt and most online casino sites helping you choose how to split your hands, Pai Gow Poker doesn't require all that much in-depth strategy. But there are still decisions that need to make when there are multiple, reasonable ways to sort out your hands. In this section, we will briefly discuss some general and some quite specific strategies that can help you win more in the long run.
There is still flexibility within these tips; as you become more familiar with Pai Gow Poker, you can adjust some of these strategies to suit your play style.
Play Pai Gow Poker at Our Top-Rated Online Casino
We told you earlier that we have researched online casinos for you and have selected only the best to recommend, with the best online casino bonuses. So now that you are up to speed on Pai Gow Poker, register at our top-rated online casino if you are ready to give the game a try.
FAQs
Where can I play Pai Gow Poker online?
We have handpicked the best sites for you to play Pai Gow Poker online. Check out our recommended online casinos to claim your welcome bonus and get started today.
How do you win in Pai Gow Poker?
You win in Pai Gow Poker when both your two-card and five-card poker hands beat the banker's two-card and five-card hands.
What is the house advantage in Pai Gow Poker?
The house advantage will vary depending on each online casino's rules, but in general, expect it to be between 2.5% and 2.8%. If you can play as the banker, you can lower the house edge through by making optimal plays.
What are the odds of hitting a seven-card straight flush in Pai Gow?
The odds of hitting a seven-card straight flush are 5,000,000:1 without the benefit of a joker and 800,000:1 with a joker.
What is the bonus bet in Pai Gow Poker?
A bonus bet is a side bet you can place on what cards will be dealt. It is independent of how the hands are split and pays out regardless of who wins the round.
What is Fortune Pai Gow Poker?
Fortune Pai Gow Poker is a common version of Pai Gow in which you can place a side bet that pays out if the seven cards you are dealt produces at least a three of a kind. The payout table is usually printed right on the felt.