Online Craps for Arab Gamblers in 2023
Welcome to the ultimate guide to online craps for beginners! We've put together this page to give you everything you need to learn how to play craps online, including a free craps game you can use to practice your strategies. You can also take advantage of our expert picks for the best real money casinos for craps, and our top tips for winning at craps.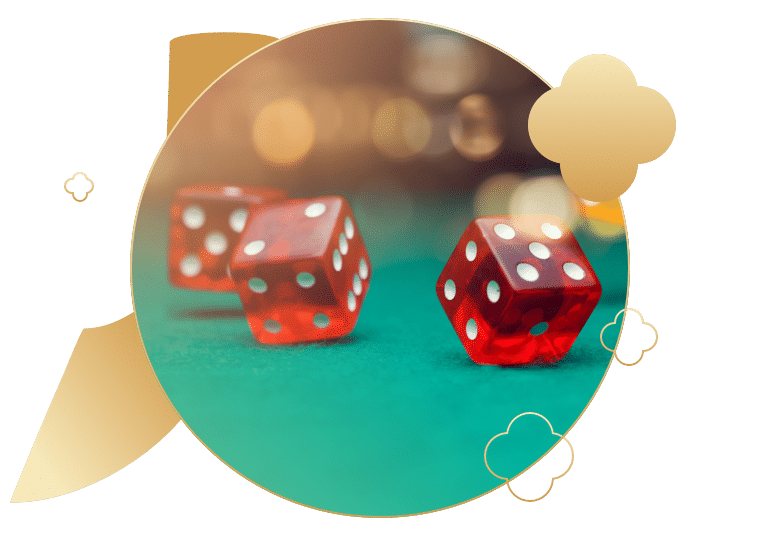 Online Craps for Arab Gamblers in 2023
Play Craps Online for Free in 2023
Whether you're playing craps for the first time or just want to try out a new strategy, our free craps game is a great way to learn the game. Check it out below to get a taste of how a real craps table plays.
How to Play Craps Online – The Ultimate Beginner's Guide
Whether you're new to the game or just need a refresher, we're here to teach you everything you need to know to start playing craps online. We'll start by going over the basic concepts of the game, then move on to explaining the layout and terminology you'll see at a typical craps table.
Finally, we've written up a step-by-step guide on how to play craps. Once you're done reading this section, you'll be able to enjoy online craps like a casino expert!
The Object of the Game
Craps is a game of chance played with two standard six-sided dice. The object is to predict the combined total that will be rolled on those two dice. There are tons of different betting options offered by casinos, but you only need to know a few of the main craps betting options to get started and enjoy the game.
There are 36 different combinations when you roll two dice. Each combination will total of somewhere between 2 and 12, with 7 being the most common. Here's a look at the combinations for each dice roll: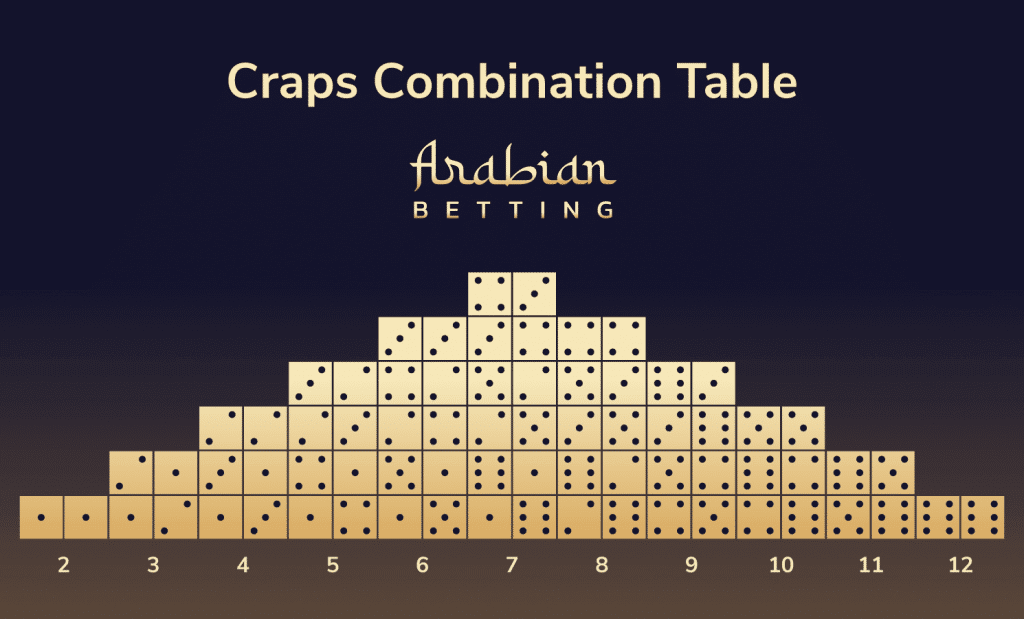 Common Craps Terms You Should Know
Before we jump into other topics, there are some crap terms and jargon you'll want to be familiar with. Here's a breakdown of a few of the most common phrases and terminology you need to know to play craps online.
Come-Out Roll: This is the first roll of the dice in a round of craps.
Craps: Not just the name of the game, this also refers to a roll totalling 2, 3, or 12.
Natural: A come-out roll that totals up to 7 or 11.
Point: A come-out roll totalling 4, 5, 6, 8, 9 or 10 sets that number as the "point".
The Shooter: This is a term for the player who is rolling the dice. At a live casino, this role gets passed around the table. When you play craps online, you're always the shooter.
Snake Eyes: This refers to rolling 1's on both dice, for a total of 2.
Hard Way: Totalling 4, 6, 8, or 10 by rolling doubles. For instance, if you roll two 3's, you've rolled 6 "the hard way".
Easy Way: If you total 4, 6, 8, or 10 without rolling a double, then you've rolled that number "the easy way".
Yo: A roll that totals 11, or a bet on a total of 11.
Hop: A bet on rolling a specific combination of dice.
Horn: A bet divided between the totals of 2, 3, 11, and 12.
Understanding the Layout of the Craps Table
While the layout of an online craps table might look complex at first glance, it ensures that players and dealers can make and pay bets with as little confusion as possible. There are a few basic sections that you should learn to recognize both for online and live craps play.
First, there's the blank section of the layout on the outside edge of the table. Some players call it the "apron". In online play, you'll normally see your winning bets paid here. You will also use the apron to add odds to come or don't come bets. In a live craps game, you might also put chips on the apron for a dealer to pick up and place on some bets for you.
The printed area features two identical side sections on each end of the table, and a centre section.
The side section includes a self-service area, which contains many of the most common betting areas, including the pass line, the don't pass bar, the field bet, and the come and don't come bets. This area gets its name because you would place bets by yourself in these areas on a live craps table.
In online craps, of course, you will place all your own bets, no matter where they appear on the layout. The dealer's area of the side section includes the point boxes, where you can make several types of bets (with the dealer's help in a live casino).
The centre section features a variety of proposition bets. In a live casino, a stickman (the casino employee operating the craps table) controls this section, and players touch nothing on this part of the layout. Here, you'll find several bet types, including the hard way bets, the horn bet, the craps bet, and several bets on specific combinations coming up on the very next roll.
Learn How Easy it is to Play Craps Online
Getting started with your first craps game online is easy, but it can seem tricky if you don't know how to get started. Here's our simple step-by-step guide that will get you started with playing craps online.
A Step-by-Step Guide to Playing Craps Online
1

Our team has rated and reviewed the best casinos for online craps, and we've listed those sites for you on this page. Pick one of our recommended casinos and click on our link to head straight to the site of your choice.

2

To get started, you must open a free account at the casino you've picked. Just provide some basic information like your name and address, then choose a username and password. Within moments, your account will be active.

3

If you want to play real online craps for real money, you must put some money into your account. Navigate to the cashier and select your preferred payment method. Supply the required information and confirm your transaction.

4

At most online casinos, you will find craps in the table games section. If you can't find craps directly, look for a table games section, then choose craps from the list of games in that area.

5

Now that you're at the table, it's time to place your first bet! Choose your stakes level, then click on the area of the layout where you'll want to place your chips. For starters, let's place a chip on the pass line, the most basic bet in craps.

6

Once you've placed your bets, you can click the roll button to start the game by making your come-out roll. The game will show you both the combination you've rolled and the total.

7

Three results are possible from your come-out roll. If you roll a natural (a 7 or 11), you will win even money on your pass bet. If you roll craps (a 2, 3, or 12), your pass bet losses. If you roll any other number, that number becomes the point.

8

If your come-out roll created a point, your pass bet won't be resolved just yet. Instead, you will continue to roll the dice until either you roll the point again, or you roll a 7. If you roll the point again first, your pass bet wins at even money. If you roll a 7 first, then your bet loses.
You may now make a new pass bet before the next come-out roll. Of course, there are also many other bets you can make on or after the come-out roll, which we'll cover in the next section.
What Bets Can You Make in Craps?
While we talked a bit about the pass bet in our step-by-step guide above, there are many more bets you can make when playing online craps. Here's a look at just a few of the most common wagers you can try the next time you play craps.
Pass Bet
We started talking about the pass bet above because it is the most fundamental bet in craps. You make a pass bet by placing chips on the pass line. You should make a pass bet on a come-out roll. If the come-out roll is a 7 or 11, you win even money; if that roll results in a 2, 3, or 12, you lose your pass bet.
On any other total – 4, 5, 6, 8, 9, or 10 – that number becomes the point. Your pass bet will now pay out even money if you roll the point before you roll a seven. Should you roll a seven first, then the pass bet loses.
It's also important to understand the concept of "taking the odds" on a pass bet. If you set a point, you may place additional chips behind your pass bet on the apron. This bet pays out at fair odds with no house edge, making it one of the best bets in the casino. The odds vary depending on what the point is, as follows:
4 or 10: 2/1
5 or 9: 3/2
6 or 8: 6/5
Casinos limit how much you may bet on the odds. This is a multiple of your pass bet. For instance, if a casino says you can bet 5x odds, and you made a $5 pass bet, you may bet up to $25 on the odds.
Place Bet
The place bet is much like the odds bet, but you can make it at any time. You can make a place bet on 4, 5, 6, 8, 9, or 10. If a roll totals one of these values before a seven, then you will win your bet.
While these bets are more flexible than taking the odds, they offer slightly lower payouts. Here is how place bets pay:
4 or 10: 9/5
5 or 9: 7/5
6 or 8: 7/6
Field Bet
The field bet is a bet that the next roll will be a 2, 3, 4, 9, 10, 11, or 12. If the total matches one of these values, you win; otherwise, your bet loses.
In most cases, you will win even money on the field bet. However, many casinos offer 2/1 odds on a 2 being rolled, and 3/1 on a 12. Some casinos may reverse these bonuses, while others may only offer 2/1 on both a 2 and a 12, which increases the house edge.
Don't Pass Bet
The don't pass bet is the exact opposite of the pass bet. Once again, you will make this bet before the come-out roll. If that roll results in a 2 or 3, you win even money, while you lose on a 7 or 11. A roll of 12 results in a push.
If a point is established, you'll be rooting for a 7. You will win even money if a 7 is rolled before the point; if the point comes first, you lose.
Also similar to the pass bet, you may "lay the odds" behind your don't pass bets after a point is established. Once again, these bets offer no house edge, though in this case, it means you will get paid less than even money, since you have the advantage. Here are the payouts when you lay the odds:
6 or 8: 5/6
5 or 9: 2/3
4 or 10: 1/2
Come Bet
The come bet is exactly the same as the pass bet. The only difference is that you may make it on any roll. Essentially, the next roll becomes the come-out roll for your come bet. The rules and payouts are exactly the same as for a pass bet, and you can take the odds just as you can do behind the pass line.
Don't Come Bet
Similarly, a don't come bet is the same as a don't pass bet. However, you can make a don't come bet at any time, treating the next roll as a come-out roll for the purposes of this bet. The rules and payouts are the same as on the don't pass bet, as you can lay the odds if a point number is rolled.
Best Craps Sites for Arab Players
The information you've learned so far on this page is more than enough to play online craps. If you feel ready to play online craps for real money, you can try your luck at any of our recommended online casinos for craps. Our expert team has reviewed each of these sites to make sure you'll have a safe and fun experience.
Join Our Top Recommended Craps Sites
Real Money Craps vs. Free Online Craps
While we've included a great free craps game on this page, you can also play craps for real money. Both versions have their advantages, depending on what you want to get out of playing craps. Here's a breakdown of the differences between real money and free play.
Real Money Craps
Gives you a chance to win real money

Risk adds anticipation and excitement to every roll

Clear online casino bonuses with your play

Puts your strategies to the ultimate test

Comes with risk of losing real money
Free Craps
A great way to learn the game

Practice new strategies you haven't tried before

Play for fun with no risk or tension

No chance to win real money

Can become boring with nothing at stake
Strategy Tips to Help You Win at Craps
While craps might be a game of luck, the sheer number of bets means that craps strategy and knowledge play a big role in determining how well you do at the table. Here are a few of our best tips for playing online craps like a pro.
The Pass Line is Your Friend
Almost every good online craps strategy begins with playing the pass bet on every come-out roll. You should also follow that up by taking the maximum odds each time a point bet is established. The combined house edge on these bets is extremely low, making this an excellent cornerstone to your strategy.
Avoid Most Proposition Bets
Some proposition bets in the centre of the craps table look very tempting, especially those with huge payouts. However, these bets almost universally have higher house edges than the simpler bets in the self-service area. Other than an occasional small wager for fun, it's best to stay away from the prop bets.
Big 6 and Big 8 are Big Mistakes
Some craps games won't even have the Big 6 and Big 8 spaces on their layout, but if they do, avoid them at all costs. These two bets are exactly the same as place bets on 6 or 8, with one major difference: they only pay even money! That's less than the 7/6 odds you would get on the place bets, so there's no reason to bet on Big 6 or Big 8.
The Three Point Molly Betting System
Looking for a simple betting system to spice up your online craps play? The Three Point Molly is a great place to start. Begin with our basic recommendation: make a pass bet on the come-out roll. If a point is established, take the maximum odds on your pass bet, then make a come bet on the next roll. If it happens again, take the maximum odds behind that come bet, then make a second come bet.
If yet another point is rolled, you'll want to take the full odds behind that second come back as well. At this point, you'll have full odds behind three different point numbers, which gives this system its name.
This is where you'll stop risking more money. If a seven is rolled before any of your points, you can lose a lot of money. But you'll also have the chance to win large amounts on several different point numbers, with a very low house edge. That makes this a high risk, high reward, and high action system for you to try.
Play Craps Online for Real Money Today
We hope our guide has given you all the information you need to feel confident about playing craps online. If you're ready to try some real money play, you can sign up with our top-rated online casino and start playing craps today!
FAQs
Can you play craps online?
Online craps is an extremely popular game that you can find at most of the best online casino sites, including those we've recommended on this page. Craps is available in both free and real money versions at almost all casinos, with some sites even offering multiple versions of craps for you to try.
How can I find the best sites for craps?
The best way to find a craps site is by choosing one of the recommended casinos on this page. Our team of experts has reviewed all the top online casinos and compiled a list of the best sitess for online craps. These sites not only offer great craps games, but they are trustworthy, fair, and safe casinos, making them ideal places for you to play.
Can you play craps for real money?
Most online casinos offer real money craps play on their websites. In fact, playing craps for real money is probably the best way to enjoy this classic casino game. There's nothing quite like the excitement that comes with knowing you can win or lose on every single roll of the dice, a thrill that only comes with real money play.
What is the best bet for craps?
The best bet in craps, especially for beginners, is the pass bet. You make this simple bet on a come-out roll, and it wins if the shooter rolls a 7 or 11, but loses if they roll a 2, 3, or 12. If any other number is rolled, that total becomes the point. You will win if you roll the point again before rolling a seven.
How do you win at craps?
You will win at craps by successfully predicting what totals will be rolled on the dice. There are many bets that you can choose from, each with its own odds, rules, and payouts. No matter what style of gambling you prefer, there's probably a craps bet that will appeal to you.