Online Casino in Qatar
Brick and mortar casinos are not easily found in Doha, Al Rayyan, Al Khor, Al Wakrah or anywhere else in Qatar. Article 276 of our Penal Code makes operating one punishable by up to one year in prison. Article 275 has gambling at a casino punishable by a fine of up to 6,000 riyals fine and/or up to 6 months in prison. The better option for those choosing to gamble despite the law is foreign online casinos. These carry one-half the penalty and are not as heavily targeted. Of course, there is still some element of risk, but the risks are much smaller and tens of thousands of Qatar residents regularly use these sites. There are two important things to remember when using online casinos sites in Qatar. Firstly, use a VPN as much as possible. This will ensure all your online browsing remains private and safe from prying eyes. The second thing to remember is to be smart with the sites you play at. Smart gamblers stick to using online casinos licensed and regulated in a country where gambling is legal such as the United Kingdom (UK). Their market is mature. They have 186 casinos, over 9,000 betting shops, and over 400 bingo halls in their country. Since September 2007, their Gambling Commission has licensed companies to legally offer online casino services to players from other countries. These are very well regulated with auditors to make sure the games are fair and that players are paid when they win. The ones below accept residents of Qatar.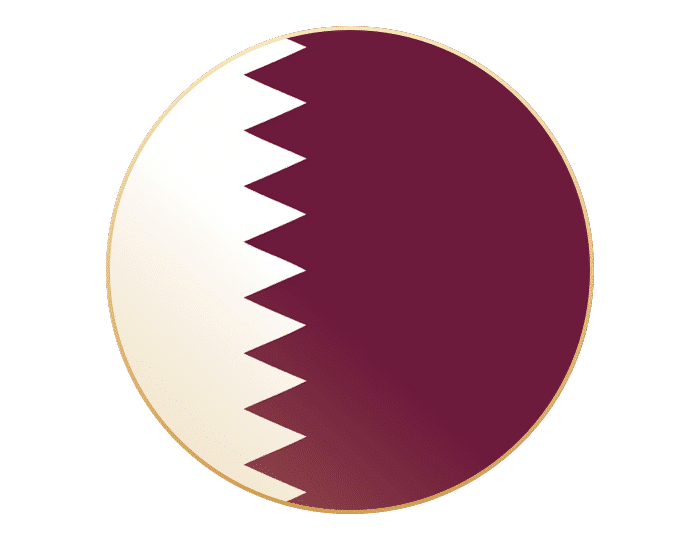 Best Casino Sites for Qataris
When given the choice of a casino account currency it is often best to use US dollar (USD). Qatari riyal (QAR) is tied to the dollar (U.S. dollar = 3.64 riyal) thus this provides the least volatility in exchange rates. At online casinos you can only gamble using an account balance. As you win the balance goes up and when you lose it goes down. You can take money out of your casino accounts at any time. The payout options include bank wire, paper cheque, and transfer to e-wallets. To get started you of course first need to put money in your account.
www.neteller.com is an excellent option for online casino deposits and payouts. This is an e-wallet licensed in the UK that processes more gambling transaction volume than any other company. You can open an account at their website for free and can select USD as the currency. When doing so, also be sure to request a NET+ debit card. This is a card tied to your balance with a MasterCard symbol on it. You can use this card to spend the money in your NETELLER account anywhere MasterCard is accepted, or you can use it to withdraw riyal at any local ATM. This comes in handy as online casinos don't only accept NETELLER deposits, but they also will process payouts to this method when requested.
There are many ways to add money to a NETELLER account. You can use cashu top-up purchased in Qatar, bitcoin, or bank wire. QAR currency debit and credit cards might also work. If they don't and that is a preferred deposit method, try www.entropay.com. Their site issues instant prepaid VISA debit cards from a UK bank. The card given can be funded using most Qatar debit and credit cards. You can then use that card to deposit directly to a gambling site. Other methods similar to this can be found in the cashier of each online casino.
Legal Gambling in Qatar
Although gambling is illegal under Articles 274-277 of the Qatar Penal Code, there are forms of gambling that are allowed here. Many of our banks offer prize drawings based on investments and deposit. Mashreq Bank offers the MashreqMillionaire drawings. MyHassad from Al Ahli Bank is another popular draw. These are only a couple examples. There are many chances to play lottery via our banks by making only a capital guaranteed secure deposit. They are essentially free chances to win big prizes, in exchange for choosing to use the particular bank involved.
Contests that are based on lottery ("raffles") are available many other places besides just our banks. Many shopping malls have promotions for winning both small prizes such as a digital camera, and large prizes such a QAR 1 million or a new car. Companies also offer prize draws to those who purchase their products. For example, Vodafone offers their World of Prizes draws for various prizes such as Samsung SmartTV's, laptops, QR 50,000 cash, Xbox, PS4, iPads and more. During the Handball Championships the sponsor started a #JoinTheCheer social media campaign on twitter and facebook that gave out an iPhone 6 to the main winner, and had other prizes too. As covered by Qatar sports betting handball is very popular here. Football is however bigger. Come World Cup 2022 we should see even bigger contests. There are already many as is, far more than what I referenced here as examples.
We also have paid forms of lottery gambling too. Qatar Duty Free, a subsidiary of Qatar Airways, offers pure gambling in the form of lottery. They offer many different types of draws. The most famous is their Millionaire Raffle. There have already been over 20 of these which offer a cash prize of $1 million USD (QAR 3.64 million). Tickets can be purchased online, at the airport, and other locations. Tickets are quite costly at QAR 950 or US$ 262 per entry to the draw. But the overall payout percentage is decent compared to most other lotteries around the world. They offer other draws too. They have car raffles, bike raffles, and more. The ticket prices vary based on the value of the prize.
Though Qatar Duty Free is an approved lottery under our law, it is still considered gambling that is haram under Islam. If faith is important, this lottery should be avoided. The other forms of contests operated by our banks, shopping malls, Vodafone and other companies, are more questionable. Whether or not participation in such is halal or haraam has been the subject of some debate. From what I have read it seems a popular opinion is that as long as one doesn't pay over the official price it is permissible. If the price of a product is inflated to compensate for a draw, it is gambling that is haraam under Islam. I am however not qualified to give an opinion on this.
The online casinos mentioned on this page are of course gambling that is haram. They are also illegal under our Penal Code. When using them in private the penalty is less than it is for public gambling. Specifically, it is a fine up to 3,000 riyal, or up to 3 months in prison. It is however very rare that these are targeted.
The majority of our population is made up of foreigners. As a result, we don't have overly aggressive internet censorship. Likewise, banking transactions with other countries are common and thus there are far less restrictions on moving money online.
So playing real money casino games is possible in Qatar and many people here do it on a regular basis. However, for strict Muslims, there is no question that online gambling is haram and should be avoided. This article is for informational purposes only and should not be considered legal advice or encouragement to gamble. I've simply tried to present a fair and unbiased opinion of the facts.
Languages
en
Features
Great Welcome Bonus
Over 600 Slot Games
Betting Available on all Devices
Software Providers
Betsoft
Microgaming
NetEnt
iSoftBet
Just for the Win
PlaynGo
Pragmatic Play
Rabcat
+ 4 more
Payment Options