Real Money Skill Games – The Ultimate Guide for Arabic Players
Welcome to the ultimate guide to playing skill games online for money. Whether you're a master at solving puzzles or moving checkers on a backgammon board, this page contains a list of the best sites where you can showcase your skills and win lots of money. In addition, we explain the difference between games of skill and chance, discuss the most popular skill games for Arabic players, and much more. Get your brain in gear and let's get started!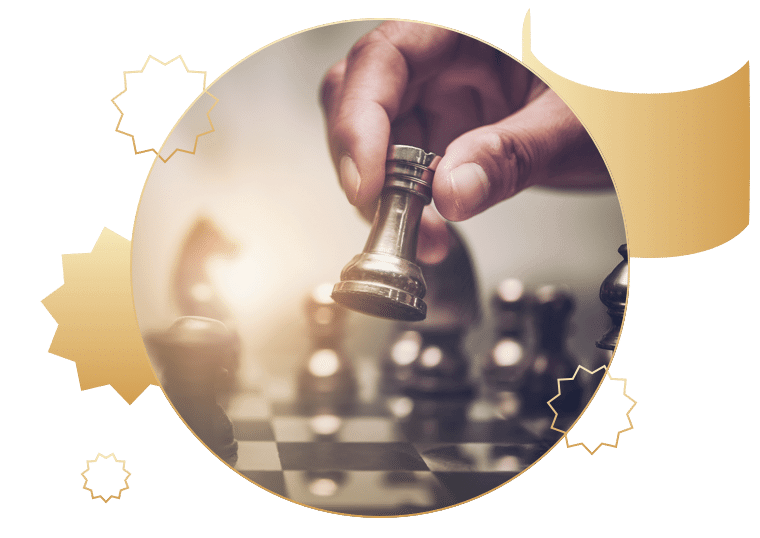 Real Money Skill Games – The Ultimate Guide for Arabic Players
Where to Play Online Skill Games for Real Money
If you are playing from an Arabic country, we recommend you use a VPN when accessing one of these skill games sites.
Popular Skill Games for Arabic Players
The best skill gaming sites boast hundreds of exciting games. Popular titles include classics that you may have played with family members as a child, including dominoes and rummy. In addition, you can sharpen your skills by playing new games. Game developers host lots of brainstorming sessions, where they encourage employees to think of new ways to test your physical and mental skills.
We've written detailed game guides to help you learn how to play the most popular skill games online.
Backgammon
Backgammon is a two-player game played on a board comprising 24 triangles called points. You and your opponent will receive 15 checkers each, with the object of the game being to be the first player to bear off. This means you must move all 15 of your checkers off the board before your opponent.
Dominoes
Dominoes is a family of tiled-based games that you may remember playing as a child. The most common dominoes games use double six (28 tiles) and double nine (55 tiles) domino sets. The object of the game depends on which type of domino game you play – a blocking game or a scoring game.
Rummy
Rummy is a classic card game in which the aim is to be the first player to get rid of all your cards. You do this by creating melds, which can either be sets (three or four cards of the same rank) or runs (three or more cards of the same suit in a sequence). Skill games sites offer many variations of rummy.
Games of Skill vs Games of Chance
It's time to highlight the difference between a game of skill and a game of chance. But first, we must explain why the definition of both types of games is so important, especially for software providers who often spend several months developing games for our entertainment.
These companies must abide by different gambling laws in different countries across the globe. Although most countries in the Middle East & North Africa take a blanket ban approach to all forms of gambling, the situation isn't as clear cut in other regions.
Most gambling-friendly countries allow both types of games to be played for real money. There are also many countries that prohibit games of chance but allow games of skill. It's important for software providers to be aware of which types of games are legal in different countries, otherwise they may breach the rules and receive a substantial fine.
Now that you know why the definition of what is legal is so important, let's discuss the difference between a game of skill and a game of chance.
What is a Game of Skill?
Although many skill games have an element of luck, they ultimately require a physical or mental ability for success. For instance, you may need lightning-fast reactions to click different areas of the screen and score points. Another game may require a photographic memory to memorise all the items displayed on screen for a few seconds. Other games may require an abundance of knowledge or strategic thinking.
With skill games, you can take steps to improve your performance. If you need quick reactions to succeed, you can play demo games to practice and get faster. If it involves strategy, you can read material from experts and put everything you learn into practice.
Skill games include backgammon, chess, dominoes, and rummy.
What is a Game of Chance?
Games of chance are games that depend on luck. You have no control over whether you win or lose. It doesn't matter if you cross all your fingers and toes – you cannot affect the result. In the online gaming world, a random number generator (RNG) pulls a random result from millions of possible outcomes. The previous outcome has no influence on the result of the next game. Each game is independent.
Craps is an example of a game of chance. You roll two six-sided dice and have no control over the outcome. Online slots are another prime example of games of chance. You click the spin button and an RNG produces a result from millions of unique patterns. You either win or lose.
Games of chance include baccarat, craps, roulette, and slots.
The debate over whether poker is a game of skill or chance has been raging for decades. Poker is a game of skill in the USA, whereas European countries such as Austria and Germany consider poker a game of chance. Professional poker players argue that they mitigate luck by making mathematically correct decisions to profit in the long run.
Lawmakers in different countries around the world typically use two tests to determine which games involve skill and those that rely on luck: the predominance test and the material element test.
Predominance Test
The predominance test is the most used indicator of whether a game is skill-based or chance-based. Using simple logic, you must think of a game of pure skill on one end and a game of pure chance at the other end. For instance, you may select chess as the game of skill and craps as the game of chance. You then consider the input required and win frequency to determine where a particular game would fall in this range.
Material Element Test
The material element test is the second most popular test used to evaluate whether a game is skill or chance based. You must ask yourself if skill or chance plays a material role in a game's outcome. For instance, Minesweeper and other popular puzzle games require both skill and luck. You must have an excellent memory to learn patterns, yet luck plays a role when you must guess at random. Therefore, Minesweeper is a game of chance.
How to Play Skill Games Online for Money
New to the world of skill games? Don't worry, we're here to help you get started. The entire process is simple, especially if you like to play casino games online.
Here's a step-by-step guide to walk you through how to sign up and start playing skill games for money:
A Step-by-Step Guide to Playing Skill Games for Money
1

Compare the best skill games sites listed on this page and click the "sign up now" button to visit your preferred site.

2

Click the "register" button to create a free account. Enter your full name, date of birth, telephone number, email address, and anything else asked of you in the specified fields. You will also create a username and strong password at this stage.

3

Verify your email address by clicking the link provided in the verification email. This will activate your account. Enter your username and password to log in.

4

Navigate to the banking section and select your preferred deposit method. We recommend e-wallets and cryptocurrencies because they support almost anonymous transactions. Enter your payment details and confirm your deposit amount to fund your account.

5

Browse the game lobby and click on a game that interests you. Read the rules to ensure you understand what you must do.

6

Confirm your stake (the amount you wish to play for) when you are ready to start. This amount will be deducted from your balance straight away. If you have a balance of $100 and play a game for $20, then you will have $80 left.

7

The site may match you against another player, or you may play against the computer – it depends on the game you select. Games can last anywhere from a few seconds to hours.

8

If you win a $20 game that pays 2x, then your prize will be $40. Using our example above, this would mean your balance is $120. You can visit the banking section to withdraw.
Different Types of Online Skill-Based Games
When you log in to a skill games site and view the games lobby, you will be presented with a long list of categories. This will include categories such as "most popular games" and "new games", and those that describe each type of game. For instance, clicking "board games" will present a list of games you play on a board, including classics such as backgammon and chess.
Although games are listed in different categories, the one thing they all have in common is that you must be physically or mentally skilled to beat the computer, or other players, and win real money.
Most skill games fall into the following categories:
Arcade Games
If you're a gamer, you'll love browsing the arcade games section. These games are bursting with colour and have been inspired by titles you will have played as a child. From Tetris and Bejeweled to pinball machines, you can play them all for cash. There are also unique games such as Big Money and Swipe Hype.
Board Games
If you are patient and have a strategic mind, you can prove your skills by playing board games online for money. Your options will include favourites such as backgammon, chess, draughts, and mahjong. Some skill games sites even let you build a property empire by playing Monopoly for money.
Card Games
Many of the most popular skill-based casino games are played with a deck of cards. You can play classic games such as rummy, solitaire, spades, and bridge online for real money. The top skill games sites offer many variants for each of these games, putting a modern twist on the standard format.
Puzzle Games
If you're great at spotting patterns and solving solutions, then the puzzle games section is your friend. This section includes everything from jigsaws to exciting titles such as CandyPrize, which is based on Candy Crush Saga and requires you to swap candies. You must act fast to score lots of points and win money playing puzzle games.
Trivia Games
Bursting with knowledge? Prove it by playing different trivia games online for money. The goal is to outsmart your opponent and score the most points after multiple questions or rounds. There is a short time limit for each question to ensure you don't cheat by using a search engine, so you better know your stuff.
Word Games
If you eat dictionaries for breakfast, then you should find success playing word games online. This section includes titles such as Word Cube, where you win money by creating words from a set of letters. Word games such as Turbo Typing test how quick you are with your fingers, while Word Race requires you to trace words to score points.
The Pros and Cons of Playing Skill Games for Money
Like all games, there are pros and cons to playing skill games for money. Thankfully, the pros far outweigh the cons. Here's a quick overview of the advantages and disadvantages of skill games:
PROS
Opportunity to showcase your skills and win money

The outcome of a game relies on your skills, not luck

Test your skills against other players

Chance to improve skills that can be transferred to the real world
CONS
If you aren't as skillful as other players, you will lose money

Technical issues can affect the result of a game
Put Your Skills to the Test and Win Real Money
Ready to prove how talented you are? Join our top-rated skill games site today to play your favourite games and win real money prizes:
FAQs
What is considered a game of skill?
A game of skill is a game in which the outcome is determined by a physical or mental skill, rather than by chance. To play skill games online for money, you may have to think strategically or react quickly to defeat an opponent. Others may require an abundance of trivia knowledge or an excellent memory.
Is poker a game of chance or skill?
Poker is 100% a game of skill. If you play poker online and make mathematically correct decisions, then you should profit in the long run. There is an element of luck because you can't control things like the cards you get dealt or the community cards, but the ability to make theoretically correct plays is a skill.
Where can I play skill games for real money?
At Arabian Betting, we have an honest and unbiased list of the best skill games sites. These sites make it easy for you to deposit and withdraw, they offer an array of exciting games, and you can win big prizes. Check out our list and read our casino reviews to learn more about each site we recommend.
Is chess a game of skill?
Yes, chess is 100% a game of skill. Nothing is random about a game of chess – both players can see where all the pieces are positioned on the board and use this information to make their next play. There is always a best move, and making it every time will increase the likelihood of you winning.
What are the most popular skill games?
It depends on which games you like to play. If you like to think strategically, then you may prefer board games such as backgammon or chess. If you want to prove how knowledgeable you are, try some trivia games. At Arabian Betting, we love to play puzzle games and word games for real money.