The Ultimate Guide to Online Video Poker
Welcome to our expert video poker guide. On this page, we have everything you need to learn how and where you should play this classic game online. We also offer free video poker games for you to practise with and provide you with all the information you need to start enjoying real money play.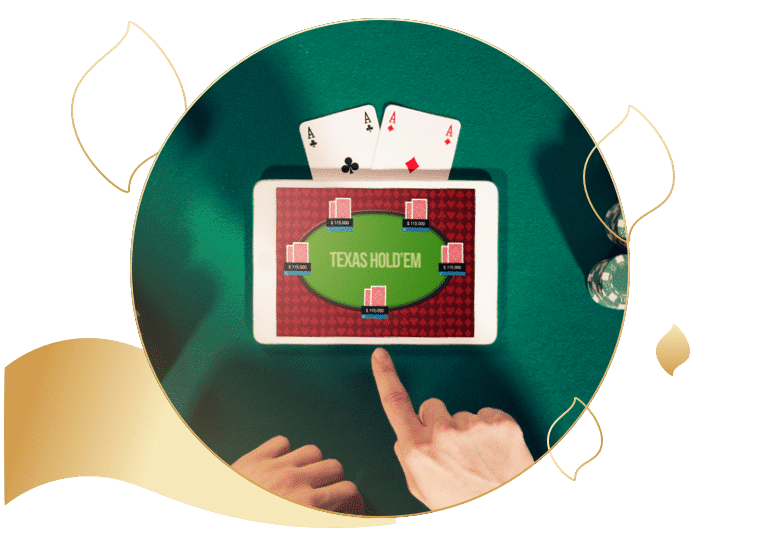 The Ultimate Guide to Online Video Poker
Play Video Poker for Free
Want to learn how to play video poker without risking any of your own money? Try this free video poker game, which will let you practise and perfect your strategies at no cost to you.
How to Play Video Poker
Video poker is easy to play, but the rules and strategies of the game can be a bit daunting for new players. The object of the game is to make the best five-card poker hand possible. At the start of the game, you will receive a five-card hand; you can then discard any cards you want once and draw replacements.
You'll need to make at least a minimum hand to win a prize. For instance, in Jacks or Better video poker, you must make at least a pair of jacks to win. The better the hand, the bigger the reward.
If this is your first time playing, you might not be sure how to get started. Here's a step-by-step guide on how to play video poker online for real money.
A Step-by-Step Guide to Playing Video Poker
1

Join a video poker site. First, sign up with one of our top online video poker sites. Click through our links to register an account that will let you log into the casino and start playing.

2

Make your first deposit. In order to play real money video poker, you'll need to have money in your account. Head on over to the casino's cashier section to see a wide range of deposit options, including cryptocurrencies like Bitcoin, prepaid options, e-wallets and much more. Pick a banking method that works for you, submit the requested information, and your deposit should be processed in moments.

3

Find your video poker game. Most casinos will have a dedicated tab or section for video poker. That area will feature a number of machines. For this example, we'll pick Jacks or Better, a common popular machine that you'll find at any of the best online video poker sites.

4

Choose your stakes. Once you've picked your machine, you will see options on screen that allow you to choose the denomination of each coin you wish to play for. You can also typically choose between playing one and five coins on each hand.

5

Deal the cards. Click the deal button to receive your first five cards. They will appear on the screen.

6

Draw new cards. At this point, you may hold any of the five cards you wish to keep. In order to do so, click on a card. The word "hold" should appear. You may hold anywhere from zero to five cards. Once you're happy with the cards you've chosen to hold, click the "deal" or "draw" button to discard the other cards and replace them from the deck.

7

See your results. Your discarded cards will leave the screen, and their replacements will appear. The five cards on screen now made up your final hand. If you've made a pair of jacks or better, you'll receive the payout listed on the pay table, which is usually at the top of the screen. When you're ready to play your next hand, click the deal button again.
Video Poker Hands
There are several winning hands you can make in Jacks or Better video poker. Here's a rundown of the different combinations that can earn you money on each hand, starting with the most valuable and moving down the list from there.
Royal Flush
This hand is made up of an ace, king, queen, jack, and ten of the same suit. This is the highest paying hand in Jacks or Better video poker, and often pays at a higher rate if you're playing for the maximum number of coins.
Straight Flush
A straight flush is five cards of consecutive rank, all of which are in the same suit. Technically, a royal flush is the best straight flush possible – but in video poker, a royal flush pays more than any other straight flush.
Straight
A straight is made up of five cards of consecutive ranks, such as eight-nine-ten-jack-queen.
Three of a Kind
Any hand with three cards of the same rank, such as three aces, makes up a three of a kind.
Two Pair
A two pair hand contains two cards of one rank, and two cards of another. For instance, a hand with two fives and two eights makes two pair.
Jacks or Better
Any hand with two cards of the same rank of jack or higher qualifies in this category. In Jacks or Better video poker, this hand is enough to return your initial bet.
Most Popular Types of Video Poker
While there are different types of video poker games, four variants in particular stand out as the most popular. Here's a breakdown of these four versions of online video poker, which we think will help you find the game that's right for you.
Jacks or Better
Jacks or Better is the most popular video poker game in the world, due in large part to its simple and straightforward gameplay. There are no wild cards to worry about, making strategy less complex than in some of the other variations we'll mention. A full pay 9/6 Jacks or Better machine – that refers to the payouts for a full house and a flush – features a return to player (RTP) of 99.54%.
Deuces Wild
Deuces Wild gets its name because twos are wild on this machine. That makes it easier to make big hands. However, you'll need to make at least three of a kind to win. The full pay version of Deuces Wild features a 100.76% RTP with perfect play, though most of the best online video poker sites offer versions that return 99.96% or less.
Double Bonus Poker
Double Bonus Poker is a variation of Jacks or Better in which you can earn very high payouts for making four of a kind. However, a two-pair hand will only pay back one coin for each one you bet, as opposed to two in standard Jacks or Better. A full pay 10/7 Double Bonus machine offers a 100.17% RTP with perfect play, with many other versions offering over a 99% return.
Joker Poker
Joker Poker adds a joker to the standard set of playing cards, meaning you'll play with a 53-card deck. Like the other variants on Jacks or Better, this comes at a price. On most machines, you must make at least a pair of kings to win, and two pair also pays even money. On the most generous pay table, perfect strategy will result in a 100.64% RTP, and many other online pay tables return 98.5% or better.
Play Video Poker Online
Our expert team has tested and reviewed all of the top online casinos in order to come up with a list of the best online video poker sites for you. That research has helped us compile the ultimate list of trusted sites for you to choose from:
Best Video Poker Sites for Arabian Players
What the Top Video Poker Sites Offer
How did we choose our recommended video poker sites? Here are a few of the features we look for when picking the top places to play online video poker.
Different Video Poker Variations
Any good online casino should feature a number of different video poker games. We recommend sites that offer not only several variants, but other options for you to choose from, such as multi-hand games or unusual game types you can't find anywhere else.
Top Bonuses
The best online video poker casinos offer a variety of lucrative casino bonuses to you, from matching welcome bonuses to promotions for existing and loyal players. In particular, we look for offers designed especially for video poker players to ensure you can play your favourite game while clearing your bonus.
Variety of Payment Methods
For you to play real money video poker, you'll need to get money into your account. That's why we look for casinos that offer several different deposit and withdrawal options. We put a special emphasis on finding sites that offer safe, anonymous payments methods that are ideal for players in Arabian countries.
Mobile Compatibility
Today, it's easier than ever to play video poker on mobile phones. Our recommended sites offer their video poker machines and all of their other games in mobile-friendly formats that you can access from your smartphone or tablet. Mobile betting sites can be accessed from a downloadable app or mobile browser, depending on the casino.
Top Tips for Video Poker Strategy
Video poker strategy can be complex, but there are a few tips that can help get you started on the right tip. Here are our top tips for playing Jacks or Better video poker.
Always seek out the best pay tables. The gold standard is a payout of 9 coins for a full house and 6 for a flush – the 9/6 pay table – though 8/6 and 9/5 tables often feature returns of over 98%.
Always play for the maximum number of coins. While most payouts scale with the number of coins you play, royal flushes typically offer a premium if you play for the maximum, meaning your RTP will be lower if you play for fewer coins.
You should aggressively try to make royal flushes, as they offer the biggest payouts by far. It is better to keep four cards to a royal flush than a made straight or flush, and you should keep three cards of a royal flush rather than hold on to a low pair (one lower than jacks) or keep a fourth flush card.
If you want to play video poker seriously, it's worth learning a comprehensive strategy for Jacks or Better or other machines. Even simple strategies can help you get very close to the optimal return.
FAQs
Can I play video poker online for free?
Yes, there are many online video poker games that you can try for free. We've included a free video poker game on this page that you can try with no risk. These free games are a great way to practise and familiarise yourself with rules and strategies of different machines before you try playing real money video poker.
Is video poker a game of luck or skill?
While the results of any one hand of video poker are based on luck, your long-term returns also depend on your skill as a player. That's why many players spend time learning video poker strategies. On some machines, players who learn the optimal strategy can even have a slight edge over the casino.
Can you win money playing video poker?
Yes, you can win real money by playing online video poker machines. In fact, video poker offers some of the best odds in the casino. Skilled players who use optimal strategies can take advantage of very high returns, with some machines even having a slight player advantage in the long run.
Which video poker game has the best odds?
Of the most popular types of video poker, full pay Deuces Wild offers the very best odds. That machine has an RTP of 100.76%, meaning you can have a .76% advantage over the house with perfect play. However, video poker machines can offer various pay tables, meaning different variants can be the best bet at each casino.
Is video poker better than slots?
If you enjoy games of strategy and your only concern is getting the best return possible, then video poker will be a better game than slots for you. However, those who enjoy simpler gameplay and want the chance to win bigger jackpots without worrying about complex strategies are likely to prefer slot machines instead.