Gambling in Jordan
In Jordan we have long been exposed to gambling via our welfare lottery and television shows. Though many forms of gambling are illegal, they do not appear to be a focus of law enforcement. Perhaps this is because most of the population already opposes it, making it not a significant problem. There are still arrests in the most obvious cases, and the possibility of an up to 3 month prison sentence exists. I start this article by covering how many younger people gamble over the internet. Their risks are low, but as they do exist, I then cover our legal domestic gambling options, and conclude with information on Jordanian Gambling Law.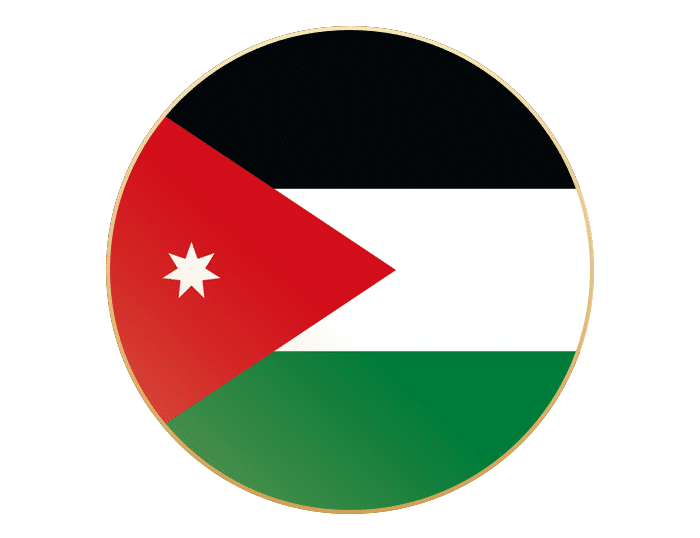 Jordan Online Casinos
There are some online casinos operated by Jordan bookies that accept dinar (JOD) currency. These are illegal and the highest risk. The games can be rigged to a higher than stated advantage. Agents can decide not to pay winners. They can also have trouble with police. There is no recourse when this happens. These casinos operate outside of the law. It is better to use foreign online casinos that are legal, licensed, and regulated in a jurisdiction where gambling is legal.
The United Kingdom licenses many online casinos Jordan residents can use. One of the industry's biggest software providers is PlayTech. They are publicly traded on the London Stock Exchange, had what equates to JD357.1 million in 2014 revenue, and are UK licensed as a software provider. Their software is available in many languages including Arabic. There are internet casinos that use PlayTech software that are UK licensed themselves. This is double protection. Such companies have their casino software and financials audited. These are safe casinos to use as you can be certain that the game are fair and that you'll be paid if you win.
Reputable online casinos are not limited to just the UK and Playtech software. There are many jurisdictions with strong gambling commissions and many publicly traded software providers. Most of these are global serving players from all over the world including Jordan. While they do not offer casino accounts in Jordanian dinar (JOD), they do support US dollar (USD) which the dinar is pegged to (1 USD = 0.709 JOD). This means no volatility in exchange rates when choosing USD as the currency. The casinos listed below are reputable, highly regulated abroad, offer accounts in USD, and have banking methods friendly to Jordan residents.
Best Casino Sites for Jordanians
At each of the above casinos you'll find a large selection of slot machines (ماكينات القمار) and table games including blackjack (بلاك جاك 21), dice games, online roulette, various poker (روليت) based games, and much more. When played for real money you can only gamble using an account balance. As you wager, your account balance goes up when you win, and down when you lose. You can take money out of this account at any time. To get started you of course have to make an initial deposit.
One might assume that it is difficult to add money to and withdrawal money from foreign online accounts. This however isn't the case. There are methods such as www.neteller.com which is an e-wallet similar to PayPal that is gambling friendly. That site has been in the industry for decades and is licensed by the UK's Financial Service Authority (FSA) as an e-money provider. Jordan residents can open a NETELLER account online for free. They can then deposit money to it using cashu, bitcoin, or bank wire. In some cases credit and debit cards work too. For those living in Amman, cashu is a great option as you can purchase top up cards in person. See cashu.com to find locations. Note that there are ways to purchase cashu, as well as bitcoin, online.
A nice feature of NETELLER is they offer account holders a MasterCard debit card. With this card you can spend your NETELLER balance anywhere MasterCard is accepted or can withdrawal dinar right from an ATM. Even though your NETELLER account will most likely be in US dollar all ATMs in Jordan do the conversion for you. As dinar is pegged to dollar, the rates are competitive.
There are others ways to take money out of NETELLER too such getting a paper cheque or requesting a bank wire. Again you can use NETELLER to both deposit money to online casinos and to withdrawal from your casino account balance. There are other similar methods to deposit too. Entropay.com is a website that sells UK issued virtual prepaid VISA cards that can be loaded using Jordan credit or debit card.
Legal Gambling in Jordan
The laws of Jordan are largely influenced by Islam so one would expect there isn't much gambling here. This however isn't exactly the case. Back in 2010, the grand Mufti of Jordan, Sheikh Abdul Karim Al-Khasawneh had said game shows such as "The Dream" then running on Middle East Broadcasting Center (MBC) are considered to be gambling and therefore unlawful in Islam (Al-Khasawneh, 2010). However, we have similar shows broadcast regularly here. These are even shown on "Al-haqiqaAl-dawliya" or "Fact international" TV which is owned and mostly staffed by Jordanian Islamic "Wasat" Party members.
The majority of our major banks offer a certain number of draws based on amount deposited to a lottery too. Though probably harmless if won by coincidence, there is much discussion on Arabic language forums about how to move money around between banks to stand the best chance to win. This very much borders gambling but even many who claim to oppose gambling for religious reasons, get involved with this.
Although all the examples given so far might be up for debate, there is a major form of gambling legal and widespread in Jordan that is clearly haraam in Islam. Every 10 days at 8PM on Jordanian TV our welfare lottery drawing is done live. This involves 100,000 printed tickets at an official price of JD3 each. As these are primarily sold by street vendors, certain numbers can sometimes sell for over face value. The top prizes are JD40,000, JD8,000, JD6,000 JD4,000, JD2,000, and JD1,000 and there are dozens of smaller prizes awarded too.
Other than many people relying on lottery sales for employment, the main benefit to this draw is that much of the proceeds are given to charity. For example, 10% of the revenue goes to those who are disabled. It should be noted that most of the population does oppose this lottery for religious reasons – but 100,000 tickets still get sold. Then there are some who make an exception for the Memorial Day or New Year's Lottery on the basis the prize is bigger and more charity is helped. All this goes on despite there being an official "Fatwa" (issued by the former grand Mufti of Jordan Dr. Noah Ali Salman) showing that such lottery is haraam in Islam (Salman, 2011).
What I just covered are the main forms of gambling legal and tolerated here. There are many other forms of lotteries and contests run by shopping malls, sports drinks, and even organisations for business funding and the like. Other than these, all other forms of gambling are illegal. We however came very close to having a casino. This is a topic I discuss in the next section before getting to the law.
Land Based Casinos in Jordan
There have been multiple attempts to bring land based casinos to Jordan. There was previously a tentative agreement in 2003 to build one, but it couldn't get proper approval. The more recent time it was attempted deserves some attention. In 2007, a higher council of tourism approved a decision to include gambling as a tourist profession. This would allow gambling that could be done only by tourist. Shortly later, a highly secretive deal was struck with a British company, Oasis Holding Investment Ltd, to build and operate a casino on the eastern shore of the Dead Sea in Sweimeh. This deal was however highly illegal, and likely involved mass corruption.
For starters no casino was to be authorised until official regulation for licensing was published. The agreement to build any casino had to be published in the official Gazette. Perhaps because the public had no idea casinos could be coming to our country, and would protest them, and because of potential mass corruption involved in the deal, it was never published. Another huge issue is the authorised agreement required any dispute be arbitrated in the UK. This meant our Jordanian courts had no jurisdiction over the agreement! It also stipulated USD $1.4 billion penalty be paid should the government back out of the deal.
The casino file had gripped the nation for many months, and caused mass protest. Marof Bakhit, whose government authorised the deal, escaped indictment but not by much. Parliament voted 53-50 against indicting him, with six not attending and ten abstaining their votes. Fifteen other former ministers and one other still serving were implicated in the deal as well. The casino project was of course scrapped. A settlement was reached which involved about JD92,000 payment, land to build a non-gambling resort, ability to claim losses off future earnings, agreement to have first right to open any casinos Jordan does approve, and other various concessions.
This 2007 casino agreement came very close to costing our country $1.4 billion in losses. It is still a lingering topic. Aljazeera has a very detailed Casino Gate File that many of those involved would not want read. The public outrage this had caused makes it unlikely any casino does come to Jordan soon. If it hadn't been for the corruption involved in the 2007 agreement chances are strong we'd have already had one by now.
Jordanian Gambling Law
In Jordan we have rather complex but very fair legal system. We are constitutional monarchy where the King still holds wide executive and legislative powers. Though Islam is our official religion, Sharia (Islamic Law) is reserved mostly for family related matters. Our written law is very detailed and while influenced by Islam most matters are based on a combination of British Common Law and French Civil law. Offenses for gambling are heard by the magistrate courts.
As casual gambling is not a high profile crime, first offenders have their cases heard in a court designed for just that (first offenders court). The law on gambling falls under our Penal Code. Article 393 and 394 describe crimes relating to the business side of gambling. Article 395 relates to players/gamblers. It sets the penalty at up to a maximum of 3-months in prison and/or a fine. Though it is within legal guidelines to be given a 3-month prison sentence, in practice, more often first offenders are given only a small fine. On a second offense it could be a larger fine or have some prison time involved.
This article does discuss gambling in a rather light tone. The truth is that enforcement designed to prevent online gambling, and the penalties involved, are much lighter here than in other Arab League countries. But do understand an overwhelming amount of the population firmly opposes gambling.
Our legal lottery has existed for decades but is still a matter of frequent protest. Jordanian citizens have a legal obligation to report any crimes they see. This is where the bulk of arrests come from. Well organised stings are not common, but if someone is reported, it will be investigated. Finally note, in some cases the social repercussions when caught can even outweigh the legal ones. There is a very strong anti-gambling movement which in itself creates some added risks.