The Best Ligue 1 Betting Sites 2023
Do you want to play at the best Ligue 1 betting sites? Our expert team has put together this complete guide to betting on Ligue 1 football. Here, you'll learn how to get started at a trusted betting site, the types of Ligue 1 bets you can make, and tips on how to be a successful bettor on French football. Start betting today by joining one of our top Ligue 1 betting sites below!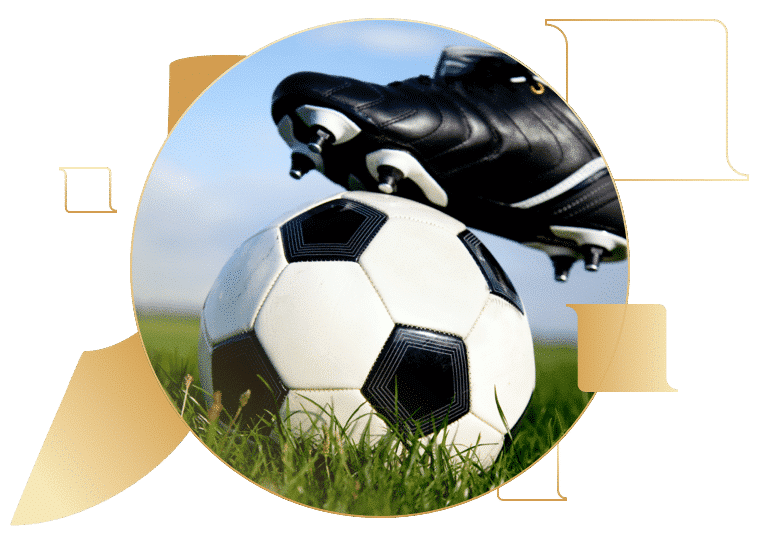 The Best Ligue 1 Betting Sites 2023
Top Ligue 1 Betting Sites for Arabic Players
Ligue 1 – Everything You Need to Know to Bet on the French League
Ligue 1 is the top division of men's football in France. 20 clubs compete each season over a full double round-robin, earning three points for a win and one point for a draw. After all teams have played 38 matches, the club with the most points wins the league.
At the end of the season, the bottom two teams are relegated to Ligue 2, with the top two Ligue 2 clubs replacing them. The club that finishes in 18th place must also play a relegation playoff against the winner of a promotion playoff from Ligue 2.
Update: Beginning in 2023-24, Ligue 1 will reduce to 18 clubs. To do this, four teams will suffer relegation after the 2022-23 season, with only two clubs promoted to replace them. The LFP (the French football governing body) aim to revert to the normal 20 club system by the 2024-25 season.
When Does Ligue 1 Start?
Ligue 1 normally begins in August, with the competition wrapping up in May. Even at the end of one season, however, you can place Ligue 1 bets on the next!
Why Bet on Ligue 1?
There are several reasons bettors in the Middle East and across the globe enjoy betting on Ligue 1. Here are a few of our favourite reasons to wager at the best Ligue 1 betting sites.
Elite Players to Watch
Some of the world's top players play Ligue 1 clubs, and the top teams hire world-class managers to guide their squads to success. While it may not have the polish of the English Premier League, names like Mbappe, Neymar, and Pochettino make Ligue 1 football exciting and dynamic for fans and bettors alike.
Bonuses for Big Matches
Many of our top Ligue 1 betting sites give out bonuses specifically for some of the biggest matches of the season. Whether it's the opening round of matches, Le Classique between PSG and Marseille, or one of several regional derbies, you can take advantage of great promotions during major Ligue 1 clashes.
It's Not Only PSG
Yes, PSG has been the dominant force in French football in recent years, but that level of dominance means many other Ligue 1 clubs are underestimated. This offers you enticing odds on smaller teams. Plus, PSG doesn't always win, Lille took the title off of the giants in 2020-21, for instance.
Why Ligue 1 French Betting is Perfect for VIPs
High-rollers love betting on Ligue 1. This league provides high quality football from some of the biggest clubs in the world, but also features a mix of smaller clubs that keeps things interesting and rewards bettors who follow the entire competition. Besides, no matter where in the table you want to place your bets, bookmakers offer gambling with high limits and tons of markets to choose from.
Many Arabic football fans support PSG, which adds additional interest for many VIPs in the Middle East. If you're part of that group, you'll get more excitement out of placing big bets on your favourite club as it competes for the Ligue 1 title every year, along with the Champions League title and other trophies.
How to Bet on Ligue 1
It's easy to bet on Ligue 1, even if you're new to sports betting. To help beginners, our expert team has put together a step-by-step guide. Simply follow the instructions below to place your first wager at one of the best Ligue 1 betting sites.
Step-by-Step Guide to Ligue 1 Betting
1

First, you need to decide where you want to place a bet. Look at our recommended list of the top French Ligue 1 betting sites and find one that appeals to you. Consider payment methods, minimum deposit limits, and bonuses.

2

First, you need to decide where you want to place a bet. Look at our recommended list of the top French Ligue 1 betting sites and find one that appeals to you. Consider payment methods, minimum deposit limits, and bonuses.

3

Next, click on our link to go to the registration page of your chosen site. You'll then need to input some basic information like your name, email, and address.

4

To place a bet, deposit money into your account. Head over to the cashier section and choose a banking option that works for you. Input the amount you want to deposit and your payment details. In a matter of moments, the money should be in your account.

5

Now it's time to bet. Your site will have an area devoted to football. Under that section, find Ligue 1, then the match you wish to bet on.

6

Your chosen match will include several, if not hundreds, of betting markets. Find the wager you want to make and click on it to add it to your betting slip.

7

Input the amount that you want to bet. The site will show you your potential payout. If you're happy with the odds, click submit to place your bet.

8

8Now, watch your Ligue 1 match to see the bet play out! You can not only follow the action, but you can also make additional live bets during the game if you find in-play odds you like.
Where to bet on Ligue 1 | Best Ligue 1 Betting Sites
How We Choose the Best Ligue 1 Betting Sites
Almost every sportsbook on the planet offers betting on Ligue 1. However, not all these bookmakers offer you the same experience.
To ensure your bets are both safe and lucrative, our experts have rated and reviewed all the best Ligue 1 betting sites for Arabic players. During this process, they've also identified the top features that are important for Ligue 1 bettors. Here's a look at the key areas we consider when picking our top sites.
Great Ligue 1 Odds
There's nothing more important than making sure you get the best odds possible on your Ligue 1 bets. That's why we look for sites that offer the most generous payouts to their bettors. Even a slight difference in odds – say, getting 2.50 instead of 2.40 on a match winner – can make a dramatic difference to your results in the long run.
Wide Range of Ligue 1 Bets
The best betting sites offer a wide range of betting options on Ligue 1. Any site will let you pick the winner of a match, yet we look for bookmakers that go above and beyond. Our recommended sites offer options like live betting during matches, proposition bets like first goal scorer and exact score wagering, and accumulators that give you a chance to earn massive payouts.
Plenty of Free Bets and Bonuses
While every bookmaker offers bonuses, our recommended sites have a specific range of bonuses and promotions for Ligue 1 matches. For instance, you might get a free bet on PSG's opening match, or boosted odds on your choice of winner in Le Classique.
Live French Football Streams
Our top Ligue 1 sites feature live streams that allow you to watch games for free in real time. This is perfect for those outside of France who don't have easy access to Ligue 1 broadcasts. It's also perfect for live betting, as you can watch games to find the perfect moment to place your bets.
Secure Deposits and Withdrawals
We look for sites that offer a wide range of banking options to make sure you can deposit easily and safely. Most sites offer traditional options like bank transfers and credit cards, yet we search out bookmakers that offer a variety of secure, anonymous payment methods like Bitcoin and prepaid vouchers.
Mobile Betting
Today, there's no excuse for an online bookmaker not to offer mobile betting. Having the ability to bet from your phone or tablet makes it easier to get your wagers in at a moment's notice, especially if you enjoy live in-play betting during a match. Our top sites all offer mobile betting, either in your web browser or through a downloadable mobile app.
Popular Ligue 1 Betting Markets
You might think betting on football just means picking a match winner, yet there are hundreds of different markets to choose from when you bet on Ligue 1. Here's a look at a few of the top betting markets you'll find at our recommended Ligue 1 betting sites.
Match Result
Yes, betting on the result of a single match is still the most popular way to bet on football, and that includes Ligue 1. These markets are straightforward, they simply require you to correctly predict the final result of a game: a home team win, a draw, or an away team win. Typical odds might look something like this:
Lille: 2.20
Draw: 3.25
Marseille: 3.40
In that example, Lille is the home team and the favourite. Remember, you must get the exact result right to win your bet: if you choose a winner and the match ends in a draw, your bet will cause a loss.
Clean Sheet
This market allows you to predict that one team will hold their opponents scoreless. If you make this bet on a team, it wins only if they allow no goals in the match.
Goalscorer
In this market, your job is to predict which player will score the first goal of a match. The bookmaker will list all the likely (and many unlikely) scorers at various odds. If you pick the player who nets the first goal, your bet pays off at the listed odds.
Overall Winners
You don't have to limit your betting to a single match. The overall winner market asks you to pick the club that will win Ligue 1. These odds are available just after the previous season ends and change as teams spend money in the transfer market, lose players to injury, and play matches.
Top Goalscorer
Do you think you know which player will score the most goals in the Ligue 1 season? If you do, the top goalscorer bet is for you. At the top Ligue 1 betting sites, you can back the likes of Neymar and Mbappe to rack up a sensational number of goals. Also, these types of bets can help you pick a convincing Ligue 1 Ballon d'Or winner too.
Live Betting
Live Ligue 1 betting continues right until the final whistle. Our recommended sites offer changing odds throughout the match, both on the game result and other markets. Every goal, card, and corner will change the payouts, allowing you to jump in at precisely the right moment to get the odds you want.
Accumulators
If you want to win even bigger, consider accumulators. These bets allow you to combine several wagers together. You'll need every leg of your accumulator to hit in order to win this bet, yet if you string together several wagers successfully, the payouts can be truly enormous.
Betting on or Without PSG
If you're looking to win bets, wagering on PSG is usually pretty smart. The club has dominated Ligue 1 for the past decade. However, that means that the odds on PSG are usually pretty tight, both on individual matches and especially for futures bets on the club to win the league.
For this reason, many bettors prefer to place bets on smaller teams. There's also the possibility of choosing markets where PSG is not a factor. The best Ligue 1 betting sites offer markets without PSG, so you don't have to worry about the European giant ruining your wager on a smaller club. A few bets you can make to avoid PSG include:
League Winner Without PSG – In this bet, you're betting on the team that finishes in the top spot without considering PSG at all. That means that if PSG wins Ligue 1, this bet pays based on who finishes second instead.
Top 3 Betting – You can also bet on whether a club will finish the season inside the top 3 of the Ligue 1 table. This allows you to predict a team will do well without needing them to surpass PSG.
Relegation Betting – If you want a bet that has nothing to do with PSG or other top clubs at all, then the relegation race may be more your speed. In this market, you want to choose a club that will suffer relegation to Ligue 2. If your chosen team drops down, you win your bet.
Ligue 1 Betting Tips – Expert Advice
Our expert team has spent decades betting on football, both in Ligue 1 and in other competitions around the world. That experience has given them several insights into how to get the most out of every bet. Here are some of our top tips for betting on Ligue 1 football.
Check the Fixtures
Remember that the top French clubs aren't just playing in Ligue 1. These teams must also compete in domestic competitions like the Coupe de France. The best clubs also take part in European competitions like the Champions League and Europa League. Be aware of teams that face schedule congestion: this may cause fatigue, and some managers may even rest key players to keep them fresh for more important matches. If this happens, your sure bets could turn sour.
Consider Relegations
Even in years where PSG is dominating the top of the table, there are always intense fights at the bottom of Ligue 1, where clubs battle to avoid the possibility of relegation. Matches between teams that are fighting to stay up can be some of the most competitive games of the year. Also, teams near the relegation zone may overperform against mid-table opponents with little to play for late in the season.
Stay Up to Date with Team News
Before you bet on or against a club, make sure you're up to date on all the news about that team. You'll want to make sure you know which players are battling injury, any new transfers, and if there's manager problems troubling a team. You must factor these issues into your betting decisions if you want to improve your results.
Watch Out for the Transfer Window
Ligue 1 exists in an interesting spot in European football. While it's a major league, it still serves as a feeder for the biggest clubs in the Premier League, La Liga, Serie A and the Bundesliga. That means big players sometimes leave Ligue 1 clubs midway through the season. Be aware of the latest changes when making bets during the transfer window.
Use a Reliable VPN
We recommend that all of our Arabic readers use a VPN when they play at the top Ligue 1 betting sites. It's important to protect your identity by disguising your web traffic. This also allows you to focus on enjoying yourself and making the best bets possible.
Join the Best Ligue 1 Betting Sites Now
Now that you're fully informed about Ligue 1, you're ready to gamble on French football with confidence. Sign up with our top-rated Ligue 1 betting site below to bet on the league right now!
Bonus
100% up to $200 (Promo Code GET200)
Languages
en
Features
Great Welcome Bonus
Over 600 Slot Games
Betting Available on all Devices
Payment Options
Ligue 1 Betting FAQs
What is the best betting site for Ligue 1 French football?
There's no one betting site that's best for every gambler. That's why our team of experts has put together a complete list of the best Ligue 1 betting sites for you to choose from. Each one offers slightly different bonuses, features, and other benefits, so that you can find one that's perfect for you.
Why should I bet on Ligue 1?
Ligue 1 represents the top tier of the pyramid of French leagues, and it offers one of the highest standards of football in the world. It includes top clubs like PSG and Lyon, as well as some of the world's most talented players. These factors make Ligue 1 an exciting, fun league to bet on for both serious and casual bettors.
Can I bet on Ligue 1 from Egypt?
Yes, our list of the top French Ligue 1 betting sites includes many bookmakers that accept players from Egypt. That means that you can enjoy betting on Ligue 1 matches from your home country. While there are not locally regulated sites in Egypt, we have found several reputable, licensed foreign bookmakers who are happy to do business in the country.
What is the best bet on Ligue 1?
There are plenty of great bets you can make on Ligue 1 football, the best wager depends on what you're looking to accomplish. If you're looking for a likely winner, betting on big clubs like PSG might be the way to go. But other markets like top goalscorer, top finisher excluding PSG, or betting on the winner of an individual match can be more lucrative.
Who will win Ligue 1?
Like other top football leagues, there's no way to know which club will win Ligue 1 before the season begins. As of late, PSG has been the best bet. The European powerhouse has won seven of the last nine titles. Overall, Marseille and Saint-Etienne are tied for the most French league championships in history with 10, one ahead of PSG.