The Best Real Money Domino Game Sites for 2022
If you're interested in playing dominoes online, then we're here to help you learn how to get started with domino game sites. This page is the ultimate guide to playing dominoes for real money. We'll show you how to choose a site that's right for you, teach you how to play different versions of dominoes, and give you all the tips you need to improve your play.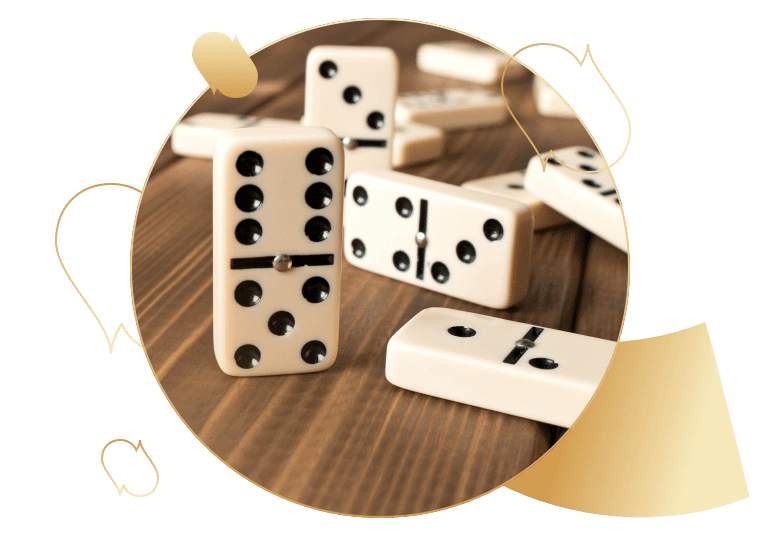 The Best Real Money Domino Game Sites for 2022
Where to Play Dominoes Online for Real Money
While there are many places to play dominoes online, only a handful meet our strict criteria. You can start playing today by choosing from our list of recommended real money domino game sites below.
Join Our Top Recommended Domino Game Sites
Domino Basics – Tiles and Sets
The name "dominoes" refers to a family of games played with a particular set of rectangular pieces known as tiles. Similar to a deck of cards, which you can use to play blackjack online, solitaire at home, or poker at a casino, you can use a set of dominoes as a generic collection to play many games.
Today, most dominoes games are played using a 28-tile double six set. Each tile is divided in half into two square "ends". Each end has several spots – commonly known as pips – ranging from 0 to 6. The 28 tiles contain every possible combination of ends, from double zero through double six.
Each tile belongs to one or two "suits" based on the number of pips on each end. For instance, the 2-5 tile belongs to both the two and five suits.
How to Play Dominoes Online
While there are several gambling domino games out there, the rules are simple for each of them, making it easy to get started. In almost all forms of dominoes, the goal is to score a set number of points over a series of games, either individually or in teams of two. Although there are many ways of accomplishing this goal, each game follows the same basic structure.
Gameplay
Let's walk you through a typical dominoes game. While real money domino game sites may offer variations on the rules, and there are multiple styles of games out there, the basic structure of play is consistent through most domino variants. That means the following guide will give you a good idea of what to expect when you play your first dominoes game.
The Line of Play
The line of play refers to the configuration of tiles that are in play on the table, or displayed on screen at domino game sites. Most variants begin with just one tile in play. You then play matching tiles, typically end-to-end.
In many games, doubles can act as "spinners". These tiles allow play not only on the two ends, but on all four sides. This allows the line of play to spread in additional directions as the game goes on.
Scoring
As we have talked about throughout this page, different domino games have varying rules, and that means scoring can vary as well. However, most types of scoring refer to the pips on the tiles themselves: either those on the board, or those remaining in your hand at the end of a game. Here's a quick look at the main scoring methods in dominoes games.
In many games – particularly in blocking games – players only score at the end of each game. Once one player has emptied his or her hand, they score one point for every pip remaining in every opponents' hand.
A blocked game means that nobody can play. Most rules state that the player with the lowest pip count wins the game. This player scores points from each opponent based on the difference in their pip totals. For instance, if you have five pips remaining, and your opponent has 12, you score seven points (12-5).
In other domino games, players can score based on the pips at each end of the line of play after they play a tile. You might score points equal to the total number of pips on the ends of the line of play, or score only if the ends add up to certain numbers.
In the most common variants, players or teams race to a certain score, such as 100, playing games until someone reaches that score. In some casual variants, the first person to play all their dominoes simply wins, with no scoring involved. Players might also play a certain number of games, with the winner being the player or team with the highest score at the end of that series.
Variations of Domino Games
There are dozens of popular versions of dominoes. Much like how you can use a deck of cards to play countless games, there are lots of ways to play with a set of dominoes, and it would be impossible to talk about them all here.
Real money domino games sites only offer a small subset of the most popular variants that are common in competitive play around the world. Two of the most popular are block and draw. Both variants use the standard 28-tile set, though they have one major difference.
Free vs Real Money Domino Game Sites
Domino game sites offer you two main options for playing dominoes online. Some sites allow you to play free games, while online gambling sites offer real money competitive play.
There are many differences between these two types of dominoes sites. For instance, free sites allow players of all ages to compete, and you can often jump into a game without registering an account. Meanwhile, online gambling sites are age restricted – you normally must be at least 18 years of age to play on them – and you must create an account to play.
Both free and real money dominoes exciting and fun games, but they offer very different experiences. Here's a look at the pros and cons of both ways to play domino games online.
Free Dominoes
Accessible to all ages

Very beginner-friendly

Opportunity to learn new games or test strategies

More casual play with lower level of competition

No opportunities to win real money
Real Money Dominoes
Serious, competitive dominoes play

Opportunity to win real money

The best arena for testing your skills and strategies

Potential to lose money

Only adults can play
Tips to Help You Win Money Playing Dominoes Online
If you're thinking about playing at real money domino game sites, you might be interested in some strategy advice. That's why we've put together this set of tips that can help take your game to the next level. Here's a look at a few of the key ideas you'll want to consider during your next dominoes game.
Try to play your doubles early. While most of your tiles fit into two sets, doubles can only match one number, and will prove harder to play. If an opportunity arises to get rid of a double, you'll usually want to take it.
When you still have several tiles in hand, try to keep a wide variety of suits available to you. This makes it more likely that you will have legal plays on future turns. If multiple plays are possible, the one that gives you more options in the future is likely the best one.
When in doubt, play your heaviest – or highest-total – tiles first! Getting rid of big numbers ensures that you won't give your opponents a huge number of points, even if things don't go your way in the current game.
Pay attention to when your opponents have been blocked. For instance, if your opponent couldn't play when the ends were a four and a two, you'll want to leave those numbers as ends in your future turns to stop them from winning the game.
History of Dominoes
Domino games date back at least 700 years. Zhou Mi wrote about the game during China's Yuan Dynasty in the 13th century. Sets didn't always look like those we play with today, however. Originally, dominoes simulated the roll of the dice, with 21 tiles featuring two squares of 1-6 pips each. In traditional Chinese play, they used two suits of dominoes: civil and military.
By the 18th century, dominoes had made their way to Europe, first appearing in Italy. That's when the standard set eliminated the use of multiple suits but added the blank sides and the double blank to bring the total number of tiles to 28 – the same number we play with today.
Many myths have been told about the history of dominoes. One persistent story places dominoes in Ancient Egypt, with a set supposedly being found in King Tutankhamen's tomb. However, while several ancient games and game pieces really were found during excavations of his tomb – including Senet and the Royal Game of Ur – dominoes were not among them. Of course, you can still play dominoes at Egypt casinos today.
Play Dominoes Online for Real Money Today
If you've made it this far, it's time to put your dominoes skills to the test at our top-rated online casino. Click below to go to our recommended real money domino game site and start playing today!
FAQs
Can you play dominoes for money?
Yes, you can play dominoes for money. We've included a list of our recommended real money domino game sites right on this page. Many online gambling sites offer real money dominoes play, which allows you to win money while you test your skills against other dominoes players around the world.
Is dominoes a game of skill?
While there is luck involved in dominoes, most domino games are clearly classified as skill games. Much like poker, decision making, odds calculations, and hand reading are important skills that can help you win in dominoes. That's why skilled players will win more often than their less experienced opponents.
Where can I play dominoes online?
There are many sites that offer either free or real money dominoes play online today. We've put together a list of the best dominoes sites for real money to help you find the right site for you. At these sites, you can deposit and withdraw funds via a variety of banking methods, and play dominoes at different stakes levels based on your personal preferences.
Can you put a blank domino on anything?
There are two different rules that can apply to blank dominoes depending on the specific game you are playing. In some games, you can only match blank ends to other blank ends. Other dominoes games allow you to treat blanks as wilds, matching them with anything at the end of the line of play.
What happens in dominoes when no one can go?
When a game is blocked – meaning nobody can make a legal play on the board – a game of dominoes ends. Each player reveals their hand, and in most variants, the player with the fewest pips in their hand wins. They then score a point for every extra pip in each opponent's hand.