The Best Arabic Online Omaha Sites
Easily find the best online Omaha sites for Arabic players in our detailed guide below. Learn how to play Omaha, which poker sites offer the best games, and how you can play discreetly. Sign up to one of our recommended sites that feature Omaha poker and enjoy a generous welcome bonus today!
The Top Real Money Omaha Poker Sites for Arabic Players
If you are playing from an Arabic country, we recommend you use a VPN when accessing one of these recommended poker sites.
How We Rate Real Money Omaha Poker Sites
We've reviewed thousands of gambling sites in Arabic countries, but how do we rank the best online Omaha sites? There are many factors we consider including site security, variety of payment methods, game selection, device compatibility, platform performance, and reliability of customer support. You'll find more in-depth information on how we recommend the best Omaha poker sites for you below:
Security
Safety is important in all online gambling. We only recommend sites that keep your personal data protected from unexpected cyber-attacks. Through implementing proper web security, the transmission of your transactions and sensitive information remains secure from outside threats.
Payment Methods
To further boost your security and keep things speedy, it's vital that Omaha sites present a range of different payment casino banking methods including credit cards, e-wallets with near-instant transfers, and cryptocurrencies. Having a wide selection means you can choose a convenient deposit method, prioritising those which have little or no fees attached to them.
Game Selection
If you want to find the best Omaha poker sites, you must target an online casino with a solid game selection. We consider not just how many poker variants are available, but also how populated the games are. Players of all bankrolls should be catered to, so we favour poker sites which have both low and high stakes tables and events running. We value sites that offer a diversity of casino games such as slots or other table games for your enjoyment.
Device Compatibility
Some poker sites still don't have a quality mobile app, even though lots of players favour playing on the go. Even worse, some poker software runs into issues on certain systems, like Macs. We test each Omaha poker site on multiple devices and factor this into the ranking.
Platform Performance
The software used plays a major role in how much you enjoy your time playing poker. You might play with weak players, but if the site is slow and lagging, it won't be a fun experience. Only pokers sites making use of top software providers, such as The Stars Group, receive our recommendation.
Support
We believe the best Omaha poker sites should offer multiple avenues of support. This can include email, phone support, and live chat. The service must be quick and friendly – anything less sees the site moved down our list. We also award higher rankings for long hours – preferably 24/7 – and multi-lingual support.
How to Register for an Omaha Poker Site
Signing up to any poker site is a straightforward process which only takes a few minutes. Simply input a few personal details and a payment method and create a username and you'll be playing in no time.
Here's how to register for real money Omaha poker sites:
Omaha Poker Registration Guide
1

Pick a Site – Select one of the top real money Omaha poker sites for players in Arabic countries. We've already explained how we rank them, so choose one of the trusted sites in our recommended list.

2

Download – At many of the best sites, you must download software to play. The software is always free, only takes a few minutes to download, and can be deleted after a playing session. If there's no option to download, simply access the web browser option instead.

3

Enter Your Information – Input some basic information, including your name and email, to get started. You'll also need a username which will be visible to other players at the table.

4

Deposit – Pick the deposit method which works best for you and deposit some funds. If you're making your first deposit with the company, you may be eligible for a new player deposit bonus. Check out the sites at the top of this page for some available offers.

5

Play – Filter games by 'Omaha', or a specific variant of Omaha, join a table, and play with actual players in real time.
How to Play Omaha Poker
To help give you an idea of how Omaha works, here's a rundown of a hand. For the sake of simplicity, we'll refer to Omaha Hi, which is the most common version of Omaha.
Blinds and antes
The player to the left of the dealer posts a small blind and the player to their left posts the big blind. If an ante is in play, all players post an ante. The primary function of blinds and antes is to ensure there's money in every pot – so you can't just sit back and wait for the very best hand every time! Blinds rotate one place clockwise after each hand.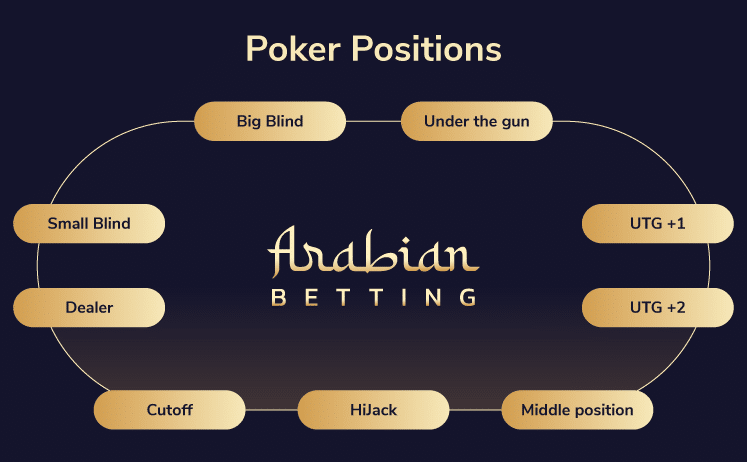 Deal
Each player receives four face-down cards, known as hole cards. In Omaha, you typically want hands which could lead to a flush, full house, or other big hands. Single pairs are not valuable in Omaha, even though they often can be in Texas Hold'em.
Pre-flop betting
A round of pre-flop betting takes place. Players who don't like their hand can 'fold', exiting the hand. The other options are to 'call' – i.e., put in the minimum betting amount – or 'raise'. A raise means that you are increasing the price for other players to stay in the pot. The minimum raise must be at least two big blinds, or at least as much as the previous bet in the round. For example, if the big blind is 100 chips, you must raise by at least 100 (making 200 total). Or, if somebody had already raised to 300, your minimum raise would have to be 500 or more (the 100 big blind, plus their raise of 200, plus your own raise of 200).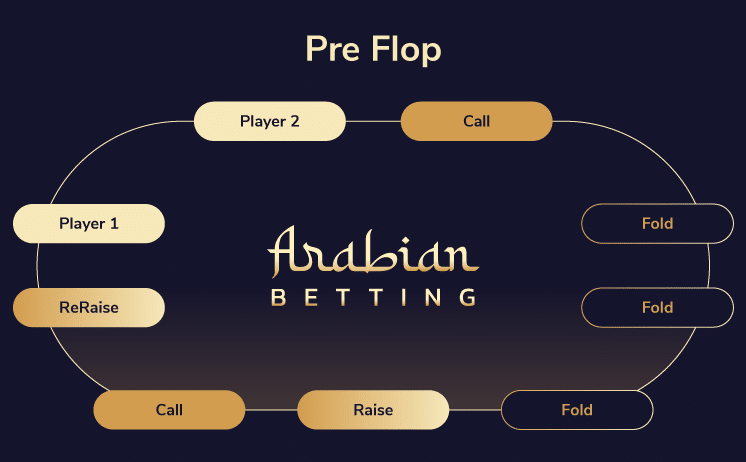 Flop
Once pre-flop betting concludes, three community cards are dealt face up. These are cards that any player can use – though each player must specifically use a combination of two hole cards and three community cards in total. A round of betting occurs. Players can 'check' to progress play without putting in extra chips or raise. Anybody who folds is out of the hand.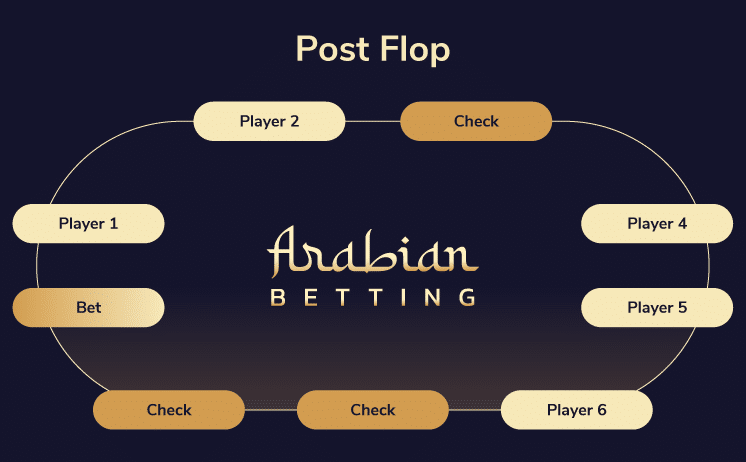 Turn
Once the flop betting concludes, a fourth community card is dealt face-up, known as the turn. An identical round of betting occurs.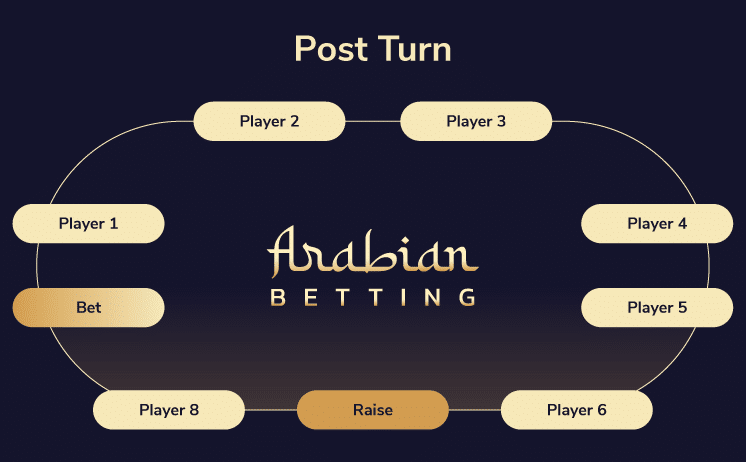 River
Once again, a community card is dealt face-up, followed by a round of betting.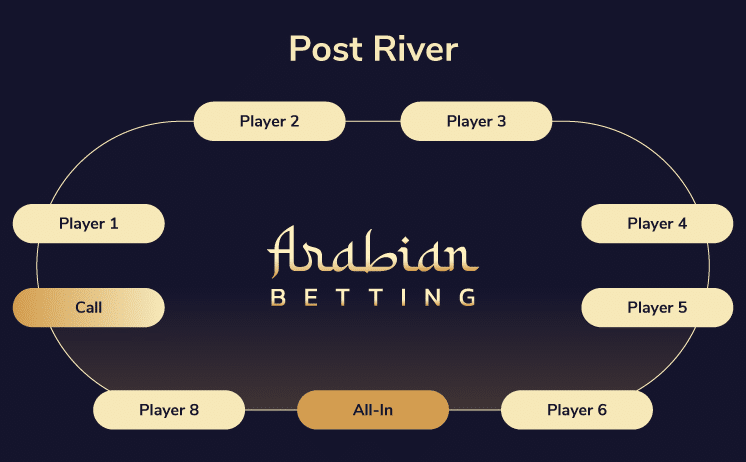 Showdown
If only one player remains, they win the pot without showing their cards. But if two or more players are still in once all bets conclude, the hand goes to showdown. Players turn their cards face-up and reveal who has the strongest hand. The winner scoops the pot.
Omaha Hand Rankings
Hand rankings for Omaha online poker don't change from other variations of poker, such as Texas Hold'em. You'll find a list of the possible card combinations from highest to lowest below:
Royal Flush:
10-J-Q-K-A of the same suit in succession e.g. 10h Jh Qh Kh Ah
Straight Flush:
Five cards of the same suit in succession e.g. 7c-8c-9c-10c-Jc
Four-of-a-Kind:
Four cards of the same value e.g. 5h-5d-5c-5s-9s
Full House:
Three-of-a-kind and a pair e.g. Qd-Qc-Qs-10d-10s
Flush:
Five cards of the same suit, not in successions e.g. 2c-3c-8c-Qc-Kc
Straight:
Five cards of any suit in succession e.g. Ac-2d-3d-4c-5h
Three-of-a-Kind:
Three cards of the same value e.g. Jd-Jh-Js-10c-3d
Two Pair:
Two pairs e.g. Ac-Ad-7d-7s-3c
Pair:
A pair e.g. Qh-Qs-9c-7h-2h
High Card:
The highest card (aces are high) e.g. Ah-Jd-9c-5-s-3c
Omaha vs Texas Hold'em
Texas Hold'em is the most popular version of poker both at online and live casinos, largely because it's the simplest to learn. Omaha is a little more complicated, but a lot more action-packed, because each player holds double the cards in their hand.
Luckily, both Texas Hold'em and Omaha share the same hand rankings, which makes it quicker for players to learn when transitioning from Hold'em to Omaha. There are two key differences between the two formats which have a major impact on gameplay.
Double Hole Cards
In Hold'em, each player receives two hole cards. In Omaha, you receive four. This means you're more likely to be dealt a pair or a high card in Omaha. A hand like Q-Q, which is one of the stronger starting hands in Hold'em, may be far less valuable in Omaha if the other two cards are no good. For example, if you're dealt Qh-Qd-7c-3s, you may fold pre-flop because the hand is very disconnected and has little potential to make straights or flushes. Not to mention, if an ace or a king lands, your opponents have twice as many chances to hit top pair as they would in Hold'em.
---
Three community cards
In Hold'em, there are five community cards (the flop, turn and river) and each player can use as many as they like. The same five cards are dealt in Omaha, but each player must use precisely three, plus exactly two of their hole cards.
This has a major impact on split pots. For example, a board of 10-J-Q-K-A in Hold'em would mean every player has the nut straight, leading to a split pot. But in Omaha, you could only use three of those cards – so you'd need to be holding a hand which included something like 10-J, K-J or A-10 to make a straight. Receiving a hand like Ah-As-Ac-Ad looks amazing, but only amounts to a single pair with no chance to improve to three- or four-of-a-kind.
Omaha Poker Variations
Texas Hold'em is the most widely played version of poker, and Omaha is a variant of that – but there are also variants of Omaha! Different versions have bet sizing limits, extra cards, and even different hand rankings.
Typically, when people refer to Omaha, they mean Pot Limit Omaha Hi – the most common version of Omaha. But here's a quick guide to the other types of Omaha you might encounter at online casinos:
Pot Limit
The most common versions of Omaha are all pot limit. This means that betting sizes are capped, restricting the total amount players raise by the size of the current pot. Part of the reason for this is that the outcome of the hand changes drastically from one street to the next. This is because you have four hole cards, giving you more chances to hit your straights, flushes, trips, and full houses.
No Limit
No limit Omaha allows you to raise as much as you want on your turn, just like traditional No Limit Texas Hold'em. It's less common than Pot Limit Omaha, but you'll still find it at the best Omaha poker sites.
Fixed Limit
Capped bet sizes also occur in Fixed Limit Omaha. However, instead of being capped at the size of the pot, each bet is for a fixed, pre-determined amount. This helps stop pots from spiralling out of control before the river round.
Hi-Lo
In Hi-Lo Omaha, the pot is split into two halves – the high half and the low half. Each player can win one or both, depending on the strength of their hand. The high hand ranking works in the normal way, but the low hand ranking rewards the lowest hand, with the nut low being A-2-3-4-5 (for this variant, aces can be high or low, while straights and flushes don't count for the low hand).
Five Card
Five Card Omaha is just like regular Omaha, except you receive five hole cards instead of four. You still create hands using two hole cards and three from the community cards. Having a fifth card increases the chances of somebody hitting a premium hand like a flush, full house, or better.
Five-Card Hi-Lo
This variant combines Five Card and Hi-Lo. So, players receive five hole cards instead of four, and the pot is split into two halves – high and low. The best-ranked 'high' hand wins the high pot, and the best-ranked 'low' hand wins the low pot.
Mobile Omaha Poker
Most of the best Omaha poker sites offer a top mobile app, which makes it easy for you to play on your smartphone or tablet. Simply download the poker apps for free on iOS and Android from their respective app stores or directly off the casino's site.
Alternatively, top online Omaha sites work directly from your mobile browser. Casinos optimise their layout for mobile access, making it easy for you to raise and fold on your touchscreen phone, but the gameplay itself is identical.
Legality of Omaha in Arabic Countries
It's a very common concern for players to be unsure of whether it's legal to play Omaha poker online, especially in Arabic countries. And it doesn't help that poker is a grey area between sports and gambling!
Luckily, there are some steps you can take to protect yourself when playing real money Omaha poker online. For instance, using a VPN for playing at a casino hides your IP address, keeping your location and identity safe while playing online.
We also recommend that you choose a flexible payment methods when playing Omaha online. Many players in Arabic countries use Bitcoin or other crypto payment methods. Crypto is an ideal choice for players who value their anonymity when using gambling sites online, as it's not linked to a name or physical address.
Start Playing Omaha Today
Omaha is a very popular version of poker where your four cards mean more straights, more flushes, and more action. If you're a fan of Texas Hold'em, you'll probably love Omaha too.
Curious? Join one of our recommended top Omaha poker sites and try it out today!