World Cup Top Assists – Complete Betting Guide
If you're wondering who'll grab the most assists at the World Cup, you're in the right place. Our expert guide is going to break down the best way for you to predict which players will bag the most assists and which sites allow you to bet on this, specifically for players in the Middle East and North Africa. Read on to find out how assists work, how many assists the best players usually notch at a World Cup, and more.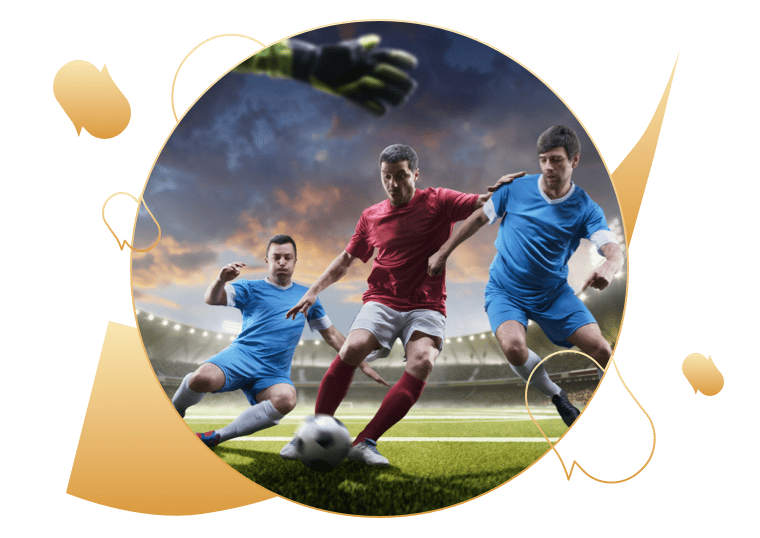 World Cup Top Assists – Complete Betting Guide
Best Site for World Cup Top Assists Betting
The Golden Boot gets a lot of attention from fans and punters during every FIFA World Cup betting season, but top assists is just as exciting a category. As it's less mainstream, and a little harder to predict with certainty, it can often carry more attractive odds. And with all the special offers that float around during a World Cup, you'll have loads of ways to potentially boost your earnings when betting on who will get the most assists.
Read our full guide below to find out more about the World Cup's top assisters and visit our top recommended betting site to check out the latest odds for the most assists.
Bonus
150% up to $200 (Promo Code AB200)
Languages
ar
en
Features
Huge range of sports markets
Live betting and streaming
Lots of banking options
Software Providers
Arcadem
Betsoft
BF Games
BGAMING
Big Time Gaming
Booongo
Caleta Gaming
Casino Technology
+ 32 more
Payment Options
How Are Top Assists Awarded in Football?
Before you place a bet on the top assists for the World Cup, it's vital you know exactly how they work. In some cases, the player who is credited with an assist can be a controversial subject. To put you in the best position to place smart wagers on the top assists for this tournament, check out some important details about assists below:
What is an Assist in Football?
In football, an assist is attributed to the player who is usually the last player to pass the ball before a goal is scored. You can say it refers to the player who helped create the goal, rather than the scorer themselves. An assist can come from a cross, a simple pass, a header, or even a scuffed shot – it all counts. They don't necessarily have to be pretty.
What Doesn't Qualify as an Assist?
If the ball takes a major deflection before it reaches the eventual goal scorer, it won't count as an assist. It can touch a player en route and still be counted as an assist, but only if the ball was likely to reach its target regardless. In addition, you can't get an assist from an own goal. And, contrary to points scoring in some popular fantasy football leagues, players are not awarded assists for direct free kicks or direct corners (where the ball goes straight in from the set piece).
What Qualifies as an Assist?
In most cases, an assist consists of an intentional pass to another player who then manages to score. Or a cross into the penalty area from a corner, free kick, or open play. However, there are all types of assists. Such as when a player attempts a shot at goal which is then parried by the keeper before the eventual goal scorer converts. Despite the intervention of the goalkeeper, this would still count as an official assist.
Betting on Most Assists at Top Bookies
You can bet on which player will get the most assists throughout the World Cup at most of the best online bookies, similar to the way you can place a wager on who will win the Golden Boot. It can make for a very interesting market, and one which can rapidly alter in just a single match.
Although we're mainly discussing your options to bet on the overall top assists at the World Cup, there are other assist betting markets. Here are three ways to bet on assists:
Top Assists
As we'll be discussing throughout this guide, one market you can bet on at the World Cup is the player to get the most assists. Try to choose players who represent a country that is likely to go far in the competition; playing seven matches on your way to the final gives you a lot more opportunity to rack up assists than playing three games and being eliminated in the group stage.
At online sports betting sites, the top assists market should be located in the World Cup segment of 'Football', usually under 'Outrights'. Just input your stake and hit confirm.
First Assist
If you're after a faster return on your investment, you can bet on the first player to notch an assist in the match. This works in a similar way to betting on the first goal scorer. And, just as with the goal scorer markets, you can also bet on 'anytime assist'. This will have lower odds, but gives you more flexibility, because the player you bet on just needs an assist at any point in the game.
To bet on a player getting the first assist at an online bookies, go to the specific match you want to bet on, then navigate to the goal scorer section and look for the 'Assists' dropdown. Enter your stake and confirm.
Multiple Assists
At selected online bookies, you may be able to bet on a player to get the top assists within a single game. This could be framed as 'Player to score 2+ assists' or similar. Often, these types of bets are grouped up with other markets to create your own bespoke bet. For example, if it were England v Brazil in the World Cup, you may bet on Raheem Sterling 2+ assists, England to win both halves and 4+ total goals in one combined wager. Sometimes these wagers will fall under a special section of a sports site, such as 'Build a Bet' or similar. Click each selection that interests you to view the cumulative odds, then place your bet.
Where to Bet on World Cup 2022 Top Assists
Betting on the top assists for the World Cup 2022 is an exciting prospect. You can get generous odds on certain players, and it's such a wide-open market that there's lots of room for outsiders to bring in a big return.
When you're deciding where to bet on which footballer will get the most assists, there are several things you need to think about, such as:
Which sites have the best odds on most assists
Where you can claim a World Cup welcome bonus
What options are best for players in North Africa and the Middle East
Our experts have considered all chosen their favourite site to place wagers on World Cup top assists:
Bonus
150% up to $200 (Promo Code AB200)
Languages
ar
en
Features
Huge range of sports markets
Live betting and streaming
Lots of banking options
Software Providers
Arcadem
Betsoft
BF Games
BGAMING
Big Time Gaming
Booongo
Caleta Gaming
Casino Technology
+ 32 more
Payment Options
Top 5 Assists: World Cup Qualifiers Europe 2021/2022
There are some incredibly strong teams in the world of football, such as Argentina and five-time World Cup winners Brazil, but much of the focus at this tournament will be on teams from Europe and this will be mirrored by football betting sites around the Arab world. After all, the likes of France, England, Spain and Germany are among the outright favourites to win the competition.
Our experts have analysed the World Cup 2022 qualifiers and highlighted those who had the most assists in the qualification stage. This doesn't guarantee they'll carry that form into the group and knockout stages, but it's a good indicator of who to watch. Especially Memphis Depay, who had the top assists in qualification and also moved past Patrick Kluivert to become the Netherlands' all-time top scorer. Here are the top performers from the European World Cup qualifiers in order of most assists:
| Player | Country | Current Team | Assists |
| --- | --- | --- | --- |
| Memphis Depay | Netherlands | Barcelona | 7 |
| Leon Goretzka | Germany | Bayern Munich | 7 |
| Davy Klaassen | Netherlands | Ajax | 6 |
| Dušan Tadić | Serbia | Ajax | 6 |
| Bernardo Silva | Portugal | Manchester City | 5 |
| Mikkel Damsgaard | Denmark | U.C. Sampdoria | 5 |
| Xherdan Shaqiri | Switzerland | Chicago Fire FC | 5 |
Ready to Bet on World Cup 2022 Top Assists?
You now know what qualifies as an assist, who got the top assists in European World Cup qualification, and what type of bets are available in the assists market. Now you just need to find a top betting site.
Below are our recommendations of the best World Cup betting sites when betting on the top assists. These have been hand-chosen based on this market specifically. Our experts considered the odds available, World Cup promotions, and quality of the site overall to form a list of the very best betting sites.
Follow the links provided to join any of these excellent World Cup betting sites and access your exclusive welcome bonus:
Most Assists Betting Strategy
We've already explained the types of bets on most assists, first assists and so on – but what else can you do to make sure you have the best chance of winning?
Here are three tips to help your most assists betting strategy:
Follow the Qualifiers
If you didn't watch them live, go back and check the results of the World Cup qualifiers. This can give you a good indication of which players are in top form heading into the World Cup. Those who notched a lot of assists are sure to be involved from the start and will likely be high on confidence. It's therefore logical to consider these players when you're betting on who might get the most assists.
Check the Fixtures
Whether you're betting on the most assists, top goal scorer or overall winner, you should always take a look at the fixtures and consider each team's potential route to the final. You'll never be able to predict it completely accurately but going through each fixture and making some assumptions about who will progress will indicate which teams have the best chance of making the final.
Consider On-field Strategy
When you're plotting out who is most likely to bag the top assists in a group, don't just think about the attackers. You should also consider how their opponents are set up, and if this may cause any issues. For example, you might fancy Bernado Silva to feed Cristiano with tonnes of assists. But Ghana and Uruguay will likely prove extremely tough opponents, which could limit his chances.
Players With the Highest Number of Assists in FIFA World Cup
It's always a smart move to analyse previous iterations of a competition to give yourself an idea of which players tend to shine. That's why we've highlighted the top three players in terms of the most assists ever achieved across World Cups.
Here are the three players with the most assists at World Cups:
Pele – 10
There is only one Pele, and the Brazilian legend currently holds the world record for most assists in a World Cup with a total of 10. Pele, of course, retired many decades ago – but the Brazilians have a long legacy of entertaining, attacking football. Could their current stars, such as Neymar and Vinicius, continue this legacy with a large number of assists?
Lionel Messi – 6
The former Barcelona star has six assists at World Cups so far, which is enough to put him in second place on the all-time most assists list. And he'll certainly be looking to add to that tally at the upcoming World Cup. Argentina have a group consisting of Saudi Arabia, Mexico and Poland – so you'd certainly expect the talisman to have plenty of opportunities.
James Rodríguez – 5
Colombia's James Rodríguez always rises to the occasion when the World Cup comes along. He had the joint-top assists in 2018 – albeit along with 15 other players – and before that, he scooped the Golden Boot at the 2014 World Cup with six goals in just five games. He also has the third-most assists of all time in World Cups. Sadly, Colombia failed to qualify for the World Cup 2022, so Rodríguez won't be able to add to his tally.
FAQs
Who got the best assist in 2021?
The FIFA Puskás Award is given to the player who scores the best or most 'beautiful' goal of the year regardless of the league or competition it's in – but there's currently no equivalent for an assist. However, the Premier League – the top division in England, and the most popular league in the world – does award a Playmaker of the Season award. Liverpool's Mohamed Salah won it in 2021/22 with the most assists (13).
Who has the most PL assists ever?
The most assists ever achieved in the Premier League is a record which currently belongs to Ryan Giggs, the 'Welsh Wizard' who played football on the left wing for Manchester United during the trophy-decorated era of Sir Alex Ferguson. He managed 162 assists in 632 Premier League appearances. His closest rival to date is Cesc Fàbregas, who is quite a way off with 111 assists.
Who has the highest number of assists in the last World Cup?
Just two assists were enough to earn a spot as top assist-maker at the last World Cup in 2018 – an accolade shared by a massive 16 players! The full list of joint top assists is: Éver Banega, Lionel Messi, Kevin de Bruyne, Eden Hazard, Thomas Meunier, Youri Tielemans, Philippe Coutinho, Juan Fernando Quintero, James Rodríguez, Antoine Griezmann, Lucas Hernandez, Artem Dzyuba, Aleksandr Golovin, Viktor Claesson, Wahbi Khazri, and Carlos Sánchez.
Which football player has the highest number of assists in the world?
Lionel Messi's statistics at Barcelona earned him the all-time most assists. At the end of the 2021/22 season Messi had an incredible 368 assists – nearly 80 more than second-place Thomas Muller. Having come out of international retirement, Messi will be representing Argentina at the World Cup and looking to add some more assists to his tally.
Who has more assists – Ronaldo or Messi?
As the player with the all-time most assists, Messi has more assists than Ronaldo. At the end of the 2021/22 Ronaldo ranked fourth in the all-time most assists list with 272, compared to Messi's 368. However, Ronaldo does have more international goals than Messi. In fact, he is the all-time top scorer on the international stage, having overtaken Ali Daei of Iran with two dramatic, late goals against the Republic of Ireland in a World Cup 2022 qualifier.
How many World Cup assists does Pele have?
Pele bagged 10 assists over four World Cups, meaning he has the most assists in the World Cup to date. The iconic Brazilian is widely acknowledged as one of the best players of all time – if not the best – and this statistic certainly helps that claim. A massive seven of those assists came in 1970, as Brazil went all the way in Mexico and lifted the trophy after defeating Italy in the final.