The Best Boxing Betting Sites in the Middle East & North Africa
Welcome to the ultimate guide to betting on boxing in the MENA region. We've handpicked the best boxing betting sites to save you spending hours researching where to bet on the latest bouts. In addition, this page contains a step-by-step guide on how to bet on boxing online, information on different boxing bets, boxing betting tips to help you make a profit, and much more.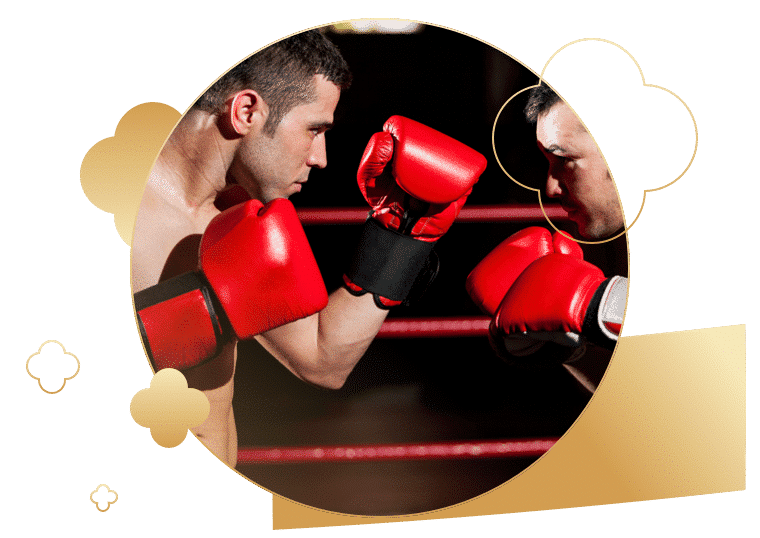 The Best Boxing Betting Sites in the Middle East & North Africa
The Best Boxing Betting Sites
Features of Our Recommended Boxing Betting Sites
We take many factors into consideration when compiling our list of the top betting sites. We look at everything from the brand's reputation and the welcome offers available to fights covered and how easy it is to bet on a mobile. Let's discuss why these factors are so important when choosing a great site to bet on boxing.
Reputation and History
Whether or not online betting is regulated in your country, you'll be safe at our recommended boxing betting sites. These sites have received operating licenses from the most reputable regulatory bodies in the industry. These boxing sites are popular amongst bettors in the MENA region because they have a reputation for offering competitive odds and paying quickly.
Knockout Offers
The best boxing betting sites compete against each other by offering knockout offers. As a new customer, you will receive a welcome bonus in the form of a free bet or a deposit bonus. Besides boosting your balance when you sign up, our recommended sites have VIP programs. As a reward for betting, you will earn points and climb through several tiers for increasingly generous rewards.
Fight Coverage
Your options would be severely limited if betting sites only accepted bets on the biggest bouts. We only give our seal of approval to boxing betting sites that cover every fight sanctioned by the WBO WBC, WBA, or the IBF. From strawweight to heavyweight, you can bet on fights in any of the sport's 17 weight divisions. This means you can bet on up-and-coming prospects and stars such as Anthony Joshua.
Mobile Compatibility
The top betting sites for boxing understand the importance of mobile compatibility. Each site listed on this page makes it easy for you to bet on boxing through a downloadable app or via your web browser. It only takes a few taps to place bets on Android or iOS-powered devices. This is perfect for those evenings you want to bet on a pay-per-view (PPV) event at a friend or family member's home.
Bet on Boxing Online in Five Easy Steps
Don't know how to bet on boxing? Don't worry, we're here to show you how easy it is to bet on fights. Follow the five steps outlined below to get started.
Your Step-by-Step Guide to Betting on Boxing
1

Create an account at one of our recommended boxing betting sites

2

Choose your preferred banking method and make your first deposit

3

Navigate to the boxing section and select a fight you want to bet on

4

Click the betting odds to add a selection to your betting slip

5

Enter how much you want to bet on the fight and click confirm
Now that you've placed a bet, it's time to sit back and watch the boxers showcase their skills in the ring.
Different Types of Boxing Bets Explained
As you're about to discover, the top boxing betting sites offer a range of options to suit all contenders. You can bet on everything from the winner of a fight and method of victory to the number of punches a boxer will land. Some of the most popular boxing betting markets include:
Fight Winner
The most basic type of bet you can make on any boxing match is predicting which boxer will win. The method of victory is irrelevant – the boxer may knock their opponent out with a single punch, win via disqualification, or go the distance and win on points. Either way, you'll win. However, it's important to remember that fights can end in controversial draws when left in the hands of the judges.
Example: You bet $100 on Fighter A to defeat Fighter B at odds of 1.50. If Fighter A wins the fight, you will receive a return of $150.
Over/Under Rounds
Is the fight between two knockout artists who have never gone past the third round? Perhaps you're expecting a boring fight that will go the distance? You can profit from predicting how a fight will play out by betting on the number of rounds you think the fight will last. The boxing betting odds would favour a quick finish between the knockout specialists, whereas the odds would favour a long fight for the second scenario.
Example: You bet $100 on over 7.5 rounds at odds of 2.00. If the fight lasts for eight rounds or more, you will receive a return of $200.
Round Betting
Out of all the boxing betting options at your disposal, predicting the exact round a fight will end is often the most lucrative. You must select which fighter will win, and on which of the twelve rounds the fight will end. The boxing betting odds always reflect the likelihood of winning such a bet. Trust us, you'll be on the edge of your seat for every second of the three-minute round you've predicted the fight to finish.
Example: You bet $100 on Fighter A to win in round seven at odds of 10.00. If he does, you will receive a return of $1,000.
Round Group Betting
Although you can bet on which round a fight will finish, many boxing bettors prefer the more cautious approach of betting on a group of rounds. The top boxing betting sites usually accept bets on a fight finishing in rounds one to three, four to six, seven to nine, or ten to twelve. Yes, the odds of betting on a group of rounds are substantially lower than betting on a single round, but your chances of winning are far greater.
Example: You bet $100 on a fight to finish in rounds one to three at odds of 5.00. If the fight ends within the first three rounds, you will receive a return of $500.
Method of Victory
Method of victory betting markets allow you to predict who will win, and how they will win. You can bet on outcomes such as TKO (technical knockout), KO (knockout), DQ (disqualification), or decision (split or unanimous). Boxing betting odds always reflect which outcome is most likely to happen. If you bet on a knockout artist earning a TKO win, the odds will naturally be lower than betting on a win via decision.
Example: You bet $100 on Fighter A to win by TKO at odds of 3.00. If he does, you will receive a return of $300.
Fighter Specials
The top boxing betting sites accept bets on how fighters will perform in the biggest fights across the world. You can bet on everything from the number of jabs and power punches a fighter will land to the number of times they hit the canvas. Most betting sites reference detailed statistics provided by CompuBox, originally named FightStat, to determine the result of each bet and settle bets accordingly.
Example: You bet $100 on Fighter A landing over 140 power punches at odds of 5.00. If he does, you will receive a return of $500.
Factors to Consider Before Betting on Boxing
Many bettors log in to their preferred boxing betting site and bet on their favourite boxer. This is a common mistake, especially amongst beginners. Instead, do your homework before betting on fights. Here are some boxing betting tips to give you a fighting chance of making a profit from the action in the ring.
Styles Make Fights
Although boxers tweak their game plan for each opponent, we can categorise their natural style as one of four styles: swarmer, out-boxer, slugger, or boxer-puncher. Will the out-boxer jab his way to a points victory, or will the slugger knock him out? Will the pressure piled on by a swarmer be enough to slow down a boxer-puncher? Think about how the styles of the fighters match up before betting on a fight.
Previous Opponents
A 20-0 record counts for nothing if all twenty opponents were journeymen. Think about who you would bet on if a boxer with a similar record stepped into the ring with someone who has lost several times, but only to world champions. As boxing's official record keeper, BoxRec.com is great for comparing the records of professional and amateur boxers. Compare the quality of previous opposition before betting.
Weight Class
With just a few kilograms separating most weight classes, many professional boxers compete in multiple divisions. Saúl "Canelo" Álvarez is a prime example, having won world titles in four weight divisions. By knowing the weight limit for a fight, you will know whether a boxer will cut or bulk. Will he punch harder after moving up a weight class? Will he have enough power to compete after a weight cut?
Training Footage
Even camera-shy boxers have a social media presence for sponsorship reasons. Boxers often release training footage via social media platforms such as Facebook and Twitter to show fans – and their opponents – their ferocious speed and power. These clips give you an idea of the shape a boxer is in. If they release no footage in the build-up to a fight, this may suggest the boxer has suffered an injury.
An Overview of Boxing in the MENA Region
Boxers from the MENA region may be unknown to most of the world, but they are superstars in their own countries. Boxers from countries such as Turkey and Egypt proudly represent their country at the Summer Olympics. Those good enough to win medals usually attract the attention of promoters and turn professional for big money fights.
Let's discuss some of the most successful boxers from Turkey, Egypt, Morocco, and Tunisia.
Turkey
Boxing exploded in popularity across Turkey between 1918 and 1923, when foreign soldiers competed in the ring during the occupation of Istanbul. This led to the Turkish Boxing Federation (TBF), the governing body of amateur boxing in Turkey, being established in 1924. Boasting 358 wins in 359 fights, Melih Açba put Turkey on the map in the boxing world by becoming the Golden Gloves champion in the United States in 1940.
Since then, five Turkish athletes have won medals at the Summer Olympics. Eyüp Can (flyweight) and Turgut Aykaç (featherweight) both won bronze medals in 1984. Malik Beyleroglu (middleweight) won silver in 1996, Atagün Yalçınkaya (light flyweight) won silver in 2004, and Yakup Kılıç (featherweight) won bronze in 2008.
Egypt
Egypt's passion for boxing stretches back thousands of years. Illustrations in the tomb of Kheruef, an 18th dynasty king, depict Egyptian deities Horus and Seth as boxers. Archaeologists have also discovered ancient Egyptian paintings of boxers in the tombs of Mery-Ra and El-Minia. These illustrations and paintings suggest that boxing was immensely popular amongst Egyptians in antiquity.
Dozens of amateur boxers have proudly represented Egypt at the Summer Olympics, but only four have won a medal. Abdelmoneim Elguindi (flyweight) became Egypt's first boxer to win a medal in 1960, when he finished joint-third for a bronze medal. In 2004, Ahmed Ismail Elshamy (light heavyweight) and Mohamed El-Sayed (heavyweight) captured bronze medals, while Mohamed Aly Reda (super heavyweight) won silver.
Morocco
Moroccan superstar Mohammed Rabii began boxing at eight years old in his hometown of Casablanca. His big breakthrough came in 2015, when he captured the welterweight gold medal at the World Championships in Doha, Qatar. Boxing legends such as Manny Pacquiao and Amir Khan watched Rabii defeat Daniyar Yeleussinov of Kazakhstan to become the first Muslim and Moroccan amateur world champion.
In 2016, Rabii won a bronze medal at the Summer Olympics in Rio. Following the Olympics, Rabii signed a professional contract and made his pro debut in March 2017. He stopped László Kovács of Hungary in the very first round and has yet to taste defeat as a pro. Six Moroccan boxers qualified for the Tokyo Olympics at the Dakar pre-Olympic boxing tournament. Will any of them follow in Rabii's footsteps?
Tunisia
Flyweight Victor "Young" Perez became Tunisia's first boxing world champion in 1931, when he knocked out Frankie Genaro in just two rounds. Hard-hitting Tunisians Tahar Ben Hassen and Taoufik Belbouli followed in Perez's footsteps by becoming world champions. Super featherweight Kamel Bou-Ali is also worthy of mention. Despite losing his fifth and sixth fights, he recorded 14 straight wins before losing to champion Rocky Lockridge.
Although Tunisia is always well-represented in boxing tournaments at the Summer Olympics, only two light welterweights have won medals to date – Habib Galhia (1964) and Fethi Missaoui (1996). Two female boxers – Khouloud Hlimi (featherweight) and Mariem Homrani (lightweight) – will hope to add to Tunisia's medal tally when they step between the ropes at the Tokyo Olympics.
Clash on the Dunes: Joshua vs Ruiz II
Saudi Arabia hit the headlines in August 2019, when Matchroom Boxing confirmed the highly anticipated heavyweight rematch between Anthony Joshua and Andy Ruiz Jr would take place in the desert on 7 December 2019.
Billed as the "Clash on the Dunes", the event drew criticism from human rights campaigners. Promoter Eddie Hearn reportedly secured over $40m to host the fight at the UNESCO World Heritage Site of Al-Turaif in Riyadh. Critics accused Saudi Arabia of splashing the cash in a "sportswashing" exercise to gloss over human rights concerns – something the kingdom strongly denied.
Anthony Joshua won the battle for the unified WBA (Super), IBF, WBO, and IBO heavyweight world titles via unanimous decision. Two judges scored the fight 118-110 in favour of Joshua, while the other judge scored the fight 119-109.
Bet on Upcoming Fights at Our Top-Rated Boxing Betting Site
Ready to bet on upcoming fights? Get started by joining our top-rated boxing betting site today:
FAQs
Where can I bet on boxing?
We have found the best boxing betting sites, where you can bet on the biggest fights from around the world. These sites offer knockout boxing odds, generous bonuses and promotions for new and existing customers, and the long list of betting options available for each fight will leave you spoiled for choice.
Is TKO the same as KO in betting?
No, a TKO and a KO are two different fight outcomes. A TKO (technical knockout) is when the referee ends a fight because a boxer has sustained a lot of damage, or when a boxer's cornerman throws in a towel to end the fight. A KO (knockout) is when the boxer hits the canvas and cannot beat a ten count.
What are the most popular boxing betting markets?
The most popular boxing betting market is undoubtedly fight winner. It's a straightforward bet in which you bet on one of the two boxers, or the extremely rare draw. Other popular betting markets include over/under rounds, round group betting, method of victory, and whether the fight will go the distance.
Can I place boxing bets using my mobile?
Absolutely! The best boxing betting sites are compatible with Android and iOS smartphones and tablets. With just a few taps of your screen, you can bet on scheduled boxing fights directly through your web browser or dedicated mobile app. Naturally, this means you can bet on boxing anytime, anywhere.