The Best Basketball Betting Sites in the Middle East & North Africa
This page contains everything you need to know about betting on basketball online, including information on different types of bets, tips to help you profit from betting on the fast-paced sport, and much more. Whether you live in North Africa or the Middle East, you're about to discover the best basketball betting sites for domestic and regional competitions, as well as the NBA and the FIBA Basketball World Cup.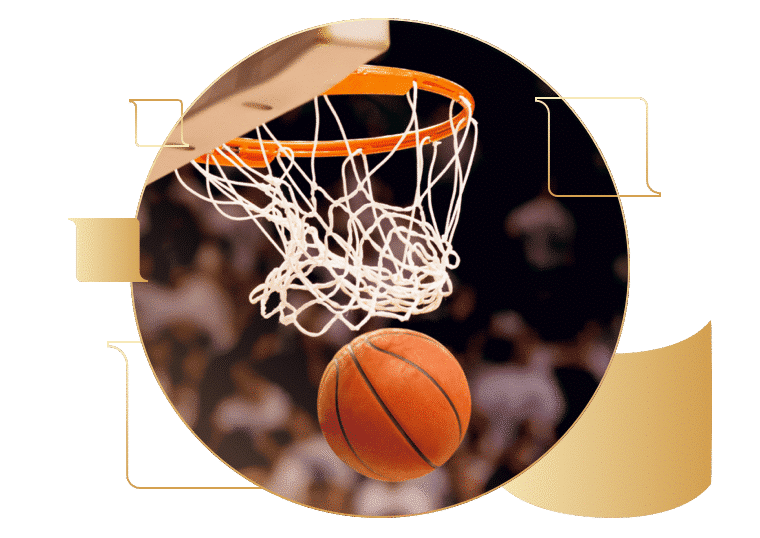 The Best Basketball Betting Sites in the Middle East & North Africa
The Best Basketball Betting Sites for Sep-2023
Features of the Best Basketball Betting Sites
After reviewing hundreds of basketball betting sites that happily accept customers from the MENA region, we decided that the sites listed above were far superior to the rest. These sports betting sites exceeded our high expectations and ticked all the right boxes during our thorough review process.
Some of the many factors we consider when searching for the best basketball betting sites include:
Licensed and Trustworthy
We only give our seal of approval to basketball betting sites with a stellar reputation. These sites are fully licensed by regulatory bodies such as the Malta Gaming Authority (MGA) and the UK Gambling Commission (UKGC). Licensed betting sites are expected to uphold high standards of excellence. You will never have a problem getting paid, and it's easy to add protection measures such as deposit limits to your account.
Leagues and Competitions
Every sports betting site accepts bets on the NBA and the FIBA Basketball World Cup. However, finding sites that cover basketball leagues and competitions across the MENA region can be a little more difficult. We're happy to tell you that our recommended basketball betting sites cover everything from the Basketball Africa League to the Egyptian Basketball Super League and the Saudi Premier League.
Variety of Betting Markets
There is far more to basketball betting than just picking the winning team. The betting sites listed on this page offer odds on everything from how many points will be scored in a game to the number of rebounds a player will make. NBA betting fans will also be pleased to learn that these bookmakers accept bets on the winners of prestigious awards, including the All-Star Game Kobe Bryant MVP.
Mobile Compatibility
The best basketball betting sites offer slick mobile apps compatible with the latest Android and iOS-powered devices. Although these apps don't take up much storage space, we understand that some of you won't want to download any software. As virtually every sports betting site uses HTML5 technology nowadays, you can log in via your web browser and bet whenever you like.
How to Bet on Basketball Online
Don't worry if you're new to online betting, we're here to help you get started. Betting on basketball, and any other sport, is as easy as counting to three. We have created a step-by-step guide to show you how easy it is to bet on a basketball game. By following the five steps we've outlined below, you could watch all the action on the court after placing a bet in just a few minutes.
Bet on Basketball in Five Easy Steps
1

Join one of our recommended basketball betting sites

2

Find the banking section and make your first deposit

3

Navigate to the basketball section and select an event

4

Click on the odds to add a selection to your betting slip

5

Enter how much you'd like to bet and click confirm
See, we told you betting on basketball was easy!
The Most Popular Types of Basketball Bets
You may know the difference between an alley-oop and a slam dunk, but are you familiar with the different basketball bets available at sports betting sites?
Betting on the winner of a basketball game is as straightforward as it gets. However, to truly maximise your profits from betting on basketball, it's important to know how other bets work, and what must happen for you to win.
Handicap
Handicap betting lines even games from a betting perspective. It's the perfect bet to make if there is a noticeable difference in quality between two teams and the odds aren't attractive. Bookmakers set a handicap line to give the underdogs a head start. This means you can still profit from the underdogs losing. If you back the favourites, the winning margin must exceed the line set by the bookmakers.
Example: You bet $100 on Saudi Arabia +3.5 against UAE at odds of 2.00. If Saudi Arabia win, or lose by a maximum of three points, you will receive $200.
Over/Under
If you're expecting a low-scoring or high-scoring game, why not bet on how many points will be scored? Bookmakers predict the combined score of both teams and accept bets on whether the number of points scored will be higher or lower than that number. It's a great bet to make if you're watching a game as a neutral spectator. Your only concern will be shots being made or missed, depending on whether you bet over or under.
Example: You bet $100 on over 155.5 points being scored between Saudi Arabia and UAE at odds of 1.5. If the combined scores total 156 points or more, you will receive $150.
Race to X Points
Points races present another interesting betting opportunity. This bet requires you to predict which team will score a specific number of points first. It's a bet to make when the statistics prove that a team starts quickly, especially if the stats say the opposite about the opposition. The best basketball betting sites accept bets on the first team to reach 10, 20, or 50 points.
Example: You bet $100 on Saudi Arabia to reach 10 points before UAE at odds of 2.00. If Saudi Arabia's scoreboard reads 10 before UAE's, you will receive $200.
Player Specials
Basketball betting sites rarely accept bets on individual performances in leagues across the MENA region. However, player specials are popular for betting on the NBA. You can bet on the number of points, rebounds, or assists a player will make during a game. These interesting bets will keep you on the edge of your seat every time the player you've bet on receives the ball.
Example: You bet $100 on LeBron James to score over 25.5 points against Miami Heat at odds of 1.80. If he scores 26 points or more, you will receive $180.
Basketball Betting Tips to Help You Profit
To help you profit from betting on basketball, we thought it would be a good idea to share some tips with you. By reading these tips and applying them to your future bets, you will increase your odds of making a profit while watching the fast-paced action on the court.
Head-to-Head Record
It may sound obvious to check the head-to-head record between teams, but many sports bettors fail to do their homework. By checking the results and statistics of previous games, you will see which team has enjoyed the most success. Would you really bet on a team at odds of 2.00 if they hadn't won a single game in 20 previous encounters? No, we didn't think so. Always check past results before you bet.
Travel Schedules
As fit as basketball players are, they are only human. Teams often play a lot of games in a short period, and fatigue can be a significant factor in the outcome of a game. Imagine Saudi Arabia's Al Hilal playing Al Ahli in Jeddah before travelling to Al Qaţīf for a clash with Al Salam just two days later. The players would have travelled for 2,323.4 km. Will they be too fatigued to put in a winning performance?
Injuries and Load Management
Always check injury reports and starting line-ups before you bet on basketball games. Imagine betting on the Los Angeles Lakers, only to discover that LeBron James is injured and won't play. Will the other players be able to replace his points, or should you back the other team? Load management is another important factor. If a team races into a considerable lead, they may rest their star player for the next game.
Reliance on 3-Pointers
Knowing how a team scores most of their points can give you a considerable advantage when you bet on basketball. If the team relies heavily on a 3-point shooter who scores most of their points from beyond the arc, you should be cautious. Who will replace those points if he gets injured? What if he goes cold and starts missing? Instead, bet on basketball teams that can score from any plays
An Overview of Basketball in the MENA Region
Basketball is extremely popular across the Middle East and North Africa, ranking second only to football in most countries. In this section, we are going to discuss the premier basketball leagues in some of the most basketball-crazy countries in the MENA region, as well as how their national teams have fared on the international stage.
Morocco
Founded in 1957, the Division Excellence (DEX-H), also known as the D1 League, is the premier professional basketball league in Morocco. The league features 16 teams, including teams that represent cities such as Casablanca and Rabat. FUS de Rabat have won a record 17 championships, but stars such as Abdelhakim Zouita and Abderrahim Najah have helped AS Salé dominate the league and Moroccan Cup since 2010.
Governed by the Royal Moroccan Basketball Federation (FRMBB), the men's national basketball team is the Atlas Lions. Morocco's only appearance at the Olympics was in 1968, when the team left Mexico empty handed. Morocco's record in Africa's continental championship, AfroBasket, is much better. The team have won five medals in twenty appearances, including gold in Tunisia in 1965.
Egypt
The Egyptian Basketball Super League is the top-tier basketball league in Egypt. Established in 1974, the Egyptian Basketball Super League features 16 teams. Alexandra-based Al Ittihad have a record 15 championship wins to their name, and the team have also tasted success in the Egyptian Cup, FIBA Africa Champions Cup, and Arab Championship. Interestingly, games broadcast live on ON Sport and Nile Sport.
Nicknamed the Pharaohs, Egypt's national basketball team have enjoyed plenty of success over the years. Team Egypt made Africa proud when they won EuroBasket 1949, defeating France 57-36 to win gold. A fifth-place finish at the 1950 FIBA Basketball World Cup and a ninth-place finish at the 1952 Summer Olympics may not sound too impressive, but they remain the best results recorded by an African country in each tournament.
UAE
The UAE National Basketball League is one of the most recently formed leagues across the MENA region. Established in 2013, the 10-team league has been dominated by one team since its inception – Shabab Al Ahli. Besides winning every league title to date, the Emirati team have also competed in the international FIBA Asia Champions Cup. Qais Alshabebi and Kaspars Cipruss are two of the team's star players.
Although the UAE National Basketball League is relatively new, the United Arab Emirates has enjoyed plenty of success in the basketball world. The men's national team qualified for more major international basketball tournaments than any other nation on the Arabian Peninsula except Kuwait. UAE's best performance came in 1997, when the team won the bronze medal at the Arab Nations Cup.
Saudi Arabia
Established in 1977, the Saudi Premier League is the top professional basketball league in Saudi Arabia. The league features 10 teams from various cities across the oil-rich country, including Al Ahli from Jeddah and Al Hilal from Riyadh. Ohud Medina dominated the league between 1978 and 1989, although Al Ittihad have been the dominant force in Saudi basketball over the last two decades.
Saudi Arabia's biggest success on the international stage came in 1999, when the team clinched bronze at the FIBA Asia Cup hosted in Fukuoka, Japan. Despite qualifying for the quadrennial basketball tournament on seven other occasions, the Saudi team has been starved of success. However, the team have won the Arab Nations Championship twice (1997 and 2018) and the Pan Arab Games once (1997).
Algeria
Formerly known as the Algerian Basketball Championship and the ABC Super Division, ABC National 1 is the elite basketball league in Algeria. Established in 1962, ABC National 1 is contested by 16 teams, and operates on a promotion-relegation cycle with the Second Division. The two lowest-placed teams are relegated to the Second Division and replaced by the two playoff winners. GS Pétroliers have won a record 20 league titles.
Algeria's army of basketball fans celebrated the national team qualifying for the FIBA Basketball World Cup for the first time in 2002. However, Algeria drew the 'group of death' alongside China, Germany, and the United States. As expected, Algeria finished fourth in the group. However, the team have finished in the final four every time Algeria has hosted major tournaments, including AfroBasket and the All-Africa Games.
Other Countries
Although there is limited coverage of the leagues we are about to discuss at basketball betting sites, we still feel they were worthy of a mention. The Kuwaiti Division I Basketball League is contested by 12 teams, including Al Kuwait SC and Al Shabab. The Jordanian Premier Basketball League is another popular league in the Middle East. This seven-team league has been dominated by Orthodox and Al-Ahli SC since its founding in 1952.
The Championnat National A is Tunisia's premier basketball league. This competitive league features 14 teams, with Étoile Sportive de Radès boasting a record 13 titles to date. Having been founded in 1998, the Iranian Basketball Super League is relatively new. Teams such as Zob Ahan Isfahan and Mahram Tehran compete for the title, with the two lowest-placed teams relegated to the 1st Division each year.
Get Started at Our Top-Rated Basketball Betting Site Today
Now that you know how and where to bet on basketball online, it's time to get started. Create an account at our top-rated basketball betting site today and start betting on your favourite team:
FAQs
How do you bet on basketball?
Simply visit one of our recommended basketball betting sites and create an account. After you make your first deposit, navigate to the basketball section and select the event you'd like to bet on. Add a selection to your betting slip, confirm how much you'd like to bet, and then watch the game unfold.
Where can I bet on the NBA?
Virtually every sports betting site accepts bets on the National Basketball Association (NBA), the world's premier men's professional basketball league. You'll find NBA betting markets for each regular season game, and you can bet on which of the 30 teams will qualify for the playoffs and win the NBA Finals.
Can I get a bonus to bet on basketball online?
Absolutely! The best sports betting sites welcome new customers with generous sign up bonuses. You may receive a free bet simply for creating an account, while other sites will boost your balance when you make your first deposit. You can then use your bonus funds to bet on basketball games.
How do you bet the over/under in basketball?
An over/under bet is when you predict whether the outcome will be higher or lower than the line set by the bookmaker. Let's say the total points line has been set at 135.5 points. Both teams need to score a combined total of 135 points or less for under to win, while 136 points or more equals a win for over.
Can I bet on FIBA Basketball World Cup games?
Yes! The quadrennial FIBA Basketball World Cup provides lots of betting opportunities. You can predict which of the 32 teams will win the prestigious Naismith Trophy, and you can bet on every game in each of the eight groups. You can even bet on qualifying tournaments before FIBA's flagship event begins.