How to Count Cards in Blackjack: Expert Guide and Top Strategies
What is card counting in blackjack? And can you count cards in online blackjack? In the following guide, our gambling experts bring you everything you've ever wanted to know about blackjack card counting. Read on to learn how to count cards in blackjack, which systems to use, and where to practice your skills online.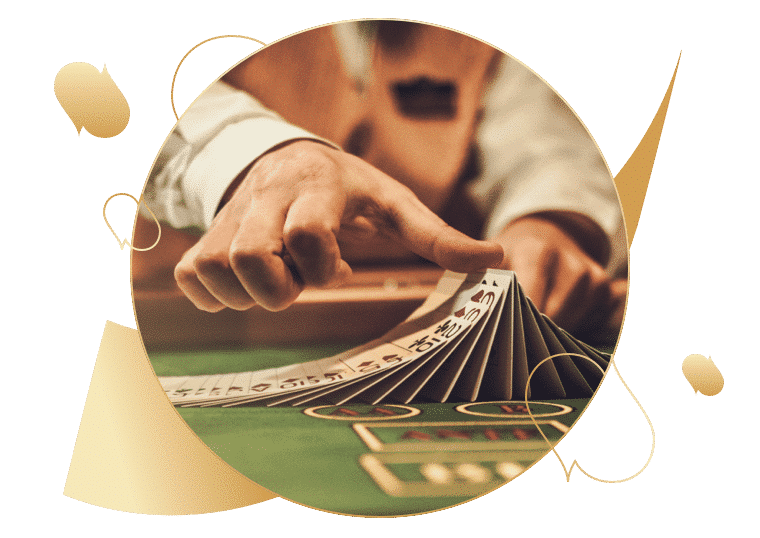 How to Count Cards in Blackjack: Expert Guide and Top Strategies
What Is Card Counting in Blackjack?
You will need a basic understanding of blackjack before jumping into the details of card counting. Remember, the aim of blackjack is simple. Score as close to 21 as possible by adding the values of your cards without going bust while also having a better hand than the dealer.
Card counting is a technique that allows blackjack players in Arab countries and beyond to understand when they have the advantage. Players aim to use mathematics to keep count of the high and low value of cards during gameplay. It is a great way to compete against the casino house edge by giving you an idea of what cards are remaining and which are yet to be dealt.
When you learn how to count cards, blackjack online games can become winnable. You can adjust your betting based on whether you perceive an advantage or not. For example, when the advantage shifts in your favour, increase the bet. When you do not have an advantage, reduce the wager.
Bonus
$500 + 200 free spins
Languages
ar
en
Features
Massive selection of 2,800+ slots
Accepts multiple cryptocurrencies
Supports Arabic, French and English
Software Providers
Arcadem
Betsoft
BF Games
BGAMING
Big Time Gaming
Booongo
Caleta Gaming
Casino Technology
+ 32 more
Payment Options
Can You Count Cards in Online Blackjack?
So, is it possible to use this method in blackjack online games? The answer is a little more complex than you might think. When you play blackjack online, you are using a virtual representation of the game, with games developers often using software to overcome methods that would help players tilt traditional games in their favour. Card counting is one of the methods that software prevents.
Many online casinos leverage technology to constantly shuffle card decks, meaning there are no dedicated decks of cards used in online blackjack. Instead, virtual decks are used each time and constantly shuffled. However, one notable difference is live blackjack, which similar to land-based casino blackjack games, utilizes physical card decks.
How to Count Cards in Blackjack
Knowing how to count cards in blackjack can help you to tilt the odds a little more in your favour. While it may seem complex, card counting in blackjack is a simple concept. A standard card counting system involves a zero, positive, and negative value for each card in the game.
When the dealer hands out a card, the player adjusts the count depending on the card's value. Every value applies to the Effect of Removal (EOR), which estimates the impact removing that card from the game will have on the house edge. In gathering information by counting card values, you can decide whether to bet big or small.
Follow our simple step-by-step guide to discover how to count cards in blackjack:
1

Create an online casino account: Pick a reliable blackjack casino from our top list and click on the 'Sign up/Register'. At the casino's site, you will be asked to enter some basic information to complete the process.

2

Complete sign up and deposit funds: Once sign up is complete, go to the casino lobby and find the blackjack game you want to play. You can choose between online and live dealer blackjack.

3

Assign a value to every card: During gameplay, you will either add 1, subtract 1, or do nothing based on each card's value. Cards 2-6 = +1, Cards 7-9 = 0, Cards 10 – Ace = –1

4

Each time a card is dealt, keep a mental note of the individual card: Apply this note to an ongoing count. Remember you should do this for every card. When there is an increase in the ongoing count, you start gaining an advantage. A negative count means the casino is increasing its house edge.

5

Use this information to calculate the count per deck: This is your 'true count'. Calculating the true count involves math. You start by dividing the running count by the number of decks remaining in the game.

6

Change your bets according to the true count: When your true count rises, it is a sign that the house edge is tipping in the player's favour. This is the right time to raise your bets.
Practice at Top Real Money Blackjack Casinos
How to Practice Blackjack Card Counting for Free
Throughout this guide on how to count cards in blackjack, we have talked a lot about the practice. Yet practising in an online casino means risking your own money. But what if there was a way to play and practice for free?
Top online casinos give players to access online blackjack in a "free play" or "demo mode", allowing players to practice betting strategies and learn the nuances of blackjack without committing their bankroll. While real-money blackjack games are ideal for exhilarating gameplay and claiming online casino bonuses, free games provide an excellent platform for learning and perfecting your card counting strategies.
Multi-Deck Games and True Count
If you are playing on a single deck game, card counting is easy. After all, you only need to keep a count of 52 cards. However, most blackjack variants, especially online, are played with multiple decks of cards. Keeping a running account on these games is much more challenging and requires more advanced card counting skills.
Still, card counting systems can work just as seamlessly on multiple decks as on a single deck, which is why it is essential to properly learn how to count cards in blackjack if you want to use the system.
Applying the strategy correctly on a multi-deck blackjack variant means that you need to understand the true and running counts well.
Running Count: The running count is the most straightforward part of card counting. It is essentially the cumulation of the values of all dealt cards. After being dealt a card, you assign its value to the running count (positive, negative, or zero), and after a series of cards, you will have a running count. If the running count is positive, higher cards are still to be dealt. If it is negative, lower value cards are left in the decks.
True Count: This number takes the running count and applies it to how many decks are left. A running count is only helpful to a point because it could be a small sample if only one deck from six has been dealt. This count adjusts the running count to reflect the remaining decks by dividing the running count by the number of decks left.
Live Blackjack Online Card Counting Examples
Live dealer games offer a more immersive casino experience that includes betting at a table staffed by a human dealer and playing with real cards at a physical game table. As more players in Arab countries are discovering the value and authenticity of live dealer games, the number of available live blackjack variants in Middle Eastern casinos will continue to grow.
Naturally, when playing online, you have a much better chance at card counting with live dealer blackjack games. As these gambling sessions are streamed in real-time, so you can see each card dealt, similar to being in a land-based casino.
Blackjack Card Counting Strategies
There are numerous blackjack card counting methods and systems out there, ranging from straightforward to complex. Let's take a closer look at some of the most common:
Thorp's Ten-Count System
Edward Thorp is the godfather of modern card counting, and the MIT mathematics professor himself developed this method. Start with a mental number of zero (0) and count every card, whether it is yours, the dealers, or other players. Values in the Ten Count are +4 (plus four) for Aces and cards 2-9, and –9 (minus 9) for 10, Jack, Queen, and King.
Start with the minimum bet, and if the running count goes into a positive number, increase your bet. If the count is zero or negative, lower the wager (until the betting minimum).
The Ace/Five Count
If you are looking for a simple blackjack card counting strategy, the Ace/Five Count could be for you. Firstly, choose a minimum and maximum bet (we advise a max wager that is a power of 2). Start with the minimum bet and a mental count of zero.
When you see a card with a value of 5, add one (+1) to the running count. When you see an Ace card, subtract (-1) from the running count. If the running count is equal to or greater than 2, double the last bet (up to your chosen maximum. Alternatively, you should follow a count equal to or less than one by the minimum bet.
The Hi-Lo System
Another easy option for beginners is the Hi-Lo system, which can also be helpful for more advanced players. As the name suggests, this is a system based on separating high and low cards. Specifically, you add +1 (plus one) to any card from 2 to 6, a zero (0) to the cards 7, 8, 9, and 10, and then the value of -1 (minus 1) to the Jack, Queen, King, and Ace.
Count every card dealt in the game, and (based on the running count) a positive number means more high-value cards are remaining. A negative number means there are more low-value cards. Hi-Lo is an excellent system to get started and for practising how to count cards in blackjack.
The Knock Out Count System
Looking to land a knockout blow on that casino house edge? This card counting system could help. While most card counting methods have the player start on zero, the Knock Out or KO system has different starting counts depending on the number of decks:
One deck – Count from 0
Two decks – Count from -4
Six decks – Count from -20
Eight decks – Count from -28
You do not need to use a true count, instead add 1 (+1) for the cards 2, 3, 4, 5, 6 and 7, subtract 1 (-1) for an Ace, 10, Jack, Queen or King, and add no value (0) to 8s and 9s.
The Red Seven Count
If you are new to card counting, the Red Seven system is worth checking out. This strategy is a beginner-grade system because it works on a single level. It takes the principle of high/low cards, so high cards are given a -1 value and low cards a +1. Cards with the values 8 and 9 are neutral and get a 0 score.
One crucial difference to the standard lo/hi system is the red seven cards. As the name suggests, these are important in this card counting system. Specifically, a red seven-card is valued at +1, while a black seven is neutral and given a 0 rating.
The Omega II System
We advise you to try beginner-level systems and practise card counting before promoting to the intermediate Omega II. Still, this is an excellent card counting strategy created by gambling writer Bruce Carlson. It is a multi-level method that mixes up values with two-point cards included.
In the Omega II system, cards 2, 3, and 7 carry a value of +1. Lower cards of 4, 5, and 6 are +2. The nine-card is -1, with all face cards and the 10s getting a -2 score. Aces and 8s in the pack are a zero. The idea here is to have a balanced session by counting the cards. If done correctly, the Omega II should return you to 0 after playing all cards.
The Wong Halves System
Created by Stanford Wong, the Wong Halves takes a similar approach to Omega II by aiming for a balanced system (zero after all cards are dealt). This system is more complex, needing a true count to be calculated when each deck is played.
Values are as follows:
2 and 7: ½
3, 4, and 6: 1
5: 1½
9: 0
8: -½
10, J, Q, K, and Aces: -1
If you want to simplify the system, you can double values instead of using ½ values.
Top Blackjack Card Counting Tips
Now you have a better understanding of how to count cards in blackjack and how you can apply it through various systems. Remember, practice makes perfect, so test out beginner strategies and learn to count cards comfortably in your head. Once you are familiar with counting, follow these handy tips to become a card counting pro.
Betting Correlation and Playing Efficiency
Playing Efficiency shows how well (or efficient) the card count is in terms of being worth changing bets per the value. Yet, this becomes less important the higher the number of decks in the game. Betting Correlation shows how well the card count is influencing your bet size.
Shuffle Tracking
Shuffle Tracking is an advanced technique that involves tracking how the dealer shuffles the cards in the discard tray. It works on a logical concept that says if you mix a newly opened 52 deck of cards by splitting it perfectly, you can predict the order of the cards.
Which Card Counting Strategy to Pick
Knowing which card counting method to select depends on several variables, not least how advanced in your card counting journey you are. Start and practice with a lower-level single-tier system like the Hi/Lo or Ace/Five Card count before advancing to more complex strategies.
FAQs
Is it illegal to count cards in blackjack?
No, card counting is not illegal in major gambling markets. However, certain online casinos may prohibit players from using any device that aids them in counting cards. Occasionally, online casinos may even ban players suspected of counting cards in blackjack.
How do you practice counting cards?
The best way to practice this strategy is to learn card counting methods and perfect them. Simply by playing online blackjack games, you can grasp, understand, and develop your card counting skills. One great way to practice without pressure is to play blackjack for free online.
Do dealers count cards?
No, it is against the rules for dealers to count cards. It is not really in the interests of dealers to count cards to beat players, as most actively want the player to win fairly. Our recommended blackjack sites hold licenses, meaning that regulatory bodies audit online and live blackjack titles regularly.
Is card counting hard?
No, card counting does not have to be complicated. Sure, there are many advanced card counting systems, but most people can pick up some beginner strategies with just a bit of practice. Memorizing and using techniques for following card values across multiple decks is the key to success.
Is it worth counting cards in blackjack?
Yes, as long as you fully understand how to. If you become a master at card counting, there is no doubt that you swing the odds of success a little and improve the house edge. By reading our extensive guide and helpful tips, you can become a card counting pro in no time.