The Best Tunisian Betting Sites & Online Betting Guide
Looking for Tunisian betting sites online? Don't worry, we're here to help by directing you to the safest sites. Within a matter of minutes, you will be able to place a bet on your favourite sport and then enjoy watching the result. In addition to providing a list of the best online sports betting sites for Tunisian players, this page also offers a guide to sports betting laws in Tunisia and useful tips for safe online betting.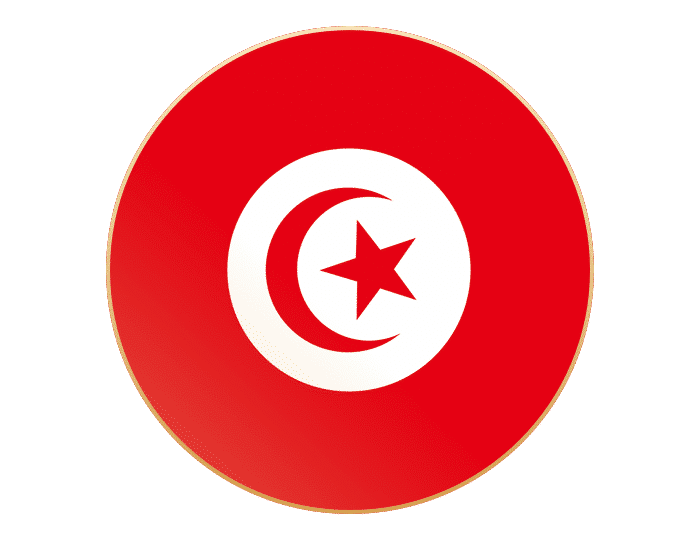 The Best Tunisian Betting Sites & Online Betting Guide
The Best Tunisian Betting Sites
How to Safely Use Tunisian Online Bookmakers
Despite online gambling not being openly accepted in Tunisia, there is a large number of online sports betting sites for Tunisian players. As these are foreign sites operating from a location outside of Tunisia, there are a few extra steps you must take to bet online safely and securely. Before placing your bets, please take note of these safety tips:
Use a VPN to Access Sports Betting Sites
We strongly advise using a virtual private network (VPN) to stay safe while browsing online sportsbook sites in Tunisia. Even though online gambling is prohibited, the Tunisian government has not ordered internet service providers (ISPs) to block access to foreign sites. However, for your own peace of mind, we suggest using a VPN like NordVPN or ExpressVPN to bet on your favourite sports anonymously.
A VPN gives privacy and anonymity by masking your IP address.
This makes it virtually impossible for your online activity to be traced, therefore ensuring that you can access Tunisia sports betting sites without any concern. Most VPNs require a monthly or annual subscription fee, with many offering a one-month free trial. Once you get connected, you can safely and confidently join one of our recommended Tunisia betting sites.
Choose an Anonymous Payment Method
Due to the laws surrounding online sports betting in Tunisia, you should be careful about which payment method you use. Attempts to use a credit or debit card issued by a financial institution like Arab Tunisian Bank (ATB) or Banque Internationale Arabe de Tunisie (BIAT) would likely be declined. Even if your transaction was accepted, it would leave a paper trial between your bank and betting site.
To avoid this, we recommend using an anonymous payment method. E-wallets like Skrill and NETELLER are popular among Tunisian players. You simply complete transactions to and from bookmakers in Tunisia by providing the email address linked to your digital wallet. Another solution to betting anonymously at the top bookies in Tunisia is to use cryptocurrencies like Bitcoin (BTC) or Litecoin (LTC).
Stick to Our Recommended Sports Betting Sites
Knowing things like which sports you can bet on and which payment methods are accepted are vital before joining a sports betting site. Imagine taking the time to enter all your personal details only to discover that the payment method you want to use isn't accepted. What a waste of time that would be.
Of course, safety is also of paramount importance when it comes to online sports betting for Tunisian players. You don't want to join a site that makes life difficult when you win and request a withdrawal. To save you from this nightmare scenario, we have reviewed every sports betting site that accepts players from Tunisia. We have found the safest sites for you, so take your pick from our list.
Online Gambling Laws in Tunisia
As Tunisia is an almost entirely Muslim country, it should come as no surprise that all forms of online gambling are illegal. Official figures suggest that 99.8% of the country's 11.8 million residents practice Sunni Muslim. However, unlike many other Islamic countries, Tunisia doesn't mix politics and religion. Despite some of the country's laws being influenced by Sharia law, most are based on French code.
Even though online sports betting in Tunisia is illegal, it's important to stress that cases of prosecution are non existent. That said, taking the extra few steps that we mentioned above make your experience online even safer and give you peace of mind. None of our recommended online sports betting sites for Tunisian players have offices or servers in Tunisia. If they did, then the government would shut down their operations in the blink of an eye.
Interestingly, there are several land-based casinos in Tunisia where it is legal to gamble. Not if you're a Tunisian, though. To gamble at casinos in Tunisia, you must be a foreigner and show your passport upon entry. Only Euros and US Dollars are accepted as forms of currency. With tourism being one of Tunisia's most important sectors, allowing foreigners to gamble at casinos generates plenty of tax revenue.
Can I Play With Tunisian Dinar at Tunisian Betting Sites?
Unfortunately, even the best Tunisian online sportsbooks rarely accept Tunisian Dinar (TND). Therefore, it would be better if you use another currency and then convert. Three of the most widely accepted currencies at online bookmakers include British Pound (GBP), Euro (EUR) and United States Dollar (USD). We suggest selecting one of these currencies when creating your betting account.
Admittedly, betting in an unfamiliar currency brings its own challenges. The most obvious challenge is that it's easy to lose track of how much you are betting. We always stress the importance of using a currency conversion website like XE.com before confirming your bets at Tunisia betting sites. Entering how much you are considering betting on an event in XE.com allows you to see how much this is in TND.
What to Expect at Our Recommended Tunisian Betting Sites
Each of our recommended Tunisia sports betting sites have their own unique selling points. One may excel when it comes to football betting odds while another may be renowned for offering an unmatched number of daily betting markets. However, these sites also have the following features in common:
Safety and Security Measures
With safety being really important at Tunisia online bookmakers, we only recommend sites with cutting-edge security measures. Our top sites boast Secure Sockets Layer (SSL) encryption and Two-Factor Authentication (2FA). They also have an impressive range of responsible gambling tools.
Anonymous Payment Methods
The best online sportsbook sites in Tunisia recognize the importance of anonymous payment methods. It's why they offer a comprehensive range of e-wallets, including Skrill and NETELLER. The growing popularity of cryptocurrency in Tunisia also means that many sites now accept deposits via Bitcoin.
A Great Choice of Sports
The Tunisia betting sites we endorse offer odds on every sport there is. You can bet on football matches in the CLP-1 and others around the globe, including the English Premier League (EPL). You will also find markets for every professional handball and volleyball fixture, tennis matches, and lots more.
Licensed by a Regulatory Body
Tunisia doesn't have a regulatory body that issues online sports betting licenses. However, most of the top bookies in Tunisia have been given a seal of approval from regulatory bodies like the UK Gambling Commission (UKGC) and Malta Gaming Authority (MGA). This makes them the safest sites to join.
Popular Sports in Tunisia
Football is king when it comes to sports in Tunisia. Handball and volleyball are also incredibly popular in the region. Let's take a closer look at the three main sports Tunisians love to watch and bet on.
Football
Football is the number one sport in Tunisia. Sports betting sites offer odds on every Championnat de la Ligue Professionnelle 1 (also known as CLP-1) match, as well as outright odds on which of the league's 14 teams will triumph at the end of the season. CLP-1 is the top division of the Tunisian Football Federation. Established in 1921-22, it is one of the oldest professional football leagues in the region.
Tunisia is one of the most successful African national football teams. Residents across the country celebrated when Tunisia, as tournament hosts, won the African Cup of Nations in 2004. The team has also tasted defeat in AFCON finals on two occasions, in 1965 and 1996. Tunisia also became the first African team to win a World Cup match in 1978 but have never progressed from the group stages.
Handball
Handball is the second most popular sport in Tunisia. The Tunisian Handball League was established around the time of the country's independence and has run annually since the 1955-56 season. The top-level National A comprises 12 teams and has a system of promotion and relegation with National B. The most famous handball team in Tunisia is Espérance de Tunis, winner of 32 domestic league titles.
Tunisia's men's handball team is by far the strongest team in the region. It leads the African Handball Championship in both total gold medals won, and most medals won overall, with 10 titles from 24 competitions. The women's national handball team is just as strong. The ladies finished runners up in 2006, third in 2008, runners up again in 2010 and 2012, before finally winning gold in 2014.
Volleyball
Volleyball is another important sport in Tunisia. National A of the Tunisian Men's Volleyball League is the top domestic league in the country. It has 10 clubs that play each other twice each season, once at home and once away, with Tunisia betting sites offering odds on each match. The top four make the playoffs to crown a champion. The bottom six play in a tournament to decide which teams are relegated to National B.
The most successful club in Tunisian Men's National A Volleyball is Espérance de Tunis with 19 league titles overall. In terms of the national team, the Tunisian national volleyball team dominates the sport on the African continent. The men's team has tasted success in the African Championship on 10 different occasions, although the team's best result in the World Championships is 15th place in 2006.
Start Playing at the Best Tunisian Betting Sites Now
We bet you can't wait to place your bets now that you know the best Tunisia betting sites. To get started, take your pick from one of our recommended sports betting sites and create an account.
Languages
en
Features
Dedicated iOS and Android apps
Massive choice of slots and games
Great live dealer casino
Software Providers
Betsoft
IGT
Microgaming
NetEnt
Playtech
Payment Options
FAQs
Is any sports betting permitted in Tunisia?
The only form of sports betting permitted in Tunisia is organized by state-owned Promosport. It operates under the supervision of the Ministry of Youth, Sports and Physical Education. However, it has been created to benefit the country's athletes and doesn't compare to the Tunisian sports betting sites we recommend.
Does Tunisia have casinos?
Yes, Tunisia has several land-based casinos. However, only tourists can gamble at these facilities. A passport must be shown to gain entry, and the only forms of currency accepted are Euros and US Dollars. Grand Casino in Djerba is the largest casino in Tunisia. It has 150+ slots and 18+ table games.
Can Tunisians gamble online using a VPN?
Yes! While the Tunisian government hasn't asked ISPs to block foreign online gambling sites, we still recommend using a VPN to access online sportsbook sites in Tunisia. By using a VPN, your online activity is virtually untraceable. In a country where online gambling is prohibited, using a secure VPN is a must.
Are online casinos legal in Tunisia?
Strictly speaking, no. However, there are plenty of online casinos that accept players from Tunisia. These are foreign sites that are hosted outside of Tunisia. Despite these casino sites not being blocked by ISPs, we recommend accessing them via VPN and using an anonymous payment method to gamble safely.
What are the best banking options for Tunisians at sports betting sites?
Those that offer anonymity. We recommend using e-wallets like Skrill and NETELLER to deposit at online betting sites in Tunisia. These digital wallets do charge a small fee for funding and withdrawing, but transactions are completed by providing an email address. The casino doesn't need your card details.